Cherry Blossom Magic: Discovering the Enchanting Legacy of Hanami and Iconic Destinations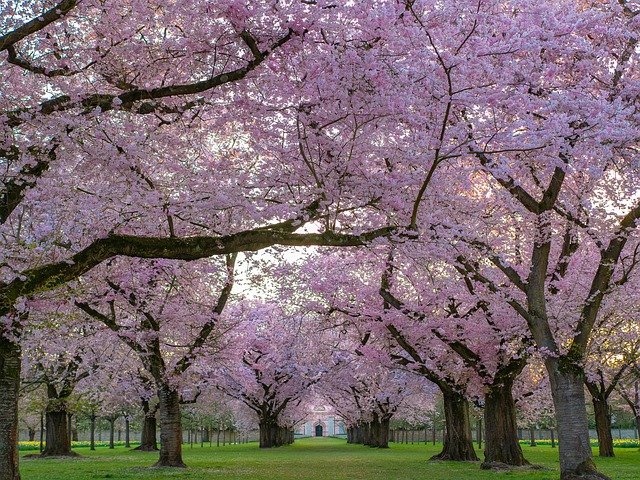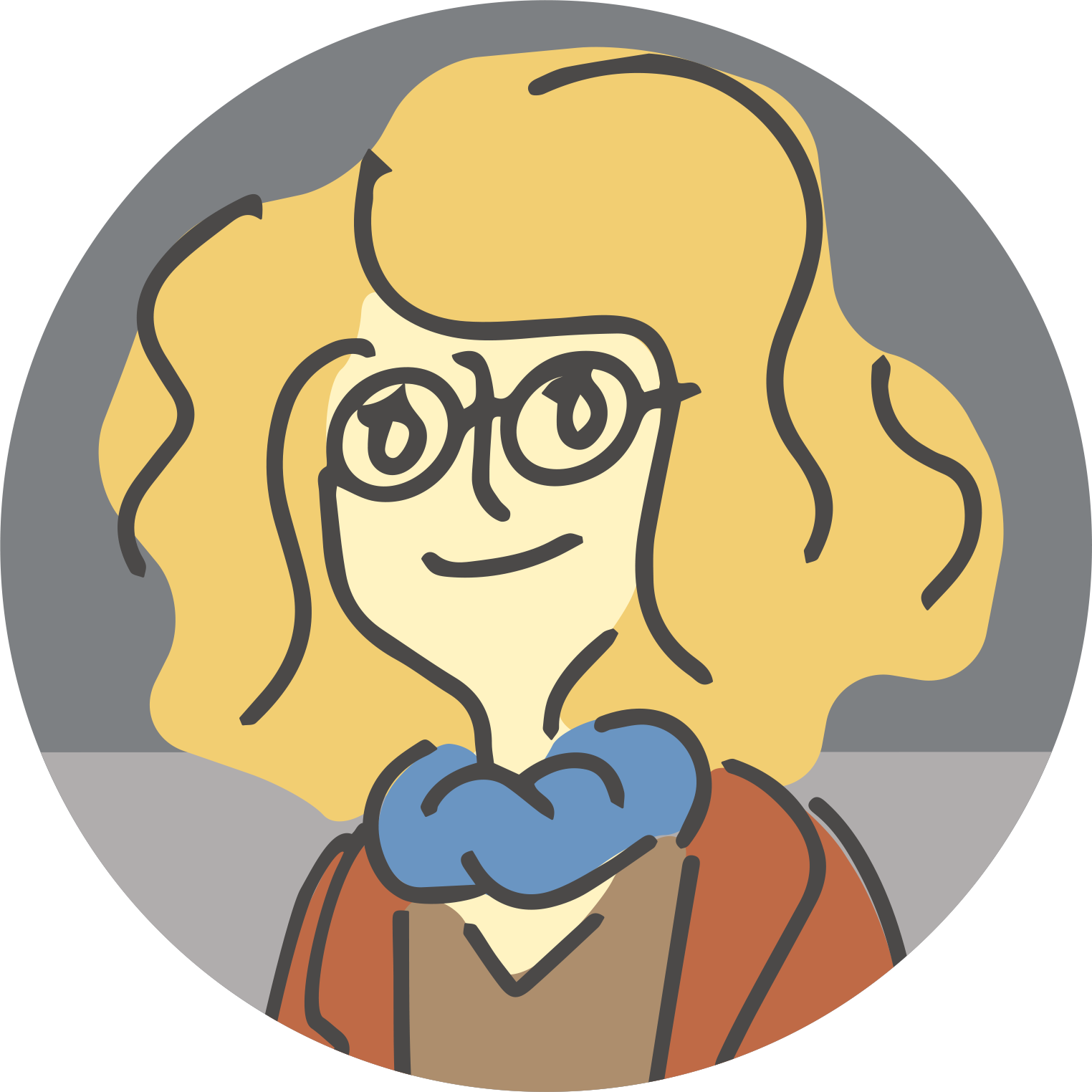 The weather is gradually getting warmer and the buds of the cherry trees are beginning to change color.
This is the time of year when cherry blossoms cover Japan.
Many foreign visitors to Japan are thinking, "I really want to taste the cherry blossoms in Japan! Many foreign visitors to Japan are thinking, "I really want to experience the cherry blossoms in Japan!
Spring in Japan, when cherry blossoms are in full bloom.
If you know some English phrases that you can use when inviting someone to a cherry blossom viewing party, you can easily invite a foreigner to go and see the cherry blossoms with you.
Now, let's get to know a little bit more about hanami!
In this article, we will talk about the Japanese hanami culture,
– About the Japanese hanami culture.
– What are some phrases you can use when inviting a foreigner?
– Recommended Hanami Spots that Foreigners Enjoy
We will introduce you to the above.
Hanami and Japanese Culture
Origin of the word Sakura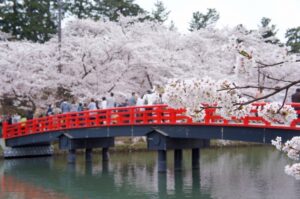 The word " sakura" is said to have its origin in the Japanese myth "Konohana-sakuyahime", whose name was changed to " sakura"
Princess Sakuyahime was a goddess as beautiful as a tree flower, and was married to Ninigi no Mikoto, the founder of the imperial family under Amaterasu.
She is said to be the most beautiful goddess in Japanese mythology, just like a cherry blossom in full bloom, with a verse that she is the model for Kaguyahime.
She is also the mother of the famous Japanese mythological characters Yamayukihiko and Umiyukihiko, and there are shrines dedicated to Kihanasakuyahime throughout Japan.
Beginning of Hanami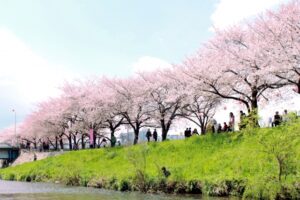 In the Nara period, Hanami was most commonly associated with plum blossoms.
In the Heian period, Hanami of cherry blossoms became the mainstream among aristocrats who loved the elegance of the cherry blossoms.
Hanami was a time for aristocrats to enjoy the beauty of cherry blossoms while feasting and reciting poems to each other.
The elegance and elegance of the Hanami festival is typical of the aristocracy of the Heian period (794-1192) and has a uniquely Japanese sense of beauty, which is also connected to Hanami today.
However, for the common people, especially farmers, cherry blossoms were said to be trees in which gods dwelled.
The god of rice paddies, who had been hiding in the mountains during the winter, would come down from the mountains to dwell in the cherry trees in spring.
The cherry blossoms are then in full bloom, and everyone shares in the arrival of spring.
Praying for fertility, people celebrated spring by making offerings to the cherry trees.
It is said that the fertility of the year was determined by the way the cherry blossoms bloomed and when they began to bloom.
Both the nobility and the commoners shared the same ritual of dining and feasting under the cherry trees while admiring the blossoms.
In Japan, people dine and feast under the cherry trees when the cherry blossoms are in full bloom.
Someiyoshino and the History of Japan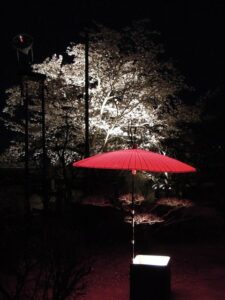 Hanami became a popular pastime for the general public during the Edo period (1603-1868).
Horticultural technology advanced, and many new varieties of cherry trees were developed.
The Someiyoshino, the most popular variety of cherry tree in Japan, was also developed during the Edo period.
Someiyoshino was born in Somei-mura, a suburb of Edo (present-day Toshima Ward, Tokyo).
The cherry tree born in Somei-mura was named "Yoshino Sakura" after Yoshinoyama, a famous cherry blossom viewing spot in Nara.
However, the cherry trees on Mt. Yoshino are native "yamazakura" cherry trees, which are different from the Yoshino cherry trees born in Somei-mura.
To avoid confusion, the cherry tree was renamed Somei-Yoshino Somei-Yoshino during the Meiji period (1868-1912).
Someiyoshino, which grows faster than other cherry trees and blooms beautifully from a young age, was planted in parks, along roads and rivers, and in other public works projects throughout Japan during the Meiji era (1868-1912).
However, Japan was heavily bombed during the two world wars.
At the same time, many cherry trees were lost.
After the war, when Japan was rebuilding, Somei-Yoshino cherry trees were planted more enthusiastically than in the Meiji Era in order to revive the beautiful scenery of Japan.
Today, the cherry trees planted at that time have grown into magnificent trees, and the spring landscape of Japan is now beautifully decorated with cherry blossoms.
10 Hanami spots for foreigners
Hanami spots that are popular among foreigners are Hanami + tourist attraction and location.
Many people want to enjoy Japan successfully during their short stay in Japan, so places that are both popular tourist destinations and Hanami viewing spots are popular.
Also, since many people are particular about being photographed, places where they can enjoy Japanese-style architecture such as castles, shrines, and temples as subjects are also popular.
With this in mind, we will introduce Hanami viewing spots that will please foreign visitors.
Cherry blossoms are expected to be in full bloom in 2022:
Shinjuku Gyoen, Tokyo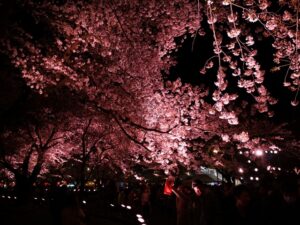 Hanami at Shinjuku Gyoen, near Shinjuku Station, is still very popular among foreign tourists.
In Shinjuku, where department stores line the streets, you can choose from a variety of famous Hanami bento bento available only during Hanami at each department store.
Hanami bento boxes are okay, but please note that you are not allowed to bring alcohol.
To reduce crowds and to prevent new coronavirus infection, Hanami viewing at Shinjuku Gyoen will require advance reservations again this year, but it is not prohibited.
You can enjoy beautiful cherry blossoms this year.
Shinjuku Gyoen Hanami reservations:
Ministry of the Environment website: Shinjuku Gyoen Facility Use Guide:
Cherry blossoms at Meguro River, Tokyo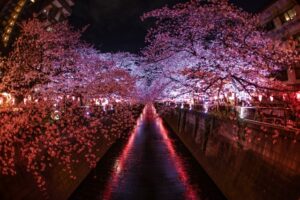 A popular Hanami spot in Tokyo with its 4-kilometer-long rows of cherry trees.
Approximately 800 Someiyoshino cherry trees.
The endless rows of cherry trees are a sight to behold.
It is said to be the most popular Hanami viewing spot in Tokyo and is visited by many foreigners every year.
The cherry petals drifting on the surface of the river are very elegant, and the uniquely Japanese scenery is often used in VTRs introducing Japan to foreign countries.
Although the cherry blossom festival has been canceled this year, visitors can still take a walk while viewing the cherry blossoms.
It would be wonderful to take a leisurely stroll along the Kurokawa River while admiring the beautiful cherry blossoms.
Although the Hanami Festival has been canceled, the Meguro River Hanami and Tokyo Bay Cruise will be held this year.
Hanami on the Meguro River & Tokyo Bay Cruise 2022:
Ueno Park, Tokyo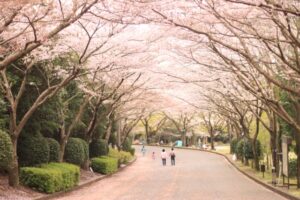 Ueno Park is the largest park in Tokyo.
Ueno Park is located near Asakusa, a popular tourist destination for foreigners, as well as the zoo and museums.
It is a popular Hanami spot for foreigners staying in Japan for a short period of time.
Although the Corona disaster has forced people to refrain from holding banquets every year, Hanami is a very elegant and Japanese way of viewing the cherry blossoms.
The cherry blossoms on the surface of Pond are also attractive even after they are in full bloom.
Cherry blossoms in Ueno Onshi Park
Chidorigafuchi, Tokyo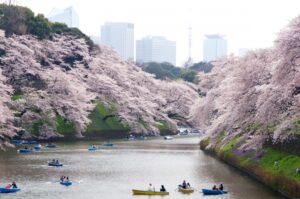 The cherry blossom viewing spot at Chidorigafuchi, the Imperial Palace, may be a little smaller in scale than Shinjuku Gyoen or Ueno Park.
However, the combination of the castle walls and Hanami in the middle of Tokyo and the boat ride on the moat make it a very popular Hanami spot among foreigners.
The beautiful cherry blossoms in full bloom along the moat is the very image of Japan.
This year, to prevent the spread of the new coronavirus, the cherry blossoms will not be lit up at night and the Chidorigafuchi boatyard will not be open at night.
However, during the daytime, the paths will be open as usual, and the boatyard will be open so that visitors can enjoy Hanami.
Chiyoda-ku Tourist Association website:
Arashiyama, Kyoto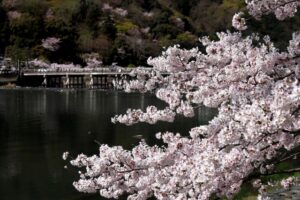 Arashiyama in Kyoto has been a popular tourist destination since the Heian period (794-1192).
In early April, Hanami can be enjoyed everywhere in Arashiyama.
The cherry blossoms on Togetsu Bridge, the symbol of Arashiyama, are especially beautiful, with 1,500 cherry trees.
The bridge was built for Emperor Saga to visit Horinji Temple.
The bridge was built for Emperor Saga to visit Horinji Temple, and is a very picturesque place to enjoy Hanami in Japan.
There are boats on the river, and you can enjoy the cherry blossoms from various angles by rowing upstream.
If you visit Arashiyama, the nighttime cherry blossom viewing on the Arashiyama Randen train is highly recommended!
Kyoto Arashiyama Hoshokai website:
Nara Park,Nara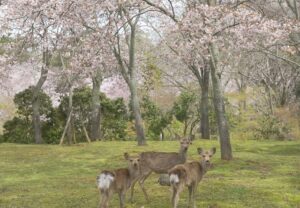 Nara Park is a very popular tourist spot for foreigners.
About 1,600 cherry trees are planted in Nara Park.
What is popular here is the scenery of deer and cherry blossoms walking freely.
It is not often that you can see deer walking freely in Nara Park.
The location of this Hanami viewing spot, which can be visited in between visits to Buddhist temples and shrines in Nara, also makes it a popular spot for foreigners.
The attraction of Nara Park is that you can enjoy both the deer and the cherry blossoms at the same time.
Edo Wonderland Nikko Edo-mura,Tochigi
Nikko Edo Wonderland Nikko Edo-mura is a place where visitors can experience life and culture of the Edo period.
Here you can experience Edo only during the cherry blossom season every year.
The cherry blossoms in the Edo Village, which looks like something out of a movie, will make you feel as if you have stepped back in time.
Nikko Edo-mura official website:
Cherry Blossom Passage,Osaka
https://youtu.be/viVu1ZCSwJw
The Mint in Osaka has a tunnel through which visitors can pass cherry blossoms in full bloom.
The Mint produces coins, commemorative coins, medals, and precious metal bullion, in addition to paper money.
The Mint is usually closed to the public, but in 1881, the then Director General of the Mint, Mr. Kinsuke Endo, opened the Mint to the public so that the general public could enjoy the beautiful cherry blossoms.
From the Meiji era to the present day, the Mint has been open to the public only during the cherry blossom season, which is limited to one week each year.
About 340 cherry trees of 140 varieties bloom over a distance of 560 meters.
Passing under the magnificent tunnel of cherry blossoms, you will see only the color of cherry blossoms.
This year, the event will be held for the first time in three years, although advance reservations are required.
Reference article:https://www.mint.go.jp/wide/sakura_osaka_news_r4.html
Cherry blossoms at Himeji Castle,Hyogo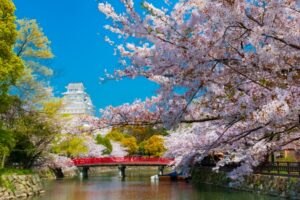 Himeji Castle, one of the 100 best cherry blossom viewing spots in Japan, a World Heritage Site, and a national treasure.
Himeji Castle is especially popular among foreigners among Japanese castles.
The beautiful Himeji Castle and approximately 1,000 cherry trees are the very image of Japan.
And the authentic Japanese garden is composed of 9 gardens, each with a pond and a circular path around it.
The cherry blossoms reflected in the pond make the scenery even more beautiful and wonderful.
Although the gardens are usually closed to visitors, the Himeji Castle Night Cherry Blossom Festival is held only during this season, with nighttime lighting and projector mapping.
Advance reservations are required, so please check the official website in advance.
Himeji Castle official website;
How to enjoy Hanami with foreigners
Hanami in Japan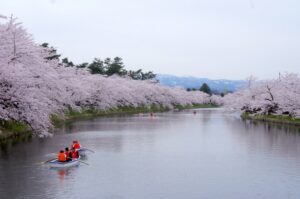 Foreigners travel to Japan for the purpose of Hanami viewing.
Every year, we see more and more foreign tourists at Hanami viewing spots.
Japanese people have a special enthusiasm for cherry blossoms, which is often surprising and impressive from a foreigner's point of view.
For example, the cherry blossom front that is broadcast in the weather forecast during the cherry blossom season.
Blooming forecast maps are also published in newspapers, and the cherry blossoms are reported on the news every morning.
People are really surprised about broadcasting the blooming of flowers as if it were raining.
They are also interested in Hanami bento lunches and Hanami sake.
Hanami bento boxes, with their lovely spring ingredients and colors, are very popular even among people from countries that do not have much of a culture of eating cold food outside.
Drinking sake with the warm spring weather while admiring the cherry blossoms at night is also popular.
However, some people have an aversion to the idea of drinking alcohol in the park at night and having a big party.
In most countries, parks are closed at night and drinking in public is prohibited.
For tourists from countries that are not as safe as Japan, drunken people in parks at night are a very frightening subject.
Therefore, they cannot enjoy themselves calmly, and some people find it difficult to enjoy themselves at night.
If you are planning to Hanami at night with people who are not accustomed to Japan, it might be a good idea to let them know in advance that one way to enjoy Hanami is to have a party with alcohol under the cherry blossoms at night.
Japanese traditional culture experience and Hanami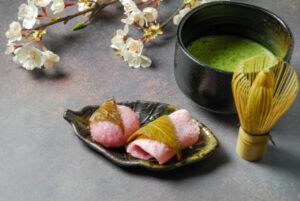 If you would like to invite foreigners to Hanami and make it a special experience for them, how about a Hanami x Japanese cultural experience? How about Hanami x Japanese cultural experience?
Cherry blossoms are the symbolic flower of Japan.
The special feeling of experiencing Japanese culture surrounded by cherry blossoms is priceless.
– Kabuki or Noh theater with a bonfire against the backdrop of cherry blossoms at night.
– Sado (Tea ceremony) under the cherry blossoms in full bloom.
– Hanami cruising or entertaining geisha on a yakatabune.
– Sake tasting at a sake brewery when the cherry blossoms are in full bloom.
These are just a few of the many ways to add a touch of Japan to your everyday Japanese cultural experience.
Past articles on Japanese cultural experiences:
Authentic Japanese Traditional Culture and Performances for Foreigners to Experience
Sado (Tea Ceremony) and Kimono for Hospitality
Japan from a Foreigner's Perspective|10 Examples of Japanese Cultural Experiences that Foreigners Love
Authentic Kabuki experience! Entertaining foreign VIPs and wealthy customers
Sake experience for hospitality! Reasons why it is popular among foreigners and how to enjoy it
Phrases for Inviting a Foreigner to Hanami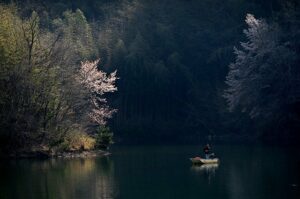 Here are some example sentences in English that you may use in your e-mails and short messages when inviting a foreigner to Hanami.
• The cherry blossoms in Ueno Park are blooming beautifully.
This Saturday, why don't you and your colleagues enjoy viewing the cherry blossoms together?
• Everyone is expected to gather at the entrance of Ueno Park at 18:00.
It would be helpful if you could reply by Thursday.
• Hanami is a traditional Japanese cultural event.
You can enjoy drinking and eating under the beautiful evening cherry blossoms. Would you like to join us for Hanami?
• The beautiful season of the year has arrived.
Since you're here in Japan now, I hope you get to see the cherry blossoms!
If you would like, why don't you go to Meguro River this Sunday to see the cherry blossoms?
No need to eat at Hanami?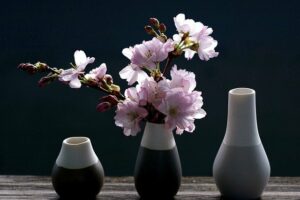 Hanami is a Japanese custom of feasting, picnicking, eating while admiring the flowers, and gathering with others under the cherry blossoms.
Hanami is a time to enjoy flowers, eat something, and get together with other people.
However, for foreign visitors, the phenomenon of cherry blossom trees everywhere in the country blooming all at once is a special event in itself.
Many foreign tourists are not particularly interested in having a party while viewing the flowers.
Rather, many of them want to take their time and enjoy the beautiful full bloom of cherry trees in Japan.
But it is cherry blossom season.
There are many Hanami bento boxes and Japanese sweets such as sakura mochi that can only be enjoyed during this season.
As the saying goes, "Dumplings are better than flowers," so we hope you will enjoy the delicious foods as well.
Past articles for your reference:
Bento Boxed Meals for Hanami and Special Events: Bento that Foreigners Will Enjoy
Features of Japanese food culture that are attracting attention from overseas and example sentences in English:
summary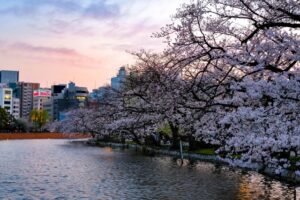 With Corona times.
This year, too, Hanami is in self-restraint mode, but it is easing up compared to last year and the year before.
And above all, cherry blossoms bloom beautifully every year.
Hanami is the most beautiful time of the year in Japan.
It is a time to relax and spend time with your loved ones while viewing the beautiful cherry blossoms.
It is an elegant and graceful Japanese experience that can only be experienced during the cherry blossom season.
We would like foreigners to enjoy this experience as well.