Japanese Hospitality Events & Traditional Parties: Top 10 Popular Plans & Praised Examples Unveiled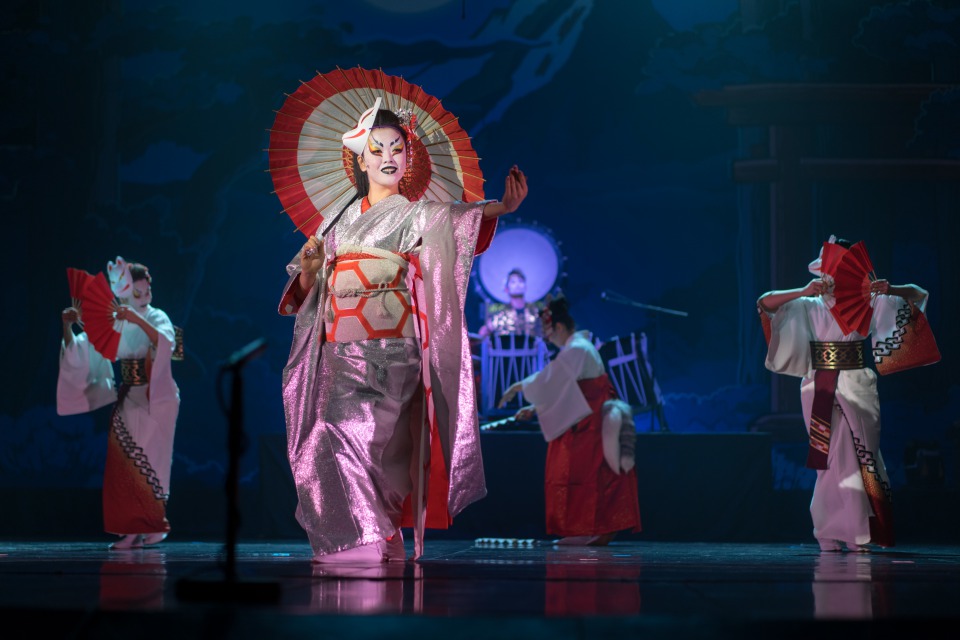 To entertain foreigners, it would be nice to provide them with something they can enjoy about "Japan".
If you make your hospitality event a Japanese cultural experience that you would not normally have the chance to do, it will be a special and unforgettable memory.
So, what kind of traditional Japanese culture would make the perfect hospitality event for a foreigner's party?
In this issue, we would like to consider planning highly original parties and events that incorporate plenty of Japanese taste.
In this article.
・I want to plan something that foreigners will enjoy and that doesn't spoil the glamour of the party!
・We would like to incorporate Japanese style entertainment into the reception party.
・We would like to have a party that is uniquely Japanese, but we are wondering if there is a company that can help us plan and manage the event.
・How can I incorporate Japanese culture into the party?
This is recommended for those who are struggling with this issue.
This article will help you come up with the perfect idea for your foreign hospitality project.
Please read to the end and refer to it for your hospitality events.
What is the planning and management of hospitality events and parties that attract foreigners?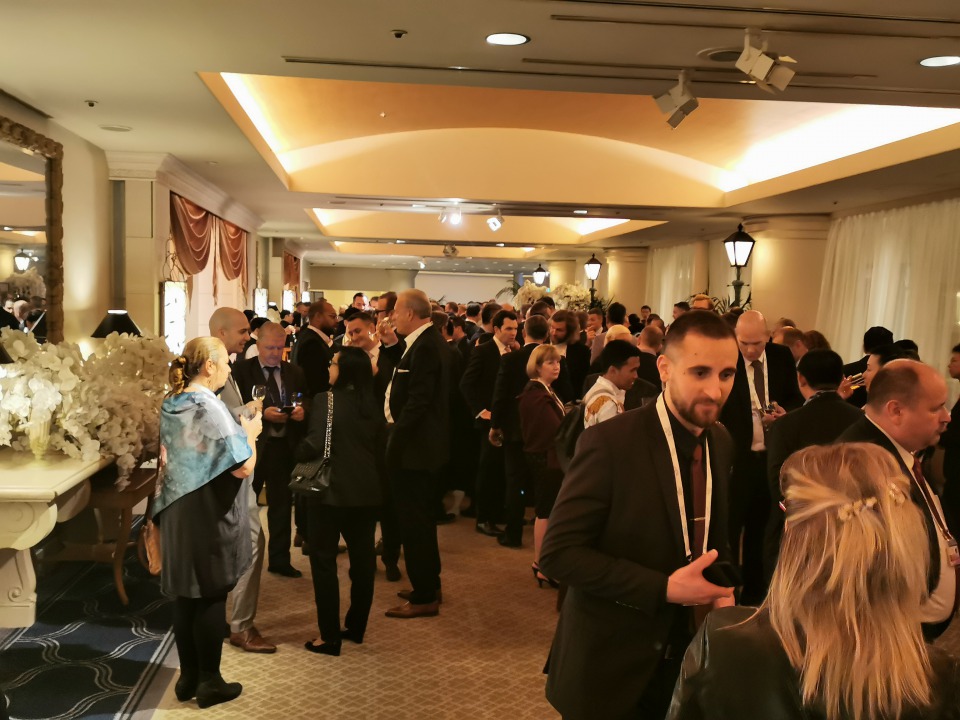 Planning and operation of parties where foreigners gather
In recent years, international conferences and parties are increasingly being held in Japan due to the globalization of business.
There is, of course, no major difference in the fundamentals between planning and managing a party where foreigners gather and planning and managing a party where Japanese gather.
However, the more important the client is, the more important the mannerisms and protocol you need to be aware of, but this can be done if you know this in advance.
Recommended related article: [What is Protocol] 5 Principles of International Manners for Entertaining Important Guests and 20 Points to Note by QA
And, after all, if it is an international exchange, even the slightest hint of Japan will add originality to the party.
Especially for companies and individuals from overseas participating in Japan, planning a Japanese-style party will make a big impact.
In planning a hospitality event that focuses on international exchange, there are still hidden hints for success in planning an event that allows visitors to experience Japanese culture.
What is a reception party?
Reception parties are common at international exchange events.
A reception party is a party for the purpose of socializing and is a relatively large, formal party.
In many cases, there is a specific dress code or you must have an invitation to enter, and the atmosphere of the party is one rank higher than that of a casual party.
The friendly atmosphere is also an opportunity for many opportunities to interact more closely with a wide range of people.
If you are the organizer of the reception party, I suggest that you make it a relaxed and enjoyable experience for everyone.
If it is an international reception party, unifying the party with Japanese taste will also be very exciting because of the cultural exchange.
What is the secret to a successful party with foreigners?
Even if the organizer has a purpose for holding the party, we must not forget that the atmosphere of the party is for the participants to enjoy.
Let's plan the event so that the participants can enjoy the time and have a wonderful time, not for the organizer's self-satisfaction.
It is desirable to be able to prepare for a party with a thorough knowledge of the other person's tastes and preferences, but it is difficult to tailor the performance to each person at a party where many people can be seen.
Therefore, in planning an international party, we recommend that you choose a theme of traditional Japanese culture that is popular among foreigners in general, in order to please the foreign participants.
By doing so, you will be able to plan a party that the entire venue will enjoy.
As a point of reference, Japanese cultural events are always incorporated into the hospitality of state guests of the Japanese government.
Recommended Related Articles: What is State Guest Hospitality? Difference between State Guests, Official Guests, and Dignitaries | 3 Examples of Hospitality when Guests Visit Japan
After all, when planning an international party, the popular method of proposing Japanese-style hospitality is because many foreigners visiting Japan want to "experience Japanese culture" in Japan.
If you have come to Japan to spend time with us, we want to provide you with an unforgettable experience.
So, after all, the venue will be more exciting if there is a plan with a lot of Japanese taste.
How to plan a party with a traditional Japanese cultural theme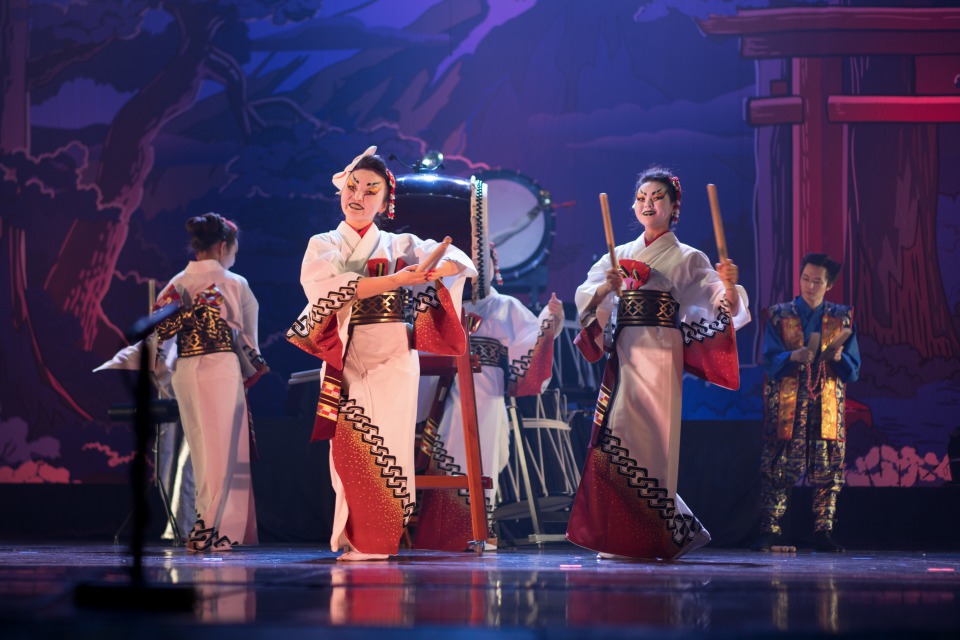 Specific planning methods for incorporating traditional Japanese culture into your party
So how on earth can we incorporate traditional Japanese culture into our parties?
Performing Japanese cultural performances for foreigners requires a little more adaptability in the way of expression than performances for Japanese audiences.
This does not mean that it should be simplified for foreigners, but that it should be easy to understand and experience. This is what we mean.
The most important thing to avoid is something that is only "vaguely Japanese. In recent years, foreigners have gained a deeper image and understanding of Japan, and they feel cheap when they see something that looks like easy Japanese culture.
This is especially important for formal occasions such as receptions.
If you can incorporate authentic Japanese cultural experiences into your party in a way that is easy for foreigners to understand and experience, you can deliver an inspiring time.
Traditional Japanese Culture x Entertainment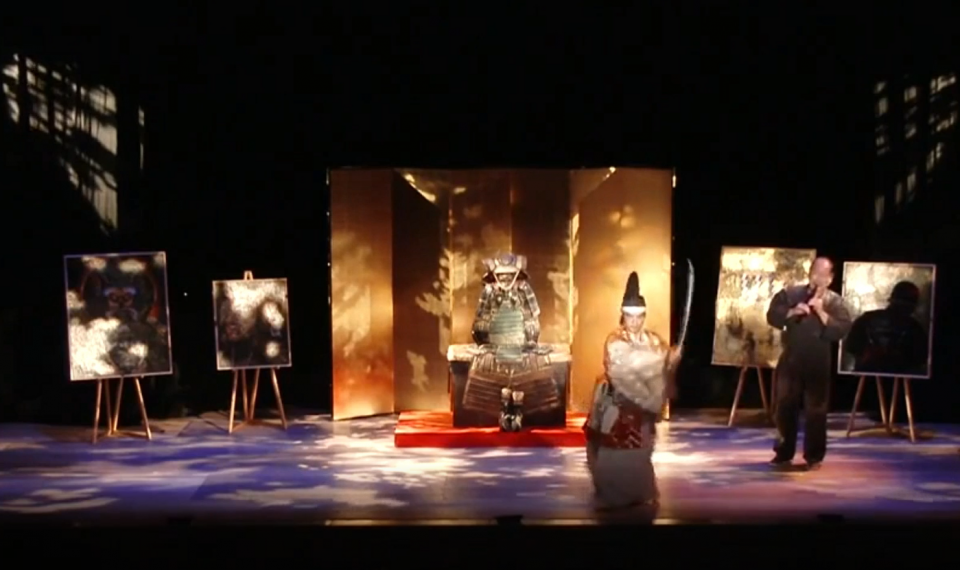 There is time to incorporate entertainment into the planning of your party.
Incorporating entertainment at the right time, such as during mealtime or when the conversation is beginning to blossom, is a key to making party planning more successful.
If you show Japanese traditional culture x entertainment here, the venue will instantly become more Japanese and the participants will be more interested in the event.
Traditional Japanese culture has many possibilities. This is because we can expect musical effects from the playing of Japanese instruments, and we can also plan appreciation of Japanese culture as entertainment, such as Kabuki and Japanese performing arts.
It is also a good thing that various plans can be devised according to the conditions and the content of the party.
By all means, let's entertain them with some Japanese culture!
Have the party planned by an outsourcer.
Even if the performances feature the same traditional Japanese performing arts, companies that specialize in serving foreign customers are well versed in entertainment that is popular with foreigners.
So it is credible to ask a company that specializes in entertainment in traditional Japanese culture.
And companies that operate authentic traditional Japanese cultural entertainment that can be enjoyed by the most discerning, wealthy, and VIPs are professionals when it comes to planning parties to entertain foreigners.
Our experience and know-how have given us the ability to successfully conduct parties with a large number of special foreign residents.
One way is to work with such specialists to come up with a planning plan. Motenas Japan is always available for consultation, so please feel free to contact us.
10 Japanese-style entertainment suitable for parties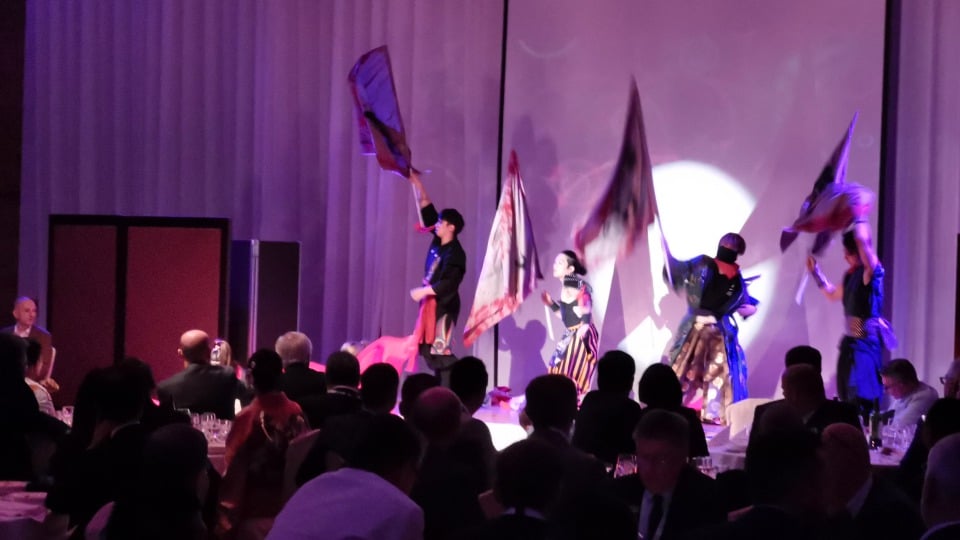 For parties with a full festive atmosphere, such as get-togethers and celebrations, we can provide spectacular entertainment.
By adding more entertainment to Japanese culture, we are able to introduce Japanese culture, which at first glance tends to be rather subdued, with the glamour needed for a party.
If we stick to the essence of everything we do, we will be able to deliver a true Japanese cultural experience that is entertaining but not "vaguely Japanese," as is often the case in other countries.
Here are some Japanese cultural experiences we recommend for your party.
I will show you the 10 most popular projects that were planned and received well in the actual Motenas Japan, along with photos.
I hope you'll find it helpful in planning your party!
ninja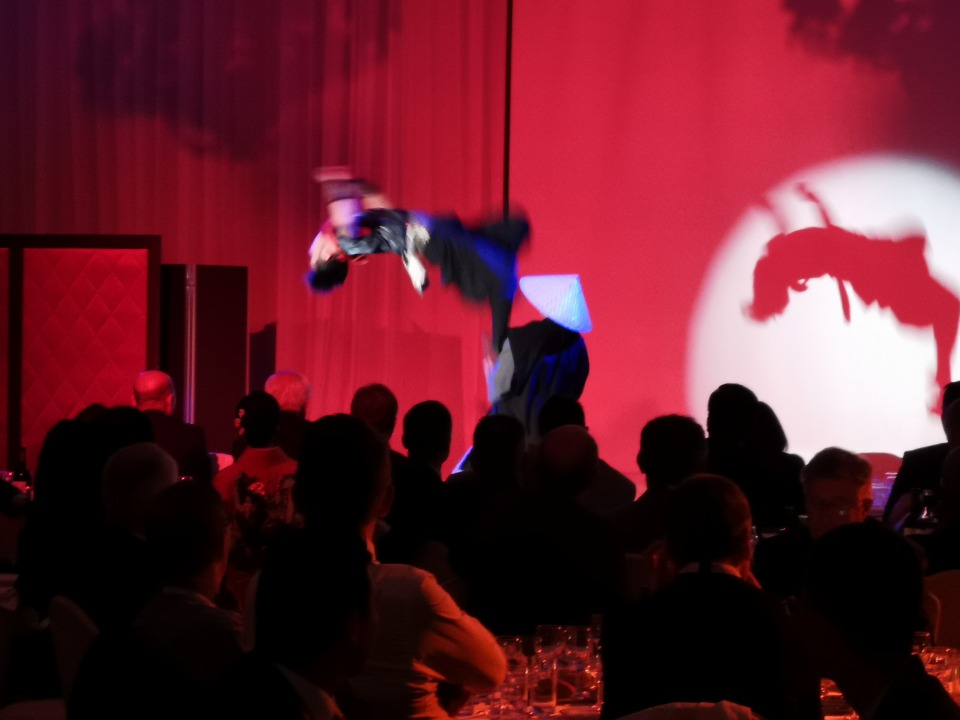 Ninja is a popular choice for opening receptions with an entertaining show.
The acrobatic movements of the ninja are accompanied by music and visuals to create a spectacular atmosphere. The audience was filled with excitement as they watched the ninjas soar through the air.
The ninja is an iconic figure in Japan and loved by people of all ages, so much so that even after returning to their home countries, people are happy to hear, "I saw an amazing show of ninjas in Japan! and we even receive comments of joy after returning to Japan.
Also popular is entertainment that layers ninja with other Japanese icons, such as ninja x samurai performances.
There are endless possibilities for ninja entertainment, such as combining it with live performances of Japanese musical instruments, and we highly recommend this Japanese cultural experience for your party.
For more information about the Ninja, please click here: What is the Japanese symbol of the Ninja? Ninja Experience and Entertainment
geisha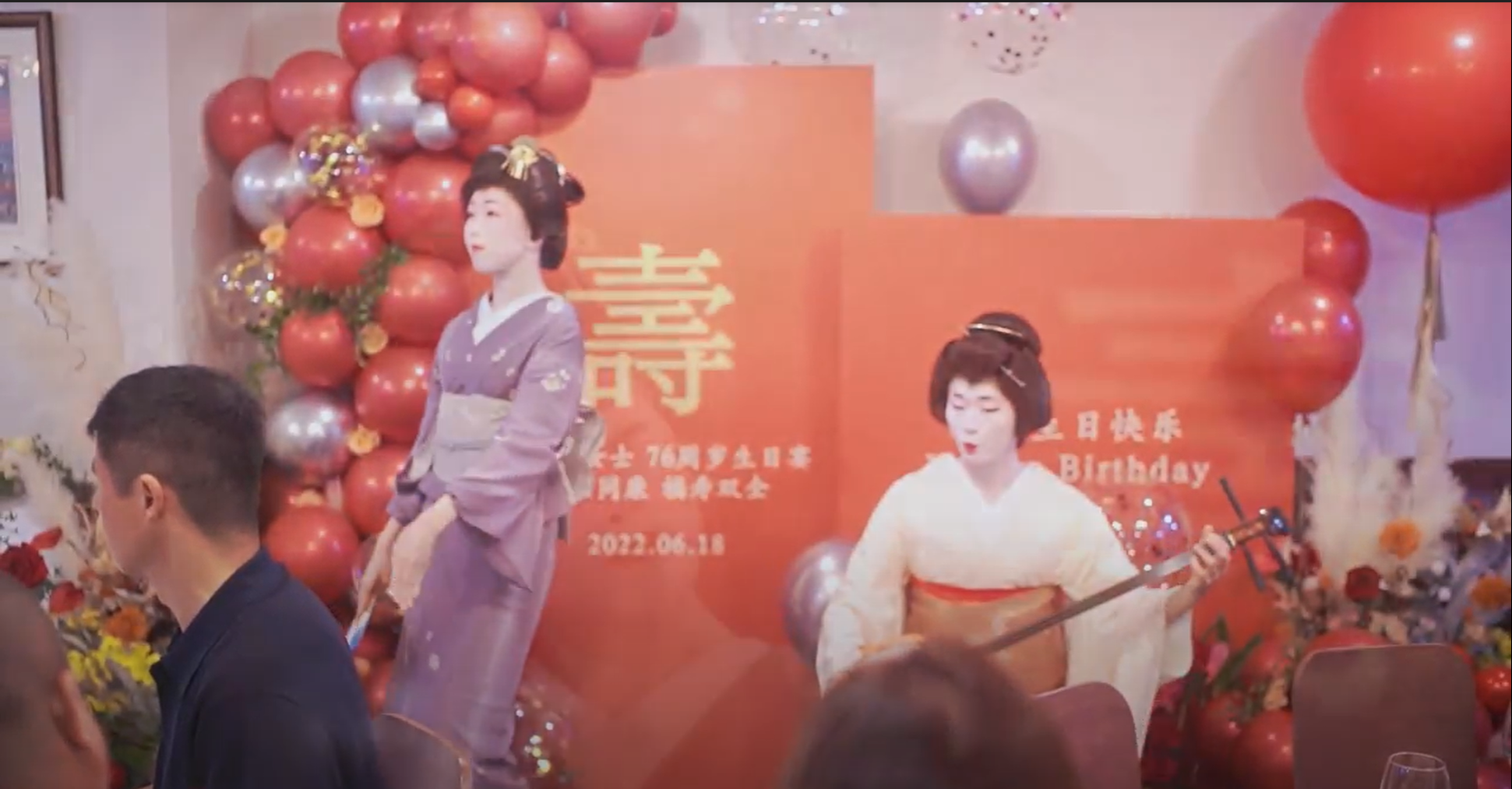 Geisha is a Japanese cultural art form that is popular among foreigners due to its visual impact.
Even a few beautiful geisha at a party adds to the atmosphere, especially if they are present at the party.
They are also entertainers who inherit Japanese culture. They are professionals in traditional Japanese performing arts such as Japanese dance, shamisen, and singing.
It is perfect for celebrations, get-togethers, and other festive occasions, and attracts the interest of foreigners.
If the girls were to perform Japanese dance and shamisen at the reception party event, the venue would instantly become an elegant space.
And geishas are very compatible with personal parties, such as birthday parties.
They are professionals in hospitality. Geishas are popular for international receptions, and we invite you to add them to your party planning.
For more information about Geisha, please refer to the following article: How to plan a special birthday party for your loved one? Surprise them with Geisha! For wealthy foreign VIPs
kabuki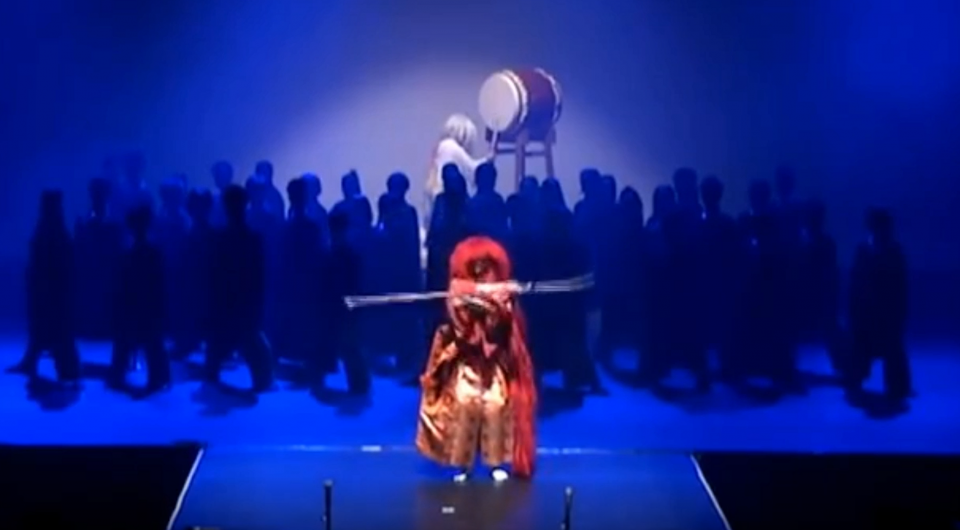 Preparing a Kabuki for a reception party can be a very special event with a very exclusive atmosphere.
Kabuki is, after all, the flower of traditional Japanese performing arts. Foreigners are impressed by the unique makeup, costumes, and stage music of kabuki.
Kabuki cannot be seen without visiting a special theater, such as the Kabuki-za Theater, to view it on a regular basis.
This will be a special party because you will be able to see such a Kabuki performance up close and personal, while enjoying a meal and chatting.
When you want to plan something a little special, Kabuki is a great place to start.
For more information about Kabuki, please click here: The Real Kabuki Experience! Entertaining foreign VIPs and wealthy customers
wagakki(traditional Japanese musical instrument)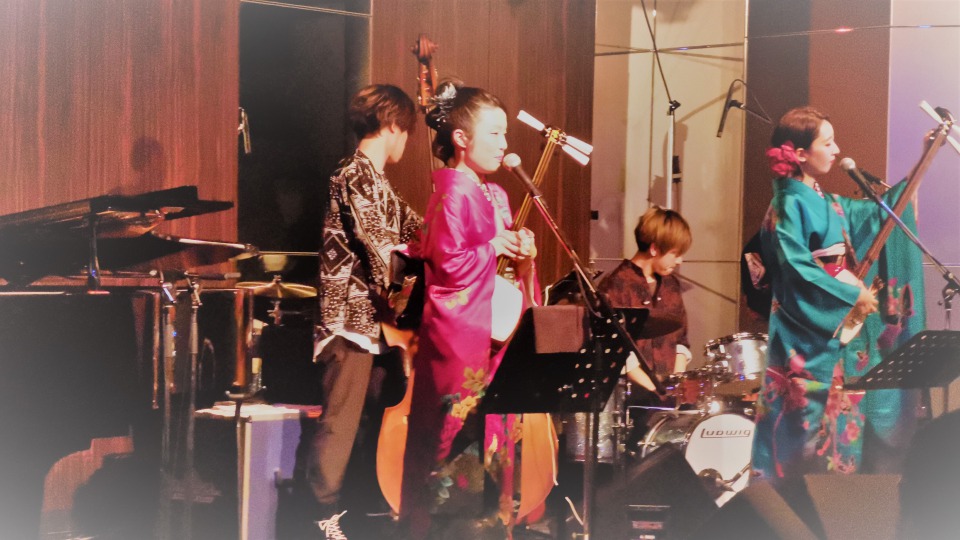 Music is always a part of the party.
Since the party is held in Japan, how about a live performance by Japanese musical instruments?
Just by using Japanese instruments for the music, the party can be made Japanese style and held as a special event.
The venue is enveloped in a Japanese atmosphere with the unique and elegant tones and power of Japanese musical instruments. It is also recommended for Westerners who want to have a dance party.
You are also free to ask for requests to perform arrangements of songs that everyone is familiar with on Japanese instruments.
Since the performers are also dressed in kimono, the stage will be very gorgeous and elegant.
sumo wrestling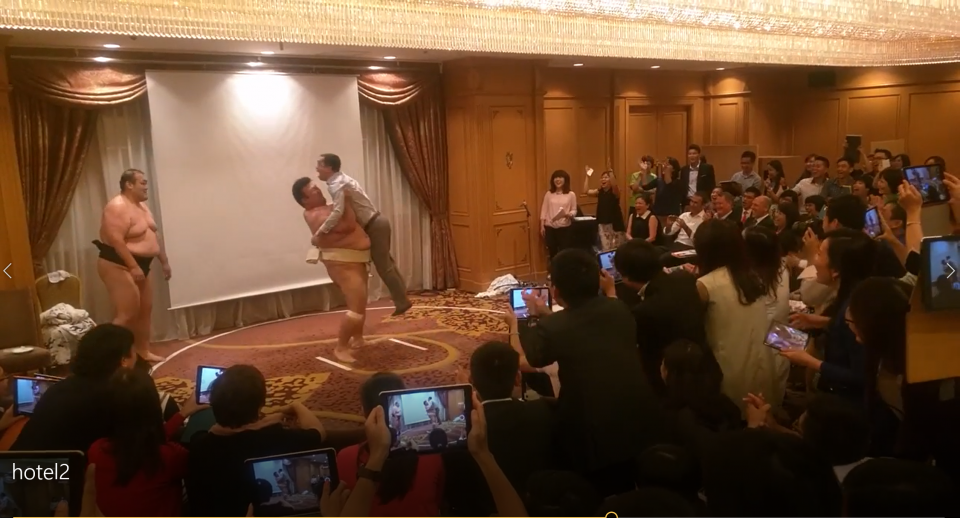 Sumo is the national sport of Japan.
Sumo is a very popular Japanese culture among foreigners. We have prepared such sumo as entertainment.
Sumo entertainment is always a hit with the audience, as there is a wide variety of entertainment, including three serious matches between sumo wrestlers and challenges from party participants to the wrestlers.
It is recommended for social gatherings, training sessions, and other parties where you want to deepen your friendship.
For more information about Sumo, please click here: [For Rich and Famous Foreigners] Tailor-made Sumo Experience! How to entertain VIPs at the national sport
karate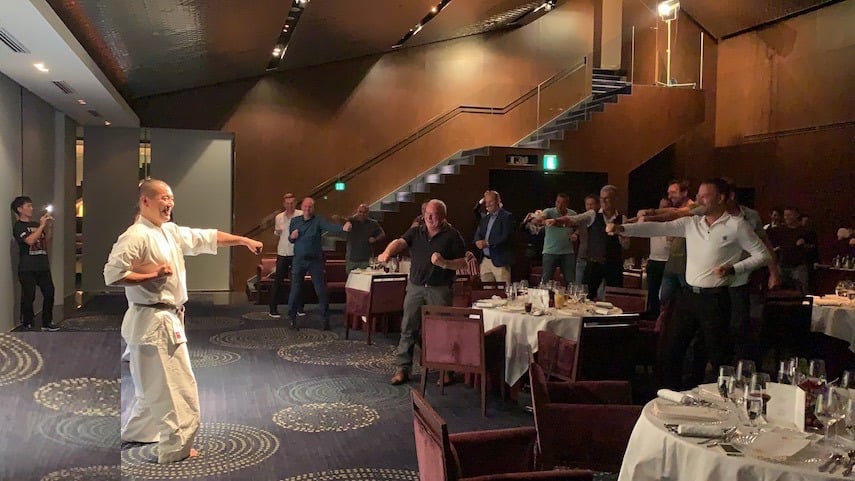 Martial arts are popular among foreigners. Karate is the most popular among them.
It is recommended to prepare such karate as a party hospitality event.
This is because karate enthusiasts are spreading throughout the world, and the number of foreigners visiting Japan to experience karate and other martial arts is increasing, so much so that it is now referred to as budo tourism.
The karate performances are breathtakingly beautiful, and the refinement of each movement creates tension in the air.
There will also be performances such as tile-splitting and board-splitting to get the audience excited.
It's recommended for events that aim to unify the atmosphere of the venue, such as get-togethers and social gatherings.
Reference site: Sports Agency SPORT TOURISM
ikebana(fresh flowers)
Ikebana entertainment will be a show in which ikebana artists arrange flowers one after another on the stage.
The entertainment is that the audience is able to watch carefully as the artist arranges large branches and other large flowers in a large vase in a well-balanced manner.
By combining it with Japanese-style music, you can create a more elegant space, and you can have two people arranging at the same time, as in an ikebana battle.
It will be a great event to celebrate.
shodo(calligraphy)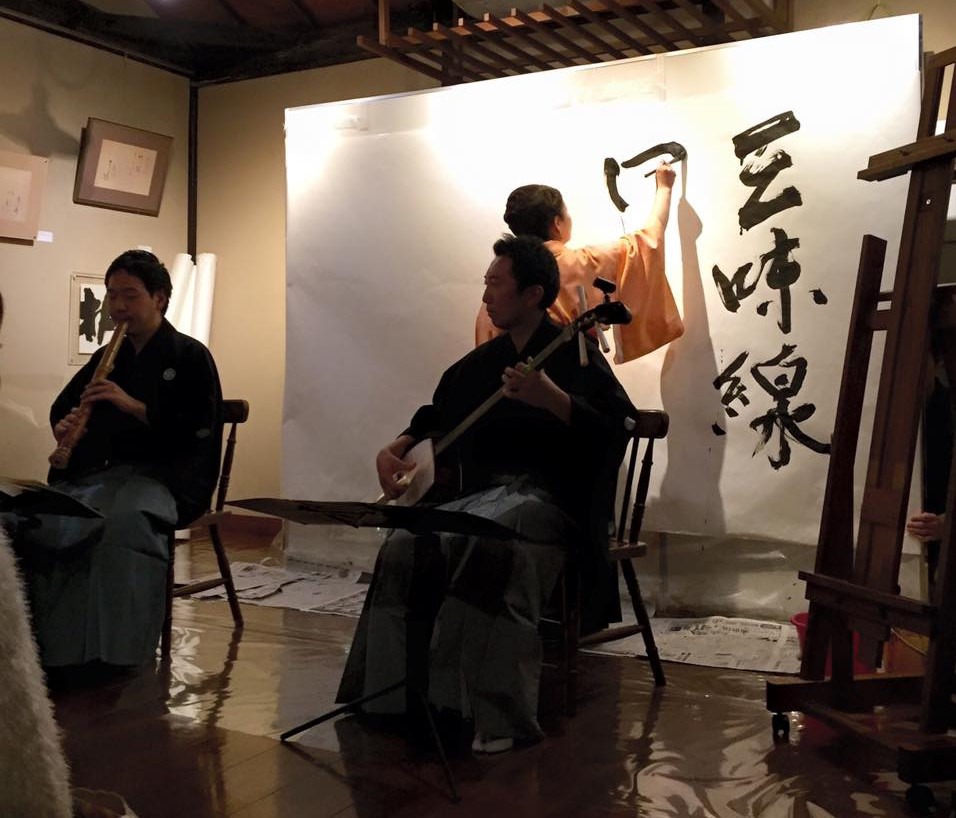 A calligrapher writes calligraphy on large sheets of paper and gold folding screens to the accompaniment of music.
Since advance arrangements can be made for congratulations, messages, etc., this is ideal for events such as new product launches or international exchanges where you want to nurture each other's future prospects.
Also, live music played on Japanese instruments can create a more Japanese atmosphere at the venue. On the other hand, since calligraphy is Japanese in style, it was popular to combine it with live jazz music.
Foreigners from Western countries will find it exotic, and people from China and other kanji-speaking countries will appreciate it because they can understand the meaning.
Recommended article on calligraphy can be found here: Experience Japanese culture through calligraphy! Which kanji performance is popular among foreigners?
Noh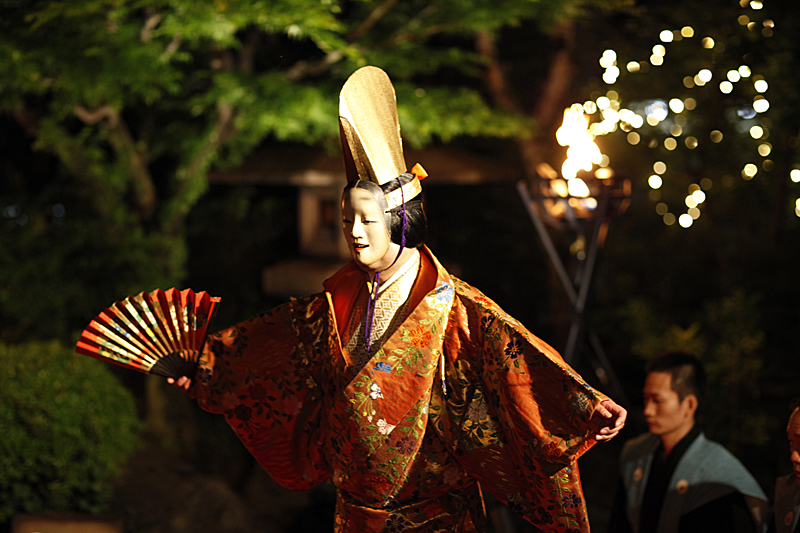 The austere atmosphere of the Noh enhances the dignity of the reception party.
Noh is a classical form of theater that may be difficult for foreigners to understand, but the atmosphere of the stage is beyond words.
Instead of slowly performing the entire story, we can discuss it in advance to suit the party, or we can create a stage that combines Noh with other Japanese icons for entertainment without compromising the essence of the Noh play.
There are a variety of performances on the Noh stage, so if you choose the right one for your celebration, you can create a festive and festive atmosphere as well as a divine atmosphere.
sake(Japanese rice wine)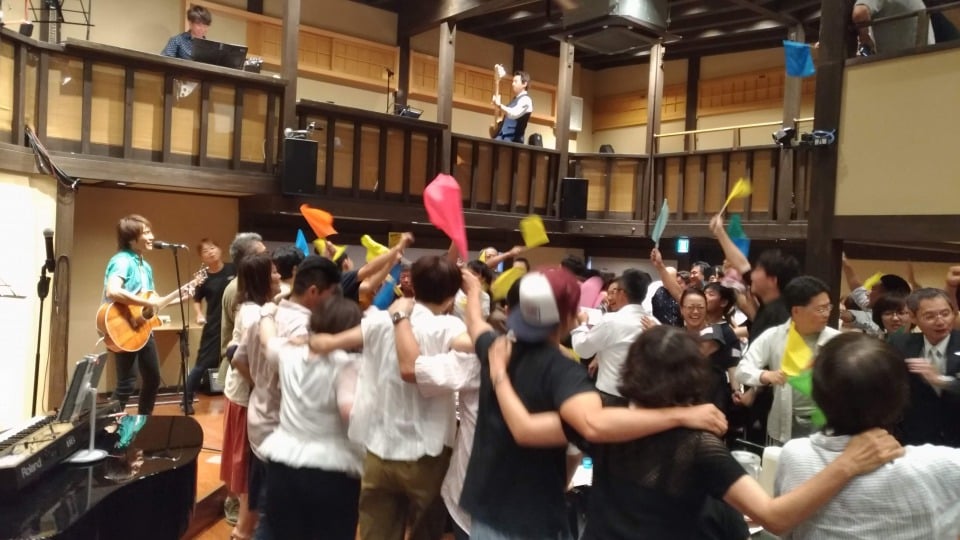 How about a party with sake as the keyword?
The party, held in a rented sake brewery, was highly original and very well received.
After the tour of the brewery, the guests enjoyed delicious sake from the brewery and a meal together to savor the sake first.
Afterwards, a dance party was held at the brewery with live music played by live instruments. This was a big hit.
There is a high level of originality that only a custom-made project can offer.
summary
Combining Japanese culture with entertainment, the planning of such a unique party in Japan will be a memorable time that will leave you with wonderful memories.
The special feeling created by preparing Japanese culture for international exchange and hospitality for foreigners is because Japanese culture is still full of charm.
Motenas Japan offers an unprecedented blend of authentic traditional Japanese art in a form that combines the essence of Japanese culture with entertainment.
If you are worried about how to entertain foreigners, please contact us. We are sure you will find a wonderful plan.