Calligraphy Magic: Why Kanji Performances Enchant Global Audiences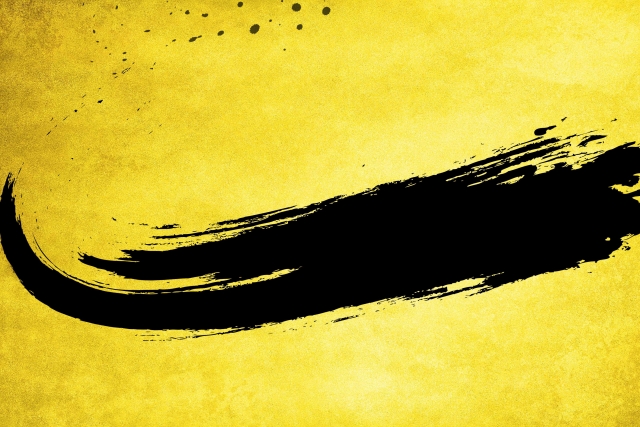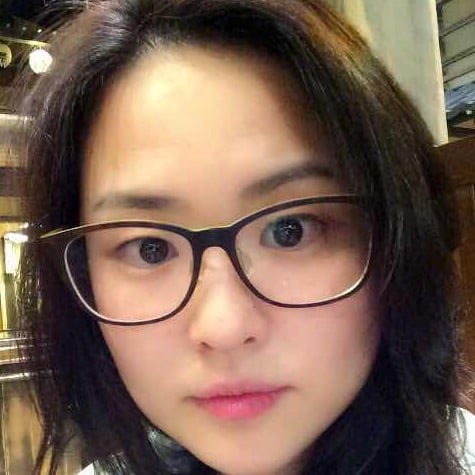 Among the Japanese culture that is now popular abroad is "shodo" (calligraphy).
Among these, calligraphy performances have become one of Japan's most popular cultural experiences, appearing almost without fail at events introducing Japanese culture.
However, this calligraphy.
It seems that every Japanese person is familiar with it, but surprisingly, they may not know all the details.
This time, the spotlight is on calligraphy,
We will introduce popular calligraphy performances for foreigners and specific ways to entertain with calligraphy!
What is Calligraphy?
History of Calligraphy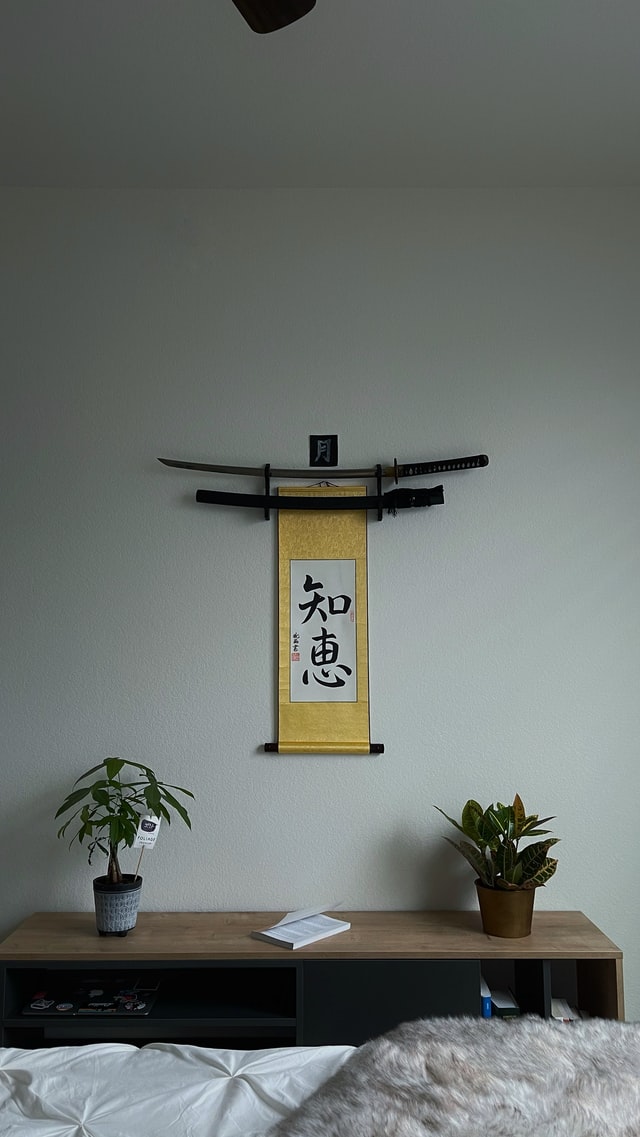 Calligraphy came to Japan from China.
In China, writing characters on paper with a brush was already well developed, and in Japan, objects written in Chinese characters have been found as early as the Yayoi period.
It is said to have come to Japan in earnest in the 6th or 7th century.
The 6th to 7th centuries are the Asuka to Nara periods.
This was also the period when Buddhism was introduced to Japan in earnest.
Against this background, calligraphy originated and took root in Japan as Shakyo.
Along with calligraphy, the latest technology of the time came to Japan in the form of brushes, ink making techniques, and paper production methods.
Then comes an important historical figure with a deep connection to Buddhism.
In the Asuka period came Prince Shotoku, a man of great faith, and then Emperor Shomu, the emperor of the Nara period.
Emperor Shomu built Todaiji Temple and the Shakyojo (sutra office).
Calligraphy inevitably developed as an important element of Japanese culture at a time when Buddhism had a great impact on Japanese culture.
For the aristocrats and warriors of the time, state-of-the-art technology and culture became indispensable, and it quickly became a matter of etiquette for the upper classes of Japan.
The Birth of Kana Characters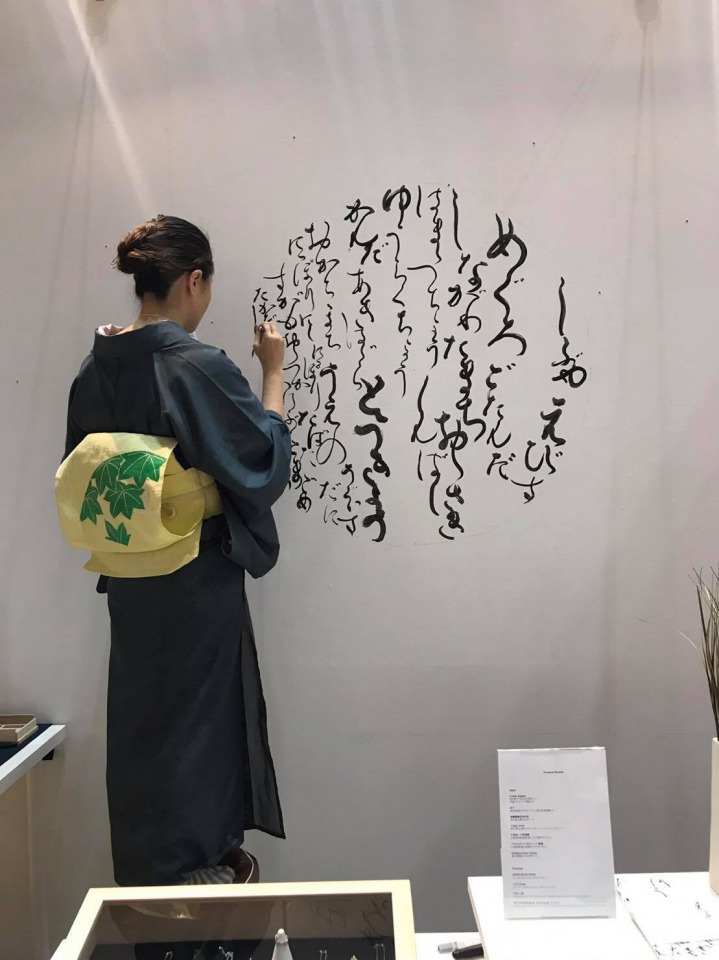 Originally, Japan did not have what is known as writing, but used Chinese kanji characters to fit the sounds of their language.
In this way, letters were created, but by the Nara period (710-794), the Nihonshoki (Chronicles of Japan) appeared.
In this oldest Japanese history book, kanji are represented by sounds.
This is a unique Japanese notation.
It began by borrowing the sound of each note of the Japanese language from kanji, and in the ninth century, "kusakana" was born, which broke itself down.
With the birth of Kusakana, the Japanese language could be written more freely and more richly, giving birth to such works as the Kokin Waka Shu (Anthology of Ancient and Modern Japanese Poetry).
In the 11th century, Japanese tales such as "The Tale of Genji" were invented, and the cultural depth of the Japanese language expanded.
The letters thus created were initially intended to serve a practical function, but as culture developed, the pursuit of beauty in writing began to emerge.
This act of writing in pursuit of the beauty of letters marks the beginning of Japanese calligraphy.
Calligraphy is a way to pursue aesthetic expression of letters, to express beauty in daily life in a practical way while learning, and to express oneself in a spiritually rich way.
It has been respected as a form of human cultivation since ancient times in China as a form of character building and emotional education.
Reference website: https://ja.wikipedia.org/wiki/%E6%9B%B8%E9%81%93
Calligraphy Kanji Styles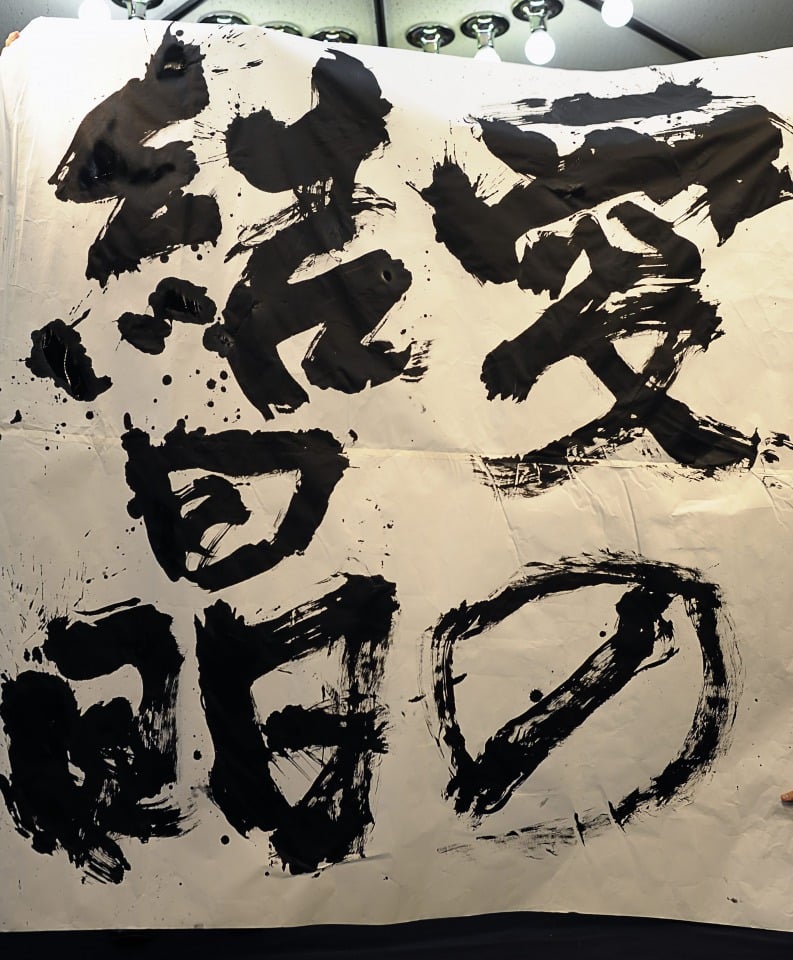 There are a variety of kanji scripts used in calligraphy, five of which are mainstream.
– Tensho: Kanji characters used in seals, passports for Japanese nationals, etc.
– Reisho: This type of calligraphy is said to have originated after seal script.
It is used on Japanese banknotes.
– Kai-sho: The basic style of calligraphy, developed after clerical script.
This is the first typeface learned in calligraphy classes.
It is said to be the most important typeface in calligraphy.
– Gyosho: A typeface created after the standard style.
They write in a flowing manner without stopping the brushstroke or omitting some letters.
– Cursive: Cursive is a writing style in which Japanese is written like a brush.
Cursive writing is difficult to read and write without knowledge, so it is learned by advanced calligraphers.
Reference website: https://shoun.e-nippon.co.jp/blog/32
Calligraphy performance popular overseas
What is a Calligraphy Performance?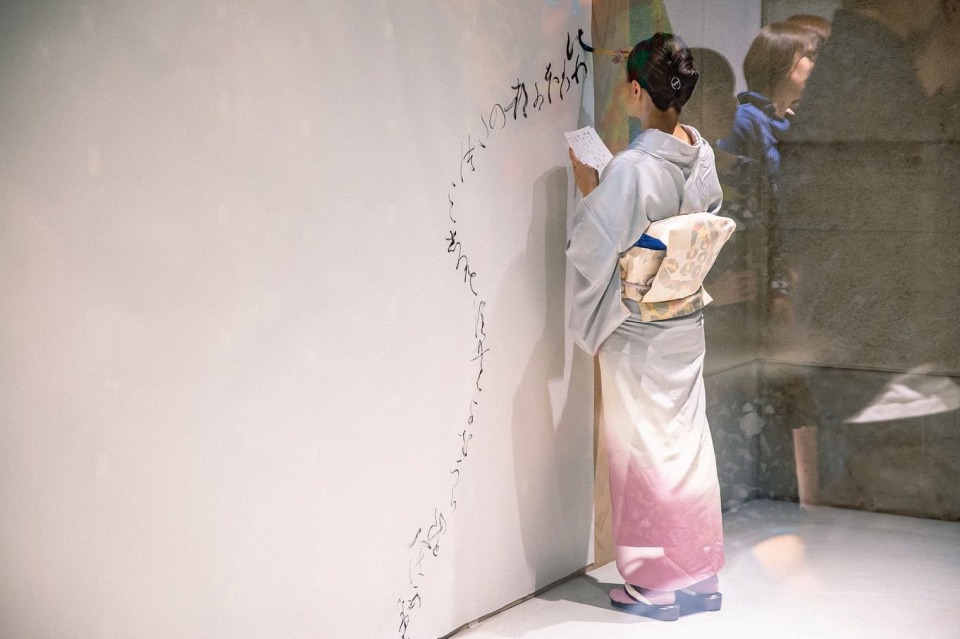 Use your entire body to draw letters on a large piece of paper with a large brush.
The calligraphy performance began in 2008 when the calligraphy club of Ehime Mishima High School presented a calligraphy demonstration of lyrics set to music.
The film adaptation of a true story, "Calligraphy Girls! Our Koshien," which was made into a movie based on a true story.
And the calligraphy performance that began here, as the Calligraphy Performance Koshien, continues to excite high school calligraphers from all over the country.
Since 2008, young professional calligraphers have also been performing at the festival.
This has led to a renewed calligraphy boom in Japan.
And the boldness of this calligraphy performance, in which powerful calligraphy on large sheets of paper is written to music, has made it popular overseas.
Today, it is an indispensable performance at events introducing Japan held overseas.
Calligraphy performance in introducing Japanese culture
In the calligraphy performance, instead of pursuing expression through calligraphy while confronting oneself, the characters are written with a large, thick brush on a large sheet of paper to the accompaniment of music.
Costumes are also moderately modern and Japanese, ranging from those who wear black hakama and dohime like in Kyudo (Japanese archery) to those who wear jinbei and happi coats, which recall festivals, and modern arrangements of kimonos.
Some young professional female calligraphers wear beautiful furisode and tasuki (socks), which are elegant but also show the strength of Japanese women.
Such Japanese-style visuals also seem to be attracting popularity from overseas.
The music and text chosen for the performance give it a strong message, making it a joyful performance for festive celebrations, festivals, and many other occasions.
Japanese cultural experience through calligraphy
Calligraphy performance at the celebration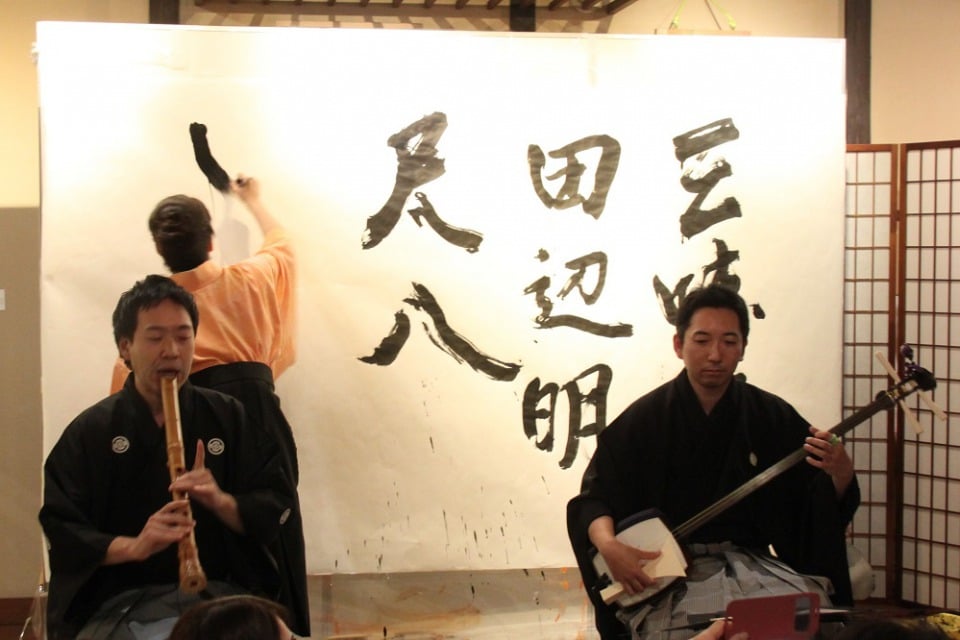 Gala parties and standing buffet parties for the purpose of deepening friendship when important guests from abroad are invited.
Calligraphy performances are a perfect way for international groups to enjoy Japanese culture.
What is important at a reception or celebration is pomp and circumstance.
A professional calligrapher will be able to perform a calligraphy with words of congratulations or corporate enthusiasm to the music, which is sure to make the occasion more lively.
Below are links to a list of past articles for planning parties for foreigners.
Please read this for your reference.
Party planning for foreigners|7 performances in English:
Party planning for foreigners | 3 examples of events in Japan:
Japanese style party and hospitality event] Planning and 3 examples
Calligraphy x Live performance
Visualization by writing
Smell of ink
Hearing from live music
The Japanese calligraphy performance and live music is a Japanese cultural experience that transcends language and can be enjoyed with a variety of senses.
Calligraphy performances can be performed to any music.
How about a collaboration with live music for such a calligraphy performance?
The powerful live music and calligraphy performance by a calligrapher will be an overwhelming Japanese cultural experience.
The exuberance, the exoticism of calligraphy, and the unique aroma of sumi ink enveloped the audience.
It is also easy for the planners to create a variety of spaces depending on the music selection.
If you want to create a more authentic Japanese cultural experience, playing with a band using Japanese instruments is also tasteful.
Arrangements of well-known songs by Japanese instruments or songs that you know will bring you closer to the feeling, so you will be able to enjoy them across cultures.
Calligraphy workshops popular among foreigners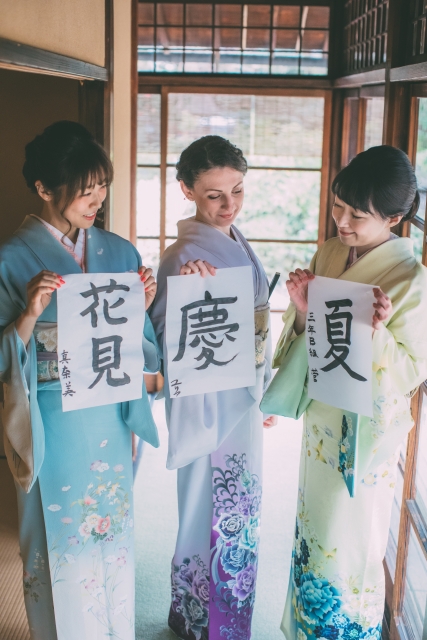 The potential for experiencing Japanese culture through calligraphy is not limited to calligraphy performances.
Calligraphy is attracting attention from abroad in a deeper way than Japanese people think.
From the point of view of people from non-Kanji-speaking countries, the depth of meaning that kanji forms and a single symbol can hold is of endless interest.
In fact, it is common to see people from non-Kanji speaking countries with Kanji fashion tattoos on their bodies.
This is what these letters mean.
and many people dare to engrave the names of their loved ones in Chinese characters.
This background gives foreigners, even those with no knowledge of calligraphy, an idea of the appeal of Chinese characters.
Above all, calligraphy is a time to write with a brush, ink, and Japanese paper in a quiet and tranquil manner.
This gives the impression of a Zen-like atmosphere that is always attracting attention from abroad, which gives a glimpse into the meaning of the popularity of the calligraphy experience among foreigners.
At a moss temple in Kyoto, there is always time to do sutra chanting before visiting the temple.
This sutra-scholarship time has also received tremendous praise from foreign tourists.
In light of this, we offer a very satisfying Japanese cultural experience that includes an opportunity to experience calligraphy with a calligrapher in a quiet, private space with an interpreter.
If you can write your own calligraphy on a commemorative item such as a fan, it will make a wonderful souvenir and will be greatly appreciated.
Calligraphy experience, examples from Motenas Japan
A person who taught calligraphy came to Japan from France.
In the West and the Middle East, as in Japan and China, there is a traditional culture of calligraphy that makes a typeface look beautiful, and it is called calligraphy.
Calligraphy is written with a pen or other medium rather than a brush, but the pursuit of stylistic beauty and legibility is similar to calligraphy.
The client had taught calligraphy in France and was very interested in Japanese calligraphy.
He always brings his own calligraphy brushes for calligraphy, so he was very pleased to have a private calligraphy experience learning calligraphy from a calligrapher.
Then, a calligraphy class began, and we had a very productive and enjoyable time teaching calligraphy.
The private space makes it possible for you to spend a fulfilling time.
It was truly a calligraphy experience suitable for entertaining important people.
summary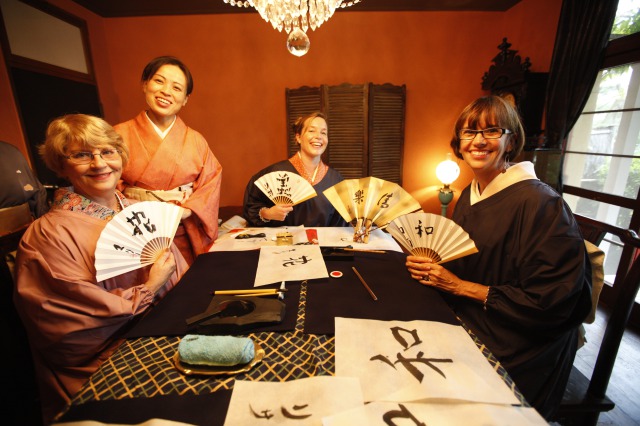 In Japan, there are a variety of traditional cultures with "michi.
Among these, calligraphy is probably the most familiar to Japanese people.
Because of its familiarity, it has become an indispensable part of Japanese life, even though we have a vague idea of its philosophy and history.
The calligraphy performance is a proud contemporary artistic expression of Japan, born from the young energy of high school students.
Such everydayness, tradition, and the power of the modern Japanese people can be seen in today's calligraphy.
This aspect may also be a reason for its popularity among foreigners.