Ninja Experience & Entertainment
Feel the Japanese cultural heritage, the spirit of shinobi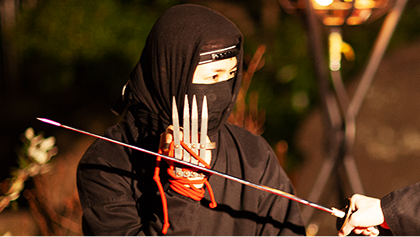 NINJA
Ninjas are enormously popular to this day and an inevitable existence when speaking of the historical culture of Japan.We have prepared a plan for a ninja experience.We have prepared a plan for a ninja experience.Ninjas have bared the behind the scenes work of spying and collecting information using various techniques.They also played an important role behind the course of history.Ninjas have disappeared after the peace of the Tokugawa Shogunate, and currently, its knowledge and martial arts are being passed down in a handful of Ryuha or schools.
SERVICE STRENGTH
01
Providing entertainment that your guests thoroughly enjoy
02
Witness real Ninja weapons expertly handled
03
Tailor-make the experience to your guests' preferences
SERVICE FEATURES
This event is a combined Ninja demonstration and entertainment show.
The event combines light and shadow with music,
in an exciting way, and is especially recommended for groups of guests
because of its format of storytelling,
and acrobatics with Samurai fighting Ninja fighting 'Kunoichi'(Female Ninja).
The dynamic performance of light and shadows overpowers the senses,
and the addition of the glamorous Kunoichi makes for
a very moving and entertaining experience.
Article: Fun Japanese Entertainment!
A Ninja Show For Your Overseas Guests

PLAN
In this ninja experience plan, performers will demonstrate inherited martial arts that are passed down by their ancestors as a strictly confidential family tradition such as shuriken, blowpipe, meditation, and Kuji-kiri (nine symbolic cuts).
The ninjas will entertain you under the motto, "Treasure every encounter, for it will never recur."
This is a plan enjoyable for not only adults but also for children.
You can wear real ninja outfits.

You can experience authentic performances
by the ninjas.

You can learn about the weapons used
by ninjas through a lecture.

You can wear ninja costumes.

You can learn about the weapons used
by ninjas through a lecture.

You can take commemorative photos
with real ninjas.

You can enjoy dynamic performance scenes.

Kunoichi or female ninjas
will also perform.

See the techniques of expert ninjas
with your own eyes