Experience Japan: Top 5 Traditional Cultural Performances Loved by International Visitors!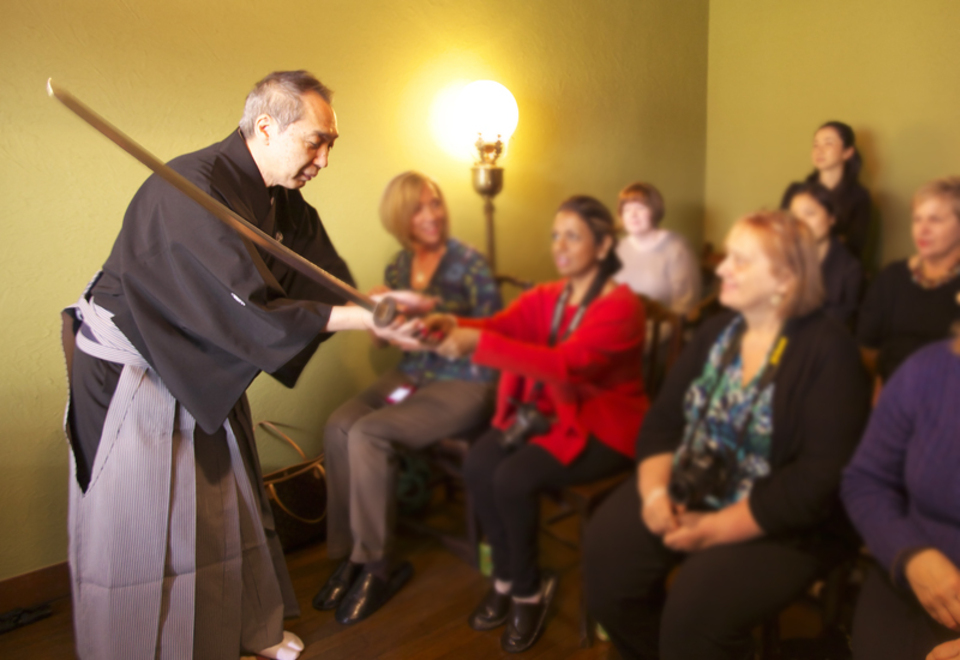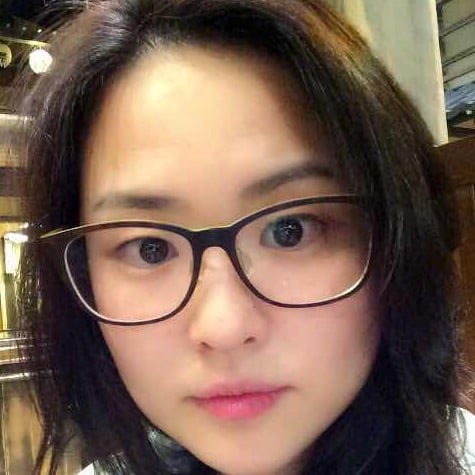 Japanese culture is always mentioned as an interest in Japan by foreigners.
When offering such a Japanese cultural experience, I recommend a performance that is uniquely Japanese.
Our proposal of a wonderful Japanese performance is sure to please any clientele, no matter their demographic.
So, when thinking about a performance that is uniquely Japanese, what are the most important things to consider?
In this issue, we examine how to make foreigners enjoy the attractions of Japan even more from this angle.
What exactly is a typical Japanese performance for foreigners staying in Japan?
What kind of Japanese performances are popular among foreigners?
Examples will be presented along with case studies!
About Japanese-style performance
Foreigners' Image of Japan The Real Japan
The image of Japan held by foreigners.
From foreigners who have been to Japan several times to foreigners who came to Japan for the first time in their lives.
If this is your first time in Asia.
Even when we speak of foreign visitors to Japan in a single sentence, their views on Japan differ.
However, in general, it is often whispered that
Exotic and traditional.
However, it is a country with a futuristic image where technology is universally pervasive in everyday life.
Stereotypes about Japan, such as "I'm not a Japanese," "I'm not a Japanese," "I'm not a Japanese," "I'm not a Japanese," etc., exist in every country, and are a trigger for interest in Japan.
It may not seem like much when you are actually living in Japan, but from a foreigner's point of view, it looks like a very mysterious country.
However, for many foreigners, the image of Japan is often far removed from the actual Japan.
We Japanese people often think of the image foreigners have of Japan as "this is how it really is, but it's only superficial! That's because it's superficial. It is undeniable that there are times when we Japanese reject such images of Japan held by foreigners, saying, "That's just superficial.
Even if the interpretation is a little off, if there is a source of attraction there for that person, I will further expand and satisfy the image of Japan that the foreigner in front of me has.
I think it is also important to provide such Japanese performance.
This is the way Japanese culture should be, and I hope you will experience it while respecting its history and manners.
Of course, that is a good argument.
However, many foreign visitors to Japan do not even understand Japanese, and are in the country of Japan for tourism or business.
There are many such people.
Everyone and everything has a trigger or entry point for curiosity.
We would be very happy if we can help your interest in Japanese culture and interest in Japan through such an entrance by Japanese performances.
One of the most important things when you want to communicate something is for the other person to understand and enjoy it more.
To be of interest.
We can recommend Japanese performance as a suggestion for such an opportunity.
Reference website: https://www.soumu.go.jp/johotsusintokei/whitepaper/ja/h28/pdf/n3400000.pdf
Japanese Performance + Entertainment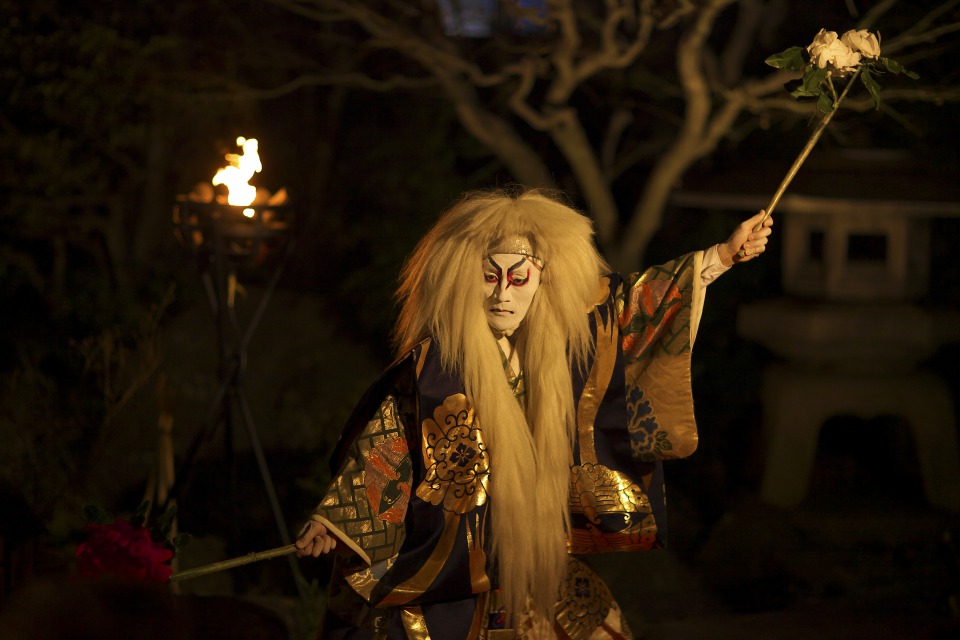 And when considering Japanese performance, let's also focus on the fun and charm that comes from adding entertainment value.
We believe that we can provide a Japanese performance that is close to the audience through the entertainment value added to a genuine, not fake, Japanese cultural experience.
By adding more entertainment to Japanese culture, it is possible to convey the larger ideas, philosophies, and aesthetics of Japanese culture in a more imaginative way.
In situations where I introduce Japan to people overseas, I often hear people say, "Hmmm. I'm not really like this. I don't really like it like this.
But that is not the same as saying, "Let's experience Japan in a non-Japanese country, and let's try to somehow convey Japan with what we can get locally! Let's somehow convey Japan with what we can get locally! These are Japanese cultural experiences and performances that come from completely different motivations.
There is a saying, "We want to introduce the country of Japan to people in other countries and make them interested in it! We want to introduce Japan to foreigners and have them enjoy it! These performances are born from the enthusiasm of local foreigners who love Japan and Japanese people who live in Japan.
It's a lot of fun, and I always see people from other countries who enjoy it.
However, this is not the case with the Japanese performances that foreigners visiting Japan experience in Japan.
Authentic Japanese culture that can be experienced only in Japan.
A superb quality performance that can only be found in Japan.
It is a way to deliver an authentic Japanese cultural experience that builds on the image of Japan that foreigners have of Japan.
Since they are foreigners, they cannot understand the real Japan, so they will be satisfied with only low-cost, somewhat Japanese style.
How disappointing it would be if Japanese people delivered a Japanese performance in Japan to foreigners visiting Japan with the idea that
There is no need for true understanding because you are a tourist or because you are a foreigner.
What a surprise!
A decade ago, this might have been acceptable, but nowadays, information is readily available wherever you are.
The focus of foreign people's gaze on Japan is also becoming more fixed.
What is important is to further materialize the image and dream of Japan with the real thing.
And to expand it, to give it substance.
When a foreigner's image of Japan coincides with an authentic Japanese experience, it is a moment when that person's dreams come true.
It would be nice if we, as Japanese, could provide such assistance.
Performance in traditional Japanese performing arts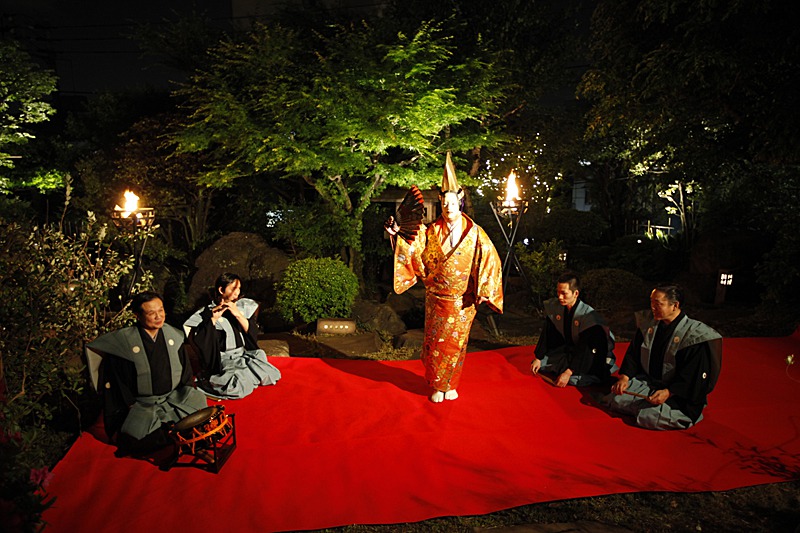 So what, in fact, is a typical Japanese performance?
When I think about it, what comes to mind is Japanese traditional performing arts.
Japanese traditional performing arts contain Japanese history, philosophy and aesthetics.
Many foreigners are fascinated by traditional Japanese performing arts, and there is no end to the number of people who admire their beauty even if they have no interest in Japan.
Traditional Japanese culture is recommended for performance proposals, especially for large foreign groups.
However, traditional Japanese performing arts are fascinating because of their deep history and culture.
However, there are many foreigners who stay for a short period of time or are too busy to take the time to view the exhibition.
In such a case, how about recommending a traditional Japanese cultural performance in a private space?
The private space allows you to arrange for a personal interpreter and to enjoy a deeper understanding in a shorter time.
We can prepare a more enjoyable Japanese performance to suit your time.
Foreigners' Experiences of Japanese Performances
Performance of Japanese Food Culture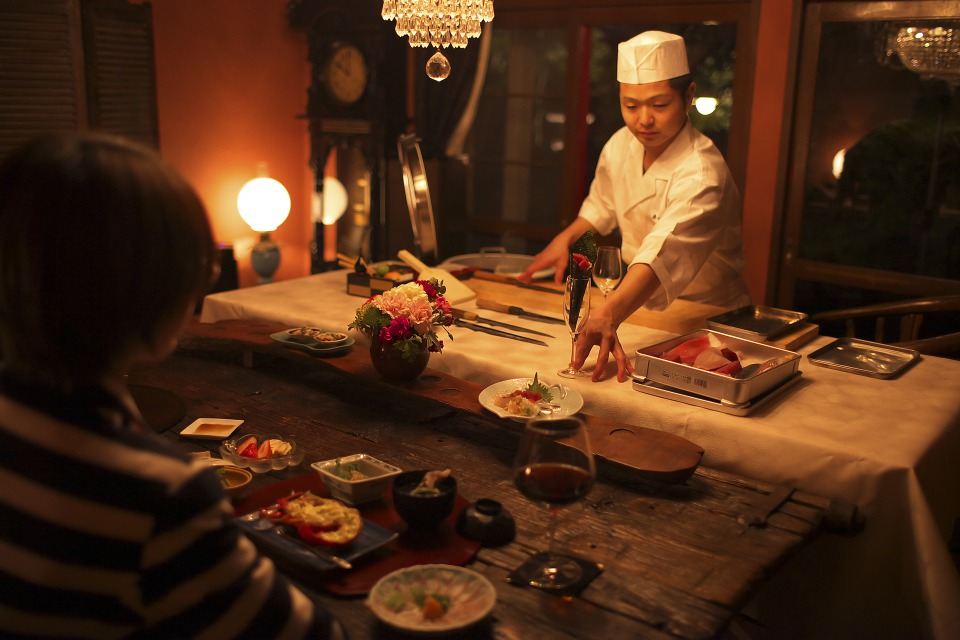 The Japanese food boom is still spreading around the world.
Many foreigners want to eat Japanese food since they have come to Japan.
Sushi is one of the most popular Japanese foods, and is always ranked as one of the top things to eat in Japan.
The "nigiri-zushi" experience and workshops, where you can make sushi by yourself, have become very popular! The nigiri-zushi experience and workshops are becoming very popular.
Then, the visiting foreigner eats 3 meals x the length of his/her stay.
Adding a performance to the food program will not have a major impact on the schedule of the foreigner's stay in Japan, and will be very much appreciated.
Performances featuring Japanese food can be expected to have a significant inbound effect.
For example, a tuna dismantling show performance is a very interesting Japanese performance from a foreigner's point of view.
It is hard not to be impressed by the sight of a Japanese chef inserting a knife into a large tuna without hesitation.
And not to forget the sake brewery tour, which can only be experienced in Japan.
Motenas Japan has had the pleasure of renting out a sake brewery for a party with live music and a powerful tuna demolition show after the sake brewery tour.
We enjoyed delicious sake from the sake brewery and fresh tuna sashimi to our heart's content.
The foreign guests were overjoyed by this performance, which could only be experienced in Japan.
In this way, Japanese performances for foreigners can be multiplied to provide an original and unique experience.
Japanese Traditional Culture Performance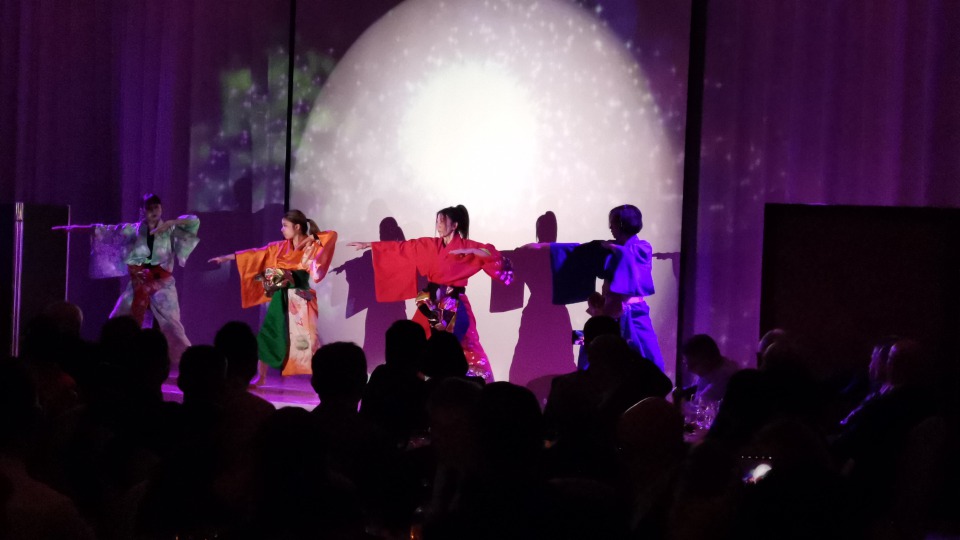 Performances based on traditional Japanese culture are always full of interest from foreigners.
Traditional Japanese culture is a condensation of Japanese philosophy, aesthetics, thought, and history.
There are many foreigners who want to know and experience traditional Japanese culture, and quite a few of them make it one of the purposes of their visit to Japan.
A trip to the major tourist destinations in Japan.
That alone will allow you to enjoy Japan.
However, as a recent trend among foreign visitors to Japan, we would like to organize Japanese traditional culture experiences and Japanese traditional culture performances.
You can read in the survey that they think that
To learn traditional Japanese culture, you will need to stay in Japan for a long period of time to experience it, unless you are able to attend classes.
And there are quite a few people who have some idea of what it is, but have never seen it.
At such times, performances of traditional Japanese culture are very valuable and popular.
The first step is to actually experience real traditional Japanese performing arts by watching a quality traditional Japanese cultural performance.
From there, my interest in traditional Japanese performing arts further broadened.
Performance of Japanese martial arts such as karate and judo
Japanese Butoh dance by Geisha, Calligraphy performance by a calligrapher
Tea ceremony masters will perform odenmae (tea ceremony) and ikebana flower arrangement performance.
Those who develop further interest will request workshops and traditional Japanese cultural experiences for their next stay in Japan.
Traditional Japanese cultural performances are also recommended for wealthy people who want to experience Japanese traditional arts in a relaxed, special, and quiet manner, or for VIP guests who are entertaining guests.
The private experience in a private room for them is also attracting a lot of attention.
This is because the elegance of traditional Japanese culture is added to the special time spent with a special person, and the time spent with a special person can be colored more elegantly.
Performances by traditional Japanese performing arts have many possibilities.
Reference site: Ministry of Land, Infrastructure, Transport and Tourism, Japan Tourism Agency, Survey of Foreign Visitor Consumption Trends: https://www.mlit.go.jp/kankocho/siryou/toukei/syouhityousa.html
Five examples of Japanese cultural performances that delighted foreigners
So what are some of the performances of traditional Japanese culture?
Samurai Performance Killing Dance
There are quite a few foreigners who recall the image of samurai in movies in their longing for Japan.
The Samurai Performance is a performance of a foreigner's dream of a samurai, performing a beautiful dance with a sword.
The incorporation of the elements of sword fighting and sword fighting seen in period dramas is the embodiment of the foreigner's dream of becoming a samurai.
Such Samurai performance and performance with a sword fight is a Japanese performance that we would like to offer for the opening of a gala party or for a large audience.
Here is a recommended article about Samurai.
What is a Samurai? | Why are Samurai so popular among foreigners?
Explaining the Samurai to Foreigners|How to convey the spirit and history of the samurai in English.
Inbound support! Martial arts experience, entertainment, team building
Karate Performance
What does a karate performance entail?
How can karate be considered a performance?
You don't see many Japanese people performing karate.
However, karate is a sport that represents Japan worldwide, and in karate, the beauty of the techniques is competed for in the performance.
Karate performances are powerful and pursue the beauty of movement through karate-do, and deserve to be appreciated as an art form rather than a sporting spectacle.
And karate performances include high stacked kawara wari and shin-bud breaking.
The karate-ka takes concentration to the extreme and breaks it by a spirited blow.
The spirit and tension of the event engulfed the audience.
Here is a recommended article about karate
Four examples of uniquely Japanese performances by karate and martial arts
Learn self-defense and kicking with a real karate experience! – Exploring Japan's Culture
Basic Knowledge of Karate] Explained in English in a way that is easy for foreigners to understand.
Ninja x Entertainment
A Japanese icon.
Ninja.
Ninja is a Japanese performance that is appreciated by foreigners of all ages.
For a performance with ninja as the keyword, we recommend entertainment by real ninjas.
It is a hand-picked entertainment featuring acrobatic performances by ninjas with beautiful visual effects and tense music.
The uplifting experience of witnessing the powerful acrobatic movements of real ninja who have actually trained in the art of ninjutsu before your very eyes.
The entertainment created by the latest visual technology, vivid lights and shadows, and powerful sound is sure to attract the audience.
Ninja actually existed in history, and even after their disappearance from history, they continue to run free in various stories.
Their existence has gone beyond Japan, and the ninja continues to travel around the world today as a representative image of Japanese culture.
The hospitality of these ninja performances will allow foreigners to enjoy Japan to the fullest.
This is a link to a recommended related article about Ninja.
What is the Japanese symbol of the Ninja? Ninja Experience and Entertainment
Explaining the Ninja in English] 5 Recommended NINJA Experiences
Calligraphy Performance
The popularity of calligraphy performances overseas has recently been remarkable.
The calligraphy is done with a large brush on a large sheet of paper.
In addition, the calligraphy performance is set to music, which enhances the strength of the letters.
The sight of calligraphers dressed in beautiful Japanese attire, such as hakama and kimono, earnestly writing calligraphy is a uniquely Japanese performance art.
Live music for the calligraphy performance can also add to the entertainment value.
If you perform with a band using Japanese instruments, you can create a more Japanese atmosphere,
Combined with a jazz band, we can provide an atmospheric calligraphy performance.
This ability to provide an atmospheric Japanese performance for any situation is one of the charms of calligraphy performance.
In addition, you can discuss the words of your message with the calligrapher in advance.
It is the perfect Japanese performance for celebrations, social gatherings, and other occasions when you want to add a festive and festive touch to the occasion with your partner.
Recommended past articles on calligraphy.
Calligraphy Magic: Why Kanji Performances Enchant Foreigners
Kabuki x Entertainment
Many foreigners think of Kabuki when they think of traditional Japanese culture, and the allure of exotic makeup and elegant kimonos continues to fascinate people of all ages.
How about such entertainment at Kabuki?
It is chic to go to a Kabuki-za theater to see kabuki, but there are too many obstacles for foreigners, such as the length of the performance and the barrier to the Japanese language.
Those who come to Japan for a short stay inevitably want to enjoy the country in an efficient manner.
So, for example, we can recommend a plan that allows you to watch an authentic Kabuki performance during your meal time.
This is a luxurious Japanese cultural experience where you can enjoy Kabuki with a delicious meal in a private space, where eating and drinking are usually strictly prohibited.
This is a Japanese performance experience that we recommend for VIP foreigners and important guests.
Click here for recommended past articles about Kabuki.
A real Kabuki experience! Entertainment of foreign VIPs and wealthy customers
summary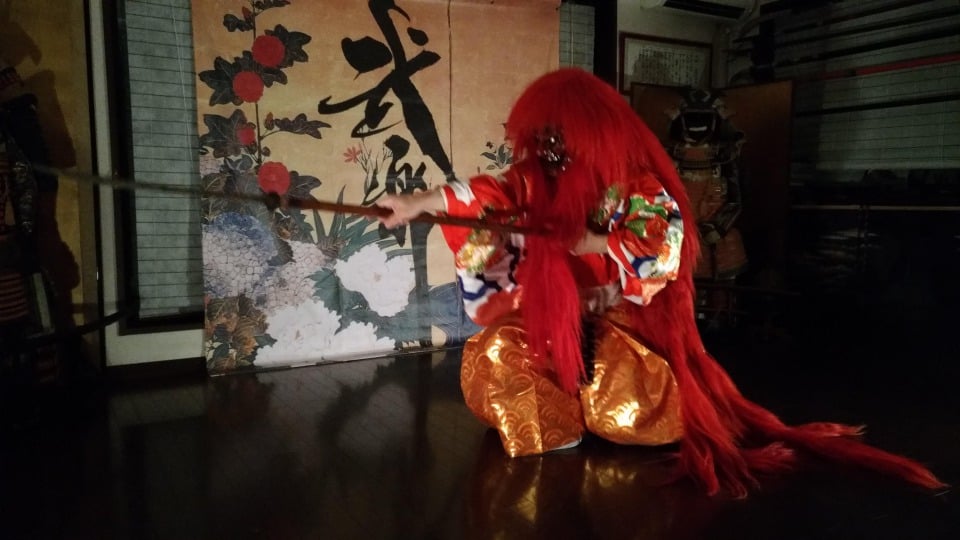 Japan has many fascinating cultural roots.
Foreign visitors to Japan who want to experience and savor more of Japanese culture.
When considering a performance that is uniquely Japanese, it is important to consider the foreigner's point of view and let them enjoy the real thing.
We would like to deliver a Japanese performance with hospitality that can be tailored to the other person's point of view.
At Motenas Japan, we are always available for such concerns and consultations.
Please feel free to contact us at any time.
A once-in-a-lifetime thought.
We are happy to assist you in making a wonderful stay in Japan for your valued guests.