Experience Sumo Like Never Before: Customized for the World's Wealthiest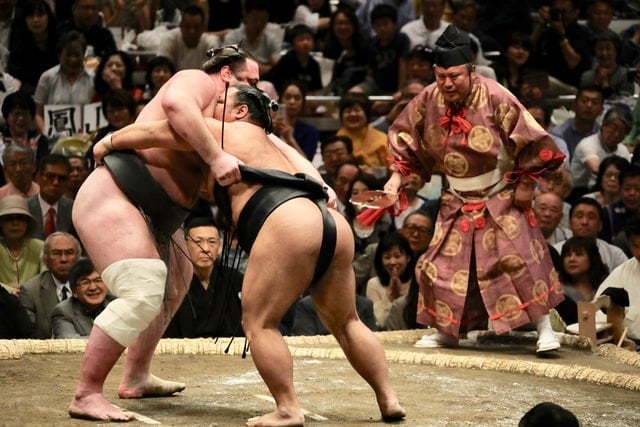 We receive unusual requests from foreign guests, such as "I want to dance disco with a sumo wrestler" or "I want to scrum with a sumo wrestler," because we want to please our VIP guests.
President Trump of the United States and President Chirac of France have also watched sumo as guests of honor.
We have received many requests for a sumo experience as part of the entertainment scene for special foreign guests in Japan.
In this article, we will thoroughly introduce our custom-made hospitality for these wealthy foreigners!
In this article, we will
– What exactly does a sumo experience entail?
– What are the advantages of a custom-made sumo experience?
– I want to know how to entertain foreigners with sumo.
This article is perfect for those who want to know how to entertain foreigners with sumo.
By reading this article, you will gain a deeper understanding of the custom-made sumo experience that is perfect for your hospitality project for wealthy foreigners.
Why the Sumo Experience is a great way to entertain foreigners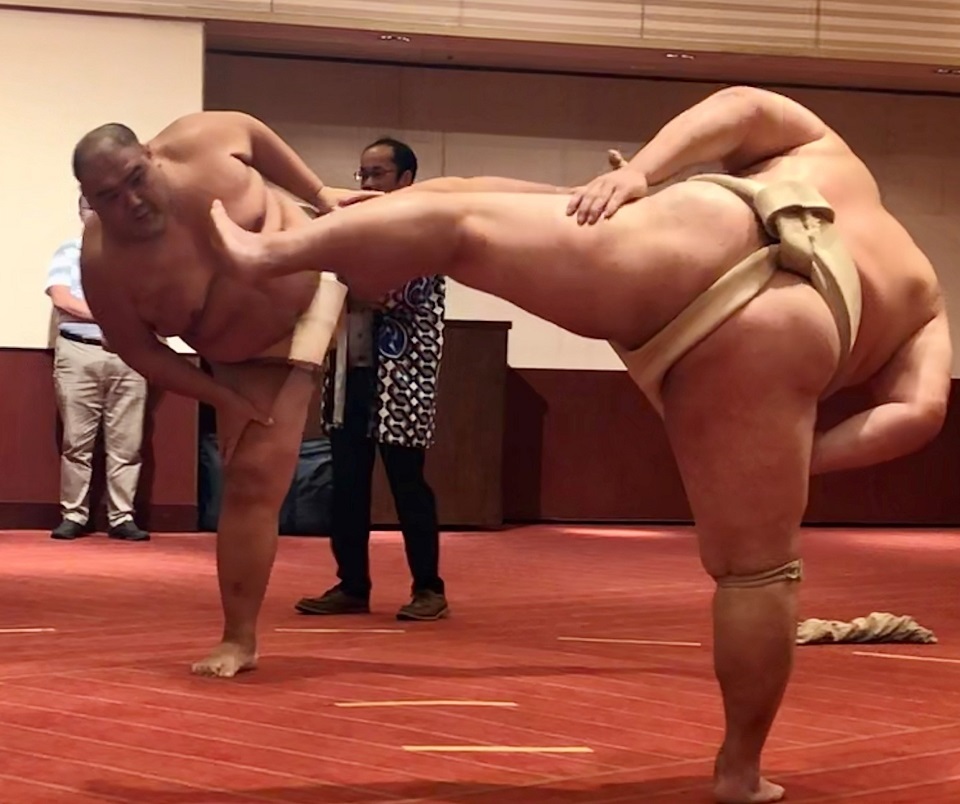 Why is the Sumo Experience recommended for foreign visitors?
Here we will look at four reasons why we recommend the Sumo Experience for entertaining foreigners.
Very popular overseas
Sumo experiences are very popular as a form of hospitality for foreign guests.
This is because, although sumo is a martial art, it was originally dedicated as a Shinto ritual, and the vestiges of this tradition are still very much alive today.
That is, although sumo is a martial art, it was originally dedicated as a Shinto ritual, and in the days of the samurai, the importance of enjoying sumo was demanded.
Remnants of this tradition remain strong in today's sumo, and the lifestyle and appearance of sumo wrestlers are inherited from the Edo period, with its emphasis on etiquette and manners.
Above all, the hospitality of a sumo experience is a rare and unusual one, and can be a very moving experience for visitors to Japan.
The Sumo experience is a great way to experience Japanese culture, martial arts, and cuisine.
Let's enjoy Japan to the fullest through the Sumo experience!
Sumo is Japan's national sport
Sumo is Japan's national sport.
Most foreigners visiting Japan want to "experience and see something uniquely Japanese" since they have come to Japan.
Considering that many foreigners visit Asakusa, the sacred site of sumo, every year, it could be said that sumo occupies an important position in the image of Japan that foreigners seek.
In addition, since a sumo experience is not something that can be done casually, there is a special feeling of "I had a rare Japanese experience! It is also a very special experience for foreigners.
There is a reason why so many foreigners want to experience sumo, the national sport, in Japan.
You can enjoy it during lunch time.
Most foreigners who travel to Japan want to make the most of their time in Japan.
Many sumo tour packages also include lunch time, making them a popular way to experience Japan all at once.
Moreover, since chanko-nabe is a rare dish for foreigners, it is a great way to experience Japanese food culture as well.
The sumo experience is a Japanese cultural experience that is recommended for travelers who are eager to have fun.
A different kind of fun from watching sumo
When it comes to watching sumo, you will be watching in a traditional Japanese stadium.
It is a wonderful and emotional experience, and many foreigners would love to watch a sumo match at the Kokugikan. Many foreigners would like to watch sumo matches at the Kokugikan.
However, it is a fact that there are many people whose lifestyles do not match the style of watching sumo in the narrow tatami mat seats.
This is especially difficult for those with small children.
On the other hand, the Sumo Experience allows people to freely watch the matches, so small children and foreigners who cannot sit on the floor can enjoy the experience without stress.
What is the Sumo Experience?
So what exactly does a sumo experience actually entail?
There are small differences depending on where the event is held, but let's take a closer look at the details of a typical sumo experience program.
Description of Wrestlers
In the Sumo Experience, the wrestlers themselves will first explain to you what sumo is. Most foreigners' knowledge of sumo is based on the interpretation that it is "a big guy with a big headdress, almost naked, and fighting.
Most foreigners' knowledge of sumo is that it is "a Japanese martial art in which very large, almost naked men fight each other with their hair up in a bun," so it is a pleasure for us to explain sumo to them.
Former rikishi endure long months of rigorous training and observe a solemn, traditional lifestyle in order to step into the sacred sumo ring.
They listen attentively as the former rikishi directly introduce the rules, training, history, life of the wrestlers, and other interesting information.
The Sumo Experience for Foreigners is also available with an English interpreter to help foreigners learn more about sumo and prepare them for a more enjoyable Sumo experience.
sumo fighting
Former rikishi begin to fight right in front of you.
The actual rikishi are quite large, so it is quite shocking to see them in action up close.
Everyone looks at each other intently as they watch the big rikishi engage in serious competition at close range, almost within arm's reach.
The winner is decided in an instant as everyone watches intently.
The tense atmosphere and the excitement of the match spread throughout the venue.
The excitement of the heated, serious competition makes one's hands sweat, and above all, the sense of presence, which is different from that of watching sumo, is unique to sumo.
Challenging former sumo wrestlers
The Sumo Experience allows you to actually challenge a sumo wrestler, although the experience varies depending on the plan.
Depending on the plan, you can try on a sumo wrestler wearing a mawashi or a sumo suit (like a stuffed animal), so please check in advance.
Most foreigners are excited about this plan.
It is like a dream come true to be able to actually go up against a big sumo wrestler.
It is not every day that you get to fight a real sumo wrestler.
No one can tell how powerful a real rikishi is from images or rumors.
The tension of facing a big rikishi with your own body, and the excitement of the moment when you are in the same position as the rikishi, are priceless.
Nothing can replace that feeling.
commemorative photograph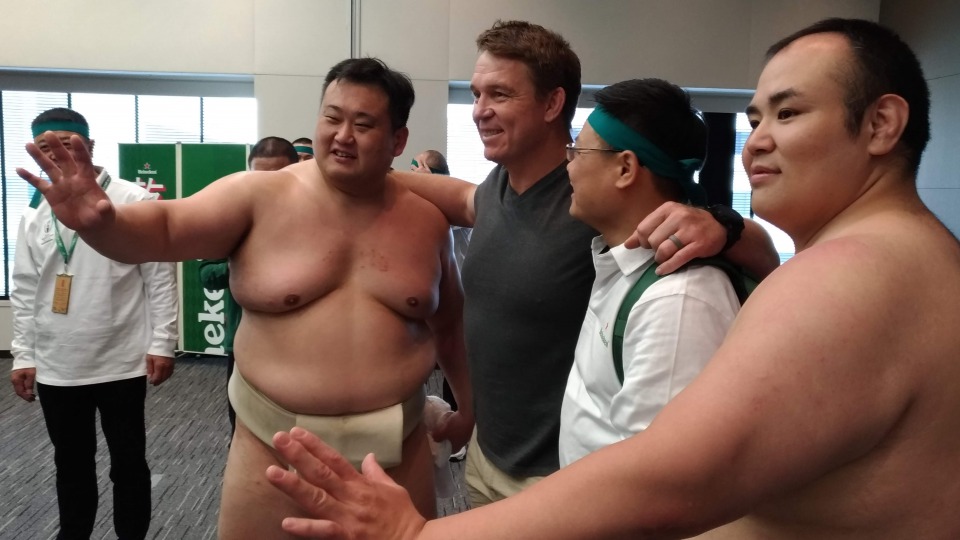 Here, you can take a commemorative photo with sumo wrestlers, which is included in the plan.
It will be a precious memory of your trip to Japan because you can take pictures with exotic sumo wrestlers.
However, some plans prohibit photography, so please check in advance.
Some plans prohibit photography, some prohibit video, and some prohibit posting on social networking services.
Please note that the rules vary depending on the location of the plan, such as
Lunch time at Chanko-nabe
After a full sumo match with the wrestlers, the best part of the experience is the chanko-nabe.
Most sumo experience packages include chanko-nabe for lunch.
Chanko-nabe is the most popular dish for sumo wrestlers.
Chanko-nabe is very popular because you can enjoy authentic chanko-nabe.
Some of the plans also offer Genghis Khan and other dishes, which is a great option for foreigners from cultures or religious views that do not allow pork or beef.
Chanko-nabe is a special dish for sumo wrestlers.
It is a very special experience to enjoy chanko-nabe after you have actually had a match.
question and answer session
There are many sumo experiences where you can ask questions directly to former sumo wrestlers while eating chanko-nabe.
It seems that interesting questions come to mind because they have actually experienced and enjoyed sumo themselves.
A project that can respond to requests from foreigners on the theme of sumo wrestling.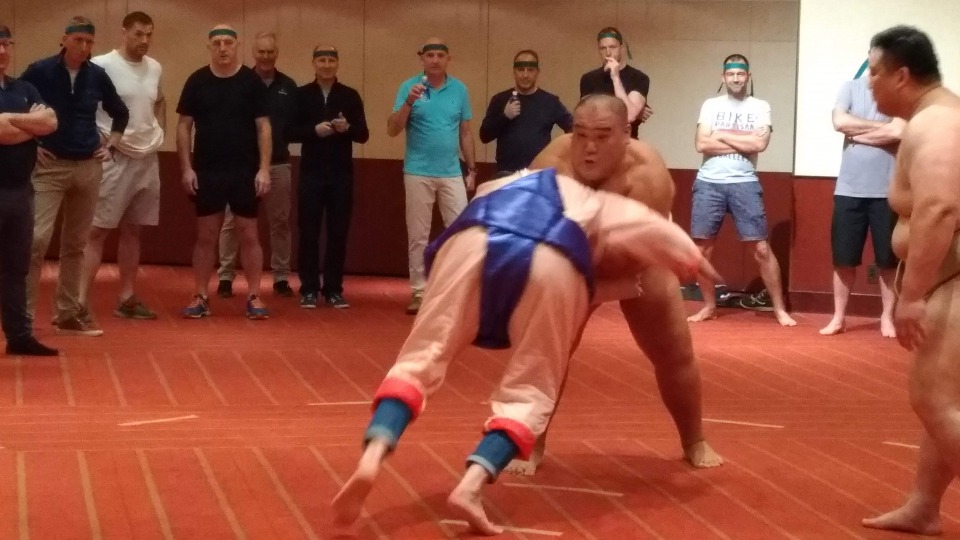 Team Building x Sumo Experience
Sumo wrestling experience is planned as a team building activity.
This slightly different team-building experience is perfect for companies looking for a team-building program for their corporate training.
You will learn the basics of sumo from rikishi, such as how to do the shikata (four-legged stances) and how to wrestle.
This team-building program is perfect for foreign participants on incentive trips, as they will learn the history of sumo, its teachings, etiquette, and Japanese culture.
The basic training of sumo, the shikata (four-legged stomp), strengthens the core of the body and improves the balance of the body.
The ability to hit the opponent with the whole body is also an important part of team building, and can help develop team communication.
Recommended related article: [A Japanese Experience that Foreigners Will Love! Karate and Team Building and Training Cases to Learn the Japanese Spirit
Sumo x Entertainment
Sumo entertainment is to liven up a scene with a sumo-themed performance.
It is recommended for celebrations and gala parties when you want a unique Japanese project.
Wrestlers are big and powerful.
They are also a symbol of Japanese culture and the national sport.
You can watch the wrestlers compete in a three-way match at the venue, challenge them to a bout, or have a scrum with the wrestlers.
The possibilities are endless.
Sumo is always of interest to foreigners, so if you plan an important party for a large number of people, it will be an amazing performance.
Sumo x Workshop
This is a project to experience sumo as a workshop.
What is different from a sumo experience is that it is a workshop, so you will learn the martial art of sumo rather than experience it.
The most typical example is how to step on the four-legged stool.
You will learn how to lower your body's center of gravity, strengthen your core, and learn how to balance your body.
You will learn how to balance your body.
Participants are also able to learn how to perform bouts and techniques for throwing opponents, and are highly satisfied with the training they receive from former rikishi.
Learning sumo as a real sport in Japan is sure to make you sweat and experience sumo in a comfortable way.
What you can do because it is a custom-made project Sumo Experience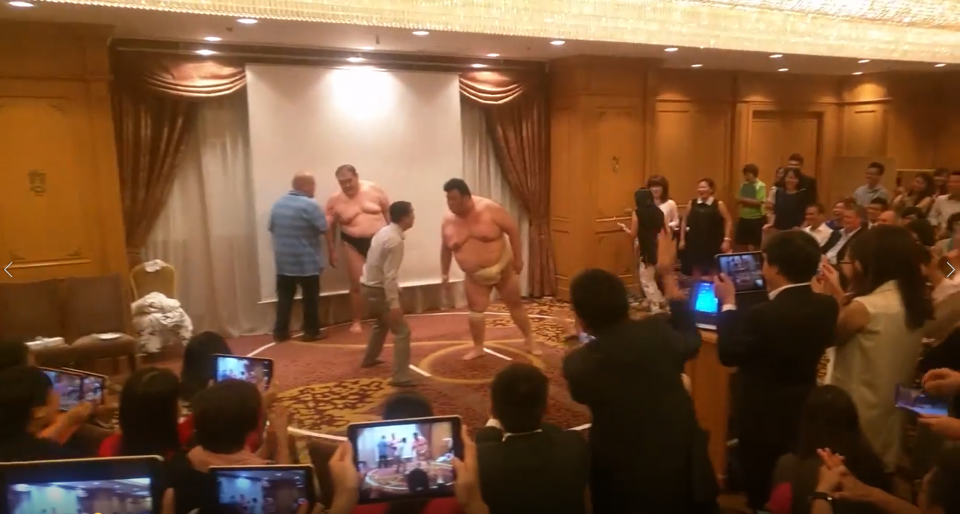 Difference between a customized sumo experience and a typical sumo experience
The difference between a custom-made sumo experience and a standard sumo experience is that you can enjoy sumo freely.
In order to enjoy sumo in a casual manner, it is important to plan according to the needs of the participants.
In general, a sumo experience is scheduled according to a predetermined date and time.
In some cases, the participants are not a group of individuals, but rather a group of people who have signed up for the experience.
In such a case, it is not enough for a hospitality program for wealthy foreigners or VIPs, isn't it?
Therefore, a custom-made plan for a Sumo experience is a plan for that person, so the customer's satisfaction is considerably higher.
However, it is not a good idea to guide you with non-genuine sumo for your convenience.
In Motenas Japan's custom-made plan sumo experience, you will experience sumo from a real former sumo wrestler.
We can then choose the perfect venue and situation for the foreigner, and make a plan that fits the visitor's schedule without difficulty, so that even the wealthy and VIPs can enjoy themselves to the fullest.
We can tailor a hospitality sumo experience for you.
Motenas Japan plans a number of custom-made sumo experiences for our international visitors.
One of the advantages of planning a custom-made sumo experience, which is popular among foreign visitors to Japan, is that we can respond to requests.
Since sumo experiences are more popular with groups than with individuals, we can accommodate requests for the number of wrestlers for a given number of people.
It is also reassuring to know that the content of the experience can be discussed in detail in advance, from the level of interpreter to be attached to the explanation from the rikishi to the content of the chanko-nabe dish.
Tiny details are especially important for planning hospitality that will satisfy VIPs and VVIP foreigners.
For important foreign figures or for hospitality that you do not want to fail, a custom-made Sumo experience that does not neglect even the smallest details will be highly recommended.
Recommended related article: [Key points for entertaining wealthy people] 17 examples of events for different types of foreign VIPs
It doesn't matter where you are.
While most of the experiences are based on visiting the location of the event, in a custom-made Sumo Experience, the wrestlers will visit the event site.
For example, we can arrange for wrestlers to appear at a party for a celebration or training session to create a sumo experience tailored to the party's plans.
This has been very well received by foreign companies, and the sudden appearance of large sumo wrestlers has created a great deal of excitement at the event.
This is a great idea for a glamorous party held in Japan.
Recommended reading: What is a gala party? How to hold a gala party in Japan? Questions, Dress Code, Planning Ideas, and Behavior!
Sumo experience in a private space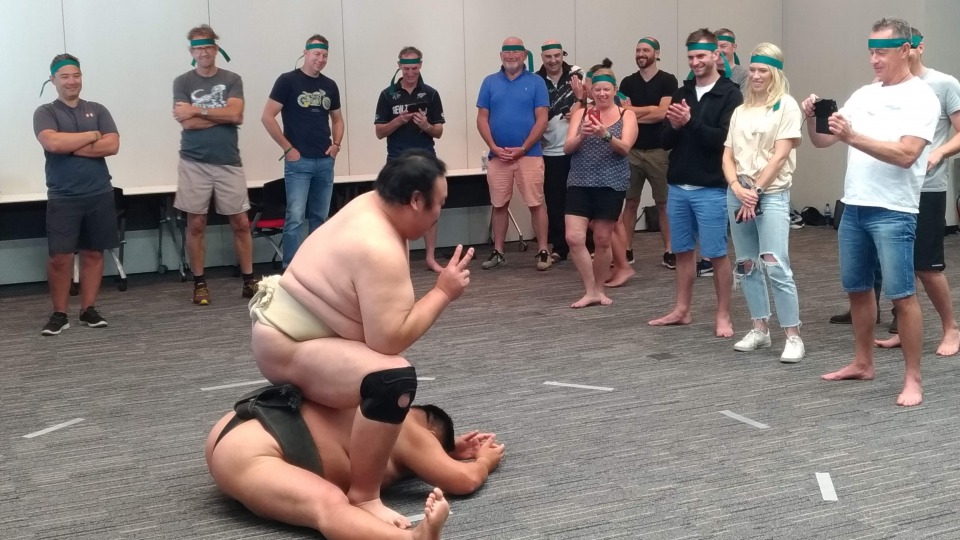 The advantage of Sumo Experience in a private space is that you can enjoy sumo to the fullest with just the wrestlers and your invited guests.
The advantage is that you can get to know former sumo wrestlers more intimately, making the experience of sumo more intimate.
The Sumo Experience is also a great way to entertain large groups of foreign visitors to Japan.
For group events for foreign visitors to Japan, we recommend "everyone in the hall challenges a sumo wrestler! This is because it is possible to plan events that create a sense of unity, such as "everyone in the hall will challenge a sumo wrestler!
At the end of the event, of course, we can plan a commemorative photo with the rikishi.
If all participants take a picture with the wrestlers, it will be a great way to preserve the precious memories of the group tour.
In this way, you can make your private sumo experience more realistic, special, and entertaining for your guests.
Rent out a restaurant or sake brewery for a sumo experience.
There is a restaurant in the motif of a sumo stable with a ring in the center of the restaurant where you can eat chanko-nabe.
Such a restaurant can be rented out to organize a sumo experience.
Such a luxurious sumo experience is a popular plan among wealthy foreigners.
Another fun idea would be to invite sumo wrestlers to a party at a rented sake brewery.
The ability to choose your own location for the sumo experience is one of the advantages of a custom-made event.
By combining these ideas, you can create a unique and special event.
Tailor-made Sumo Experience Project Specific Plans
Tailor-made Sumo Experience
This is a basic sumo experience project.
Since you can enjoy this event during lunch time, it is popular among groups with little time to spare.
We will take many pictures, and you will have a memorable experience with the wrestlers!
Time Schedule
Before lunch 
– 11:00 Explanation about sumo by rikishi.
Translation by an experienced interpreter (about 20 minutes)
– 11:30 Rikishi's match, guests challenge the rikishi
– 11:50 Photo shooting
Meal starts
– 12:00 Chanko-nabe
During the meal
– 12:15 Question to rikishi
After meal
– 13:20 Photo Shooting
The last project to experience sumo wrestling
The client wanted to entertain with music, Japanese performing arts, and Japanese martial arts.
By including a sumo experience at the end of the event, the guests were able to try their hand at sumo wrestling! This hospitality plan is a perfect finale to the excitement of the event.
Time Schedule: Before the meal
Before meal
11:40 Tsugaru Shamisen (folk music)
Start of meal 12:00
During meal
12:15 Explanation of Noh-based performance (What is Samurai? What is Noh?)
12:20 Performance
After meal
13:00 Sumo (explanation, match, experience)
13:20 Photo shooting
Sumo Experience Entertainment x Japanese Drumming and Tea Ceremony
Contrary to the previous plan, this plan puts the Sumo experience in the forefront.
This is recommended when you want to put the overall excitement of the event, such as a celebration, in the beginning.
This time schedule is for entertaining wealthy foreign guests who would like to experience more Japanese culture with lunch time in between.
Time Schedule: Before the meal
Before meal 
– 11:30 Sumo (explanation, bout, experience)
– 11:50 Photo shooting
Start of meal 12:00
During the meal Fine French cuisine
– 12:15 : Live performance Japanese drumming
After meal
– 13:00 Tea ceremony (tea ceremony and hands-on experience)
End
– 13:20 Photography
Recommended Related Articles: The Meaning of VVIP and 10 Examples of Hospitality Events for the Affluent and 3 Examples of Entertainment
summary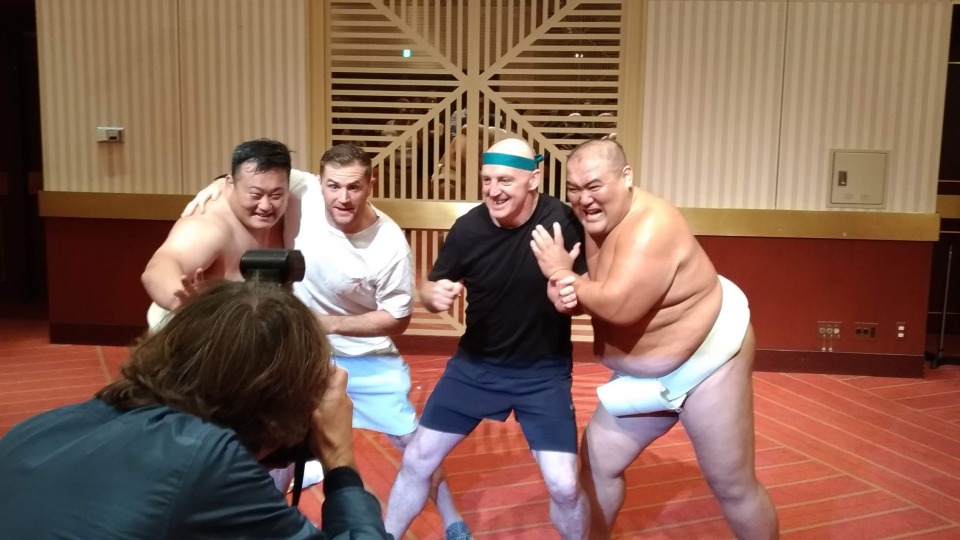 How was it?
Sumo is the national sport of Japan, and foreigners enjoy the hospitality of sumo as a special Japanese experience.
The custom-made Sumo experience is the perfect hospitality program for wealthy and VIP foreigners who often have special requests.
The luxurious experience that can be realized only with custom-made plans is an unparalleled pleasure.
Let us show you how to entertain your important clients with a custom-made sumo experience!