Sushi Sensation in France: Exploring the Popularity of Sushi Entertainment!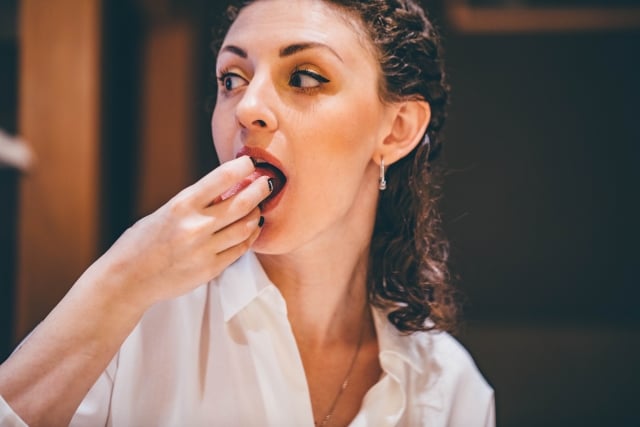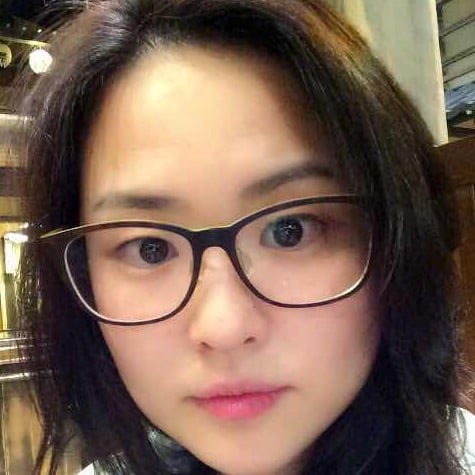 Sushi has become so much a part of daily life in France that it is easy to forget that it is Japanese food.
In Paris and Nice, however, authentic Edomae-zushi made by a Japanese chef is very popular.
So, how is sushi actually accepted in France?
With these questions in mind, we would like to discuss the possibilities of Japanese sushi entertainment for foreigners.
What is popular sushi in France?
Sushi Aesthetics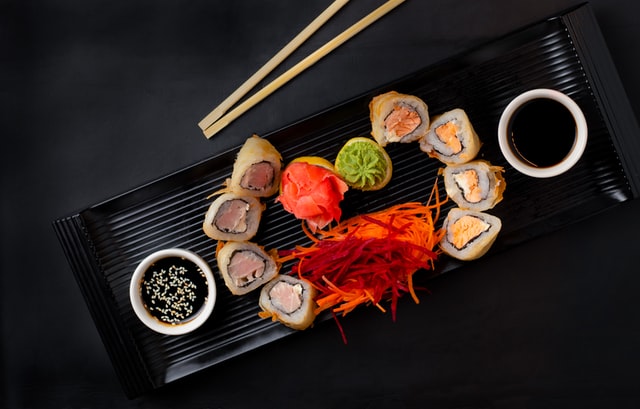 Many French people, who love the delicate and beautiful presentation of sushi, as seen in nouvelle cuisine, are interested in the preparation of sushi itself.
At a sushi restaurant run by a Japanese chef living in Paris, French people watch the chef's handiwork with great interest over the counter.
Everyone is in love with the sushi and enjoys the more authentic Japanese sushi.
In France, people tend to seek the beauty of sushi rather than the Japanese sense of enjoying various types of fish in sushi.
Sushi in France is just gorgeous.
From this point of view, one of the reasons why French people are attracted to sushi is the beauty of sushi.
Recommended Related Past Articles
French Delight: What is Luxury French Cuisine with a Japanese Twist
Easy-to-enjoy sushi loved in France
Sushi has established an unshakeable position in the recent Japanese food boom.
We can see the popularity of sushi in France as well.
Sushi in France is a casual food, and when there is a large group of people at a party or other occasion, takeout is available for everyone to enjoy.
This is the most common style.
Of course, it depends on the restaurant, but in the past it was common to eat sushi at Japanese restaurants run by Chinese nationals.
Typically at such a restaurant, it is nigiri sushi with salmon, yakitori, shredded cabbage salad and a very light tasting miso soup.
The menu is somewhat different from the
Recently, however, sushi with a slightly more fashionable sensibility seems to be gaining popularity.
Shushi shop in France Shushi shop: https://www.sushishop.fr/fr/livraison/plateaux
A thick roll with rice rolled on the outside like a California roll.
The most popular sushi is nigiri-zushi, which is a sushi topped with more ingredients such as salmon pink, avocado green, colorful tobiko, cheese, and so on.
There are also innovative menu items that have never been seen before in Japan, which I enjoy as a Japanese person.
Due to the popularity of these restaurants, sushi has become as much a part of daily life in France as pizza.
And, as a more everyday example, freshly prepared packaged sushi is sold like in Japan at large supermarkets, and sushi booths are set up specially next to the fresh fish section.
The sushi rolls are made by hand by Asian shopkeepers, so you will see French people enjoying the sight of sushi rolls being made on their way to the store.
Thus, sushi is as commonplace in France as pizza.
Sushi, however, has a more upscale image, and even takeout is a bit of a treat! There is a sense of "a bit of a treat even if you take out!
Sushi is enjoyed by the people of France, a nation of food lovers, in a variety of settings.
https://www.sushishop.fr/fr/livraison/sando
Fine Sushi in France
The 10 best authentic sushi restaurants in Paris: https://www.japonparis.fr/restaurants/sushis-paris/
In addition to casual family sushi, there are also restaurants in larger cities that serve authentic nigiri-zushi like those in Japan.
France is a treasure trove of ingredients, so you can enjoy delicious fish, and the Japanese chef will nigiri it for you directly at the counter.
It was as if I had returned to Japan.
These high-end sushi restaurants are very popular among the wealthy in France and require reservations well in advance.
Sushi, like ninja, is gaining popularity in France among all demographics.
Sushi Entertainment Attraction
Japanese Traditional Food Culture Sushi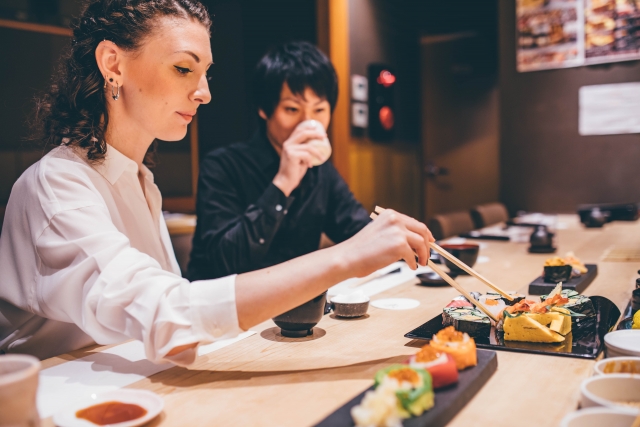 The proprietor of this upscale sushi restaurant serves a beautifully prepared course meal with a deft touch, having personally identified the freshest fish of the day from his own stock.
A symphony of tastes imagined by a master chef who uses the ultimate ingredients with extremely refined techniques.
It is said that the lack of prices on the menu at high-end sushi restaurants also leads to this.
Like an audience appreciating art, the customers wait over the counter for the ultimate in good food, trusting the proprietor.
All the beauty is captured in one small bite.
This way of eating is unique to Japan.
The way the rice is cooked, the way the sushi is made, the vinegar, the freshness of the ingredients, the season…
All the elements that make up authentic sushi are ultimate.
That is why true sushi can be savored as an art form.
Japanese Nationalism and Sushi Abroad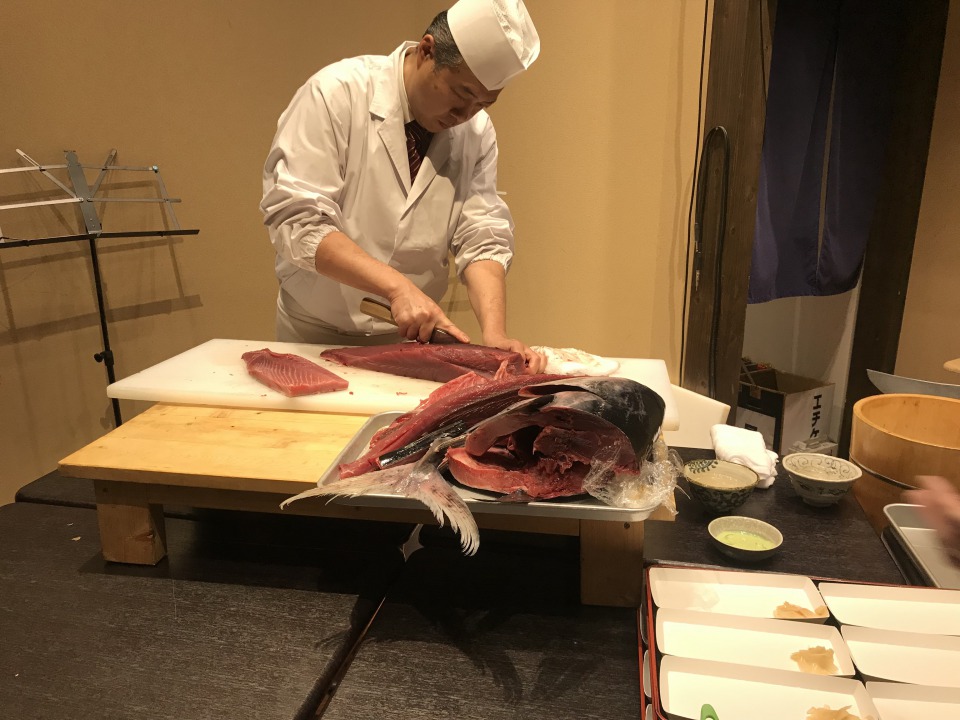 Sushi is an aesthetically superior food culture from the French point of view.
Small dishes created by beauty and special techniques.
Sushi attracts not only the French, but people from all over the world.
However, specialized nationalism is still necessary for people to enjoy Japanese culture abroad.
The embodiment of the image that foreigners have of Japan and of Japan itself.
It may look a little different from its original appearance, as if it were deformed and exaggerated.
The important thing is not only to exaggerate, but to be sure to provide the essence there.
Then, foreigners who have experienced and been impressed by the essence of Japan for themselves will be able to see the high level of tradition and technology that Japan originally possessed.
Sushi requires craftsmanship.
Because of its essence, sushi made by Japanese sushi chefs in France is accepted by French people as something different from casual sushi.
If only something vaguely sushi-like would have satisfied the French, only sushi from Chinese-Japanese restaurants would have been introduced.
However, Japanese chefs who have acquired proper skills in Japan serve the real thing in France.
Thanks to these efforts, Japanese sushi continues to be respected in France for more than its ease of use.
Sushi x Entertainment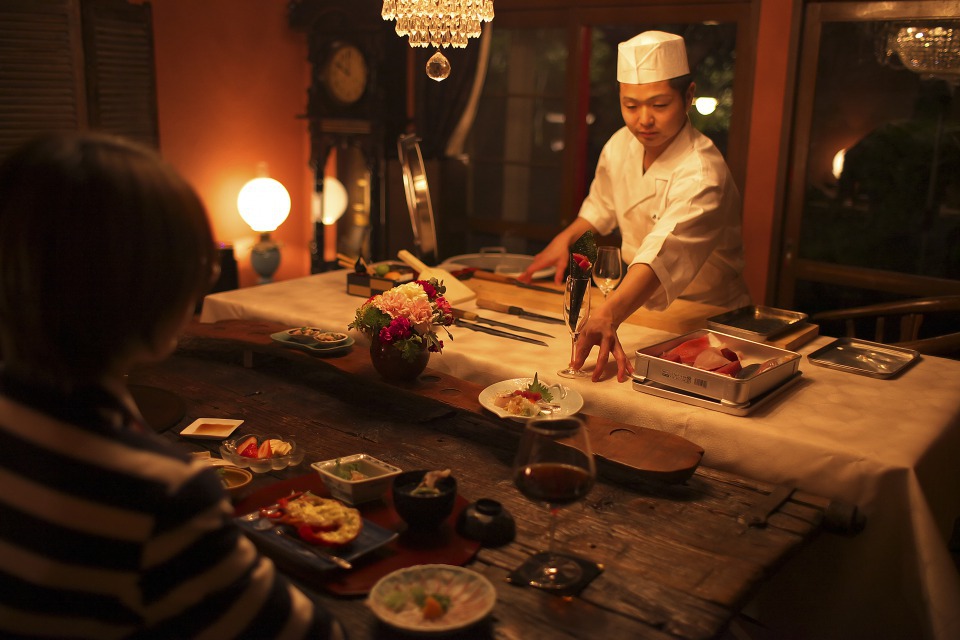 Sushi is essentially a world where excessive performance is not necessary.
It is a traditional Japanese food culture that explores true gastronomy backed by ingredients and techniques.
So what exactly is sushi entertainment?
Top-notch sushi chefs trained at high-end restaurants will travel to your party venue or private room to make sushi right in front of you.
Such services are now gaining popularity.
Sushi with foreign roots, such as California rolls and stylish, vibrant French sushi, are spreading all over the world.
However, the authentic Japanese approach to Edomae Sushi with added entertainment value can only be experienced in Japan.
Through the entertainment of authentic Edomae Sushi, the philosophy, aesthetics, and craftsmanship of Japanese culture can be conveyed to the world.
By elevating sushi to an experience, we aim to break through the image of a world that is just too difficult to enter and discover the potential of a new Japanese culture.
Such Japanese sushi entertainment is full of possibilities.
Sushi entertainment for parties
Sushi x Entertainment in Authentic Japan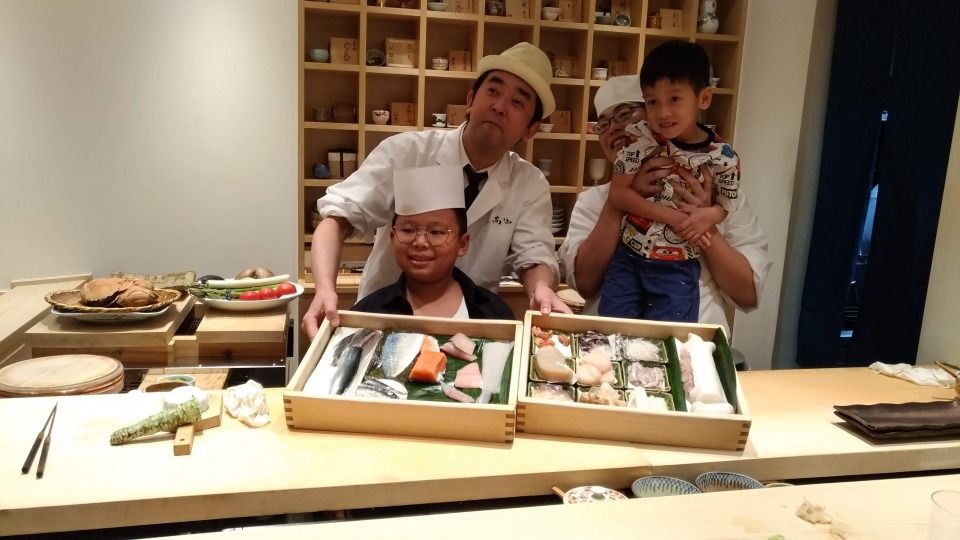 It doesn't change the fact that sushi is delicious.
Entertainment is added to the mix, making sushi an "experience.
The chef skillfully makes sushi right in front of you.
The procedure already has entertainment.
Beauty resides in skilled craftsmanship.
I want to watch its beauty.
Such human instincts tickle.
The craftsmanship and materials alone are enough to convey its appeal.
However, there are many more foreigners than Japanese who wish to enjoy the real Japan in depth! I am sure that there are many more foreigners who wish to enjoy Japan in depth than we Japanese think.
I want to know more about Japanese sushi! I want to see more! I want to be impressed!
We will make sushi more open to foreigners who are eager to experience Japanese culture.
Such possibilities can be found in sushi entertainment, don't you think?
And workshop-style sushi entertainment is also popular.
For example, I want to make sushi! I want to roll sushi! Many foreigners want to try their hand at making sushi.
Every Japanese resident in Japan has taught his or her foreign friend how to make sushi rolls.
This sushi workshop can fulfill such foreigners' dream of wanting to know and experience sushi.
Sushi entertainment combined with sushi workshops is also an attractive feature of this type of sushi.
Superb sushi entertainment in a private space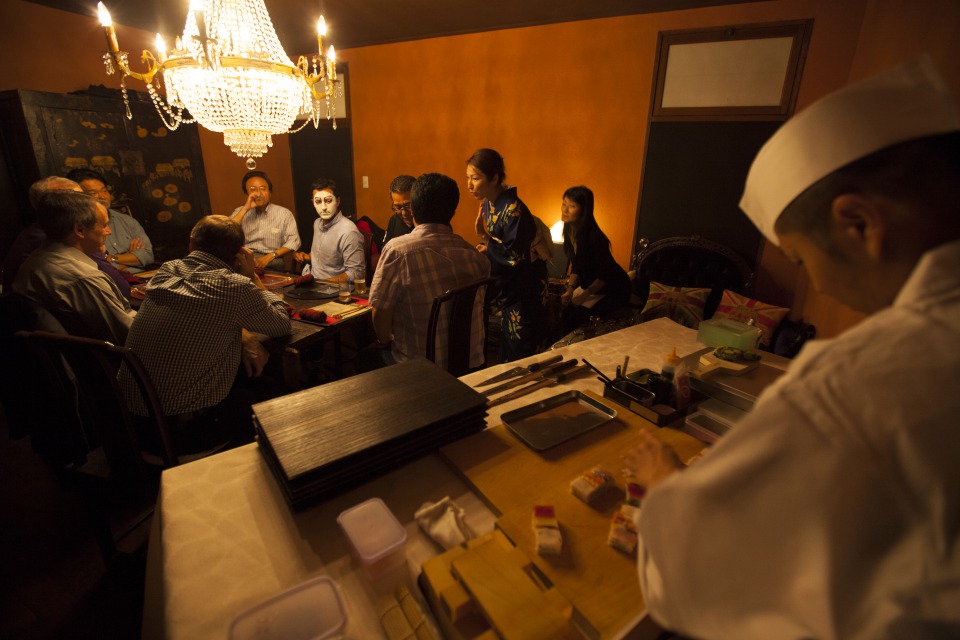 Enjoy sushi in a private space.
That's why you can enjoy the most peaceful and exquisite time.
Sushi entertainment in a private space that is very popular for entertaining important people and the wealthy.
Motenas Japan has provided sushi entertainment to many VIP foreign guests.
The private space overlooking the beautiful Japanese garden with a rich Japanese atmosphere is a beautiful room with a refined blend of Japanese and Western styles reminiscent of the Meiji era.
Sushi entertainment by our sushi chefs will be served there.
The finest sushi can be enjoyed in a space where you can taste Japan in comfort.
It was a unique experience, and people from all countries seemed to be very satisfied.
And since the sushi entertainment is in a private space with an interpreter, guests ask a variety of questions.
This realistic experience is also an enjoyable aspect of the sushi experience, and the dialogue with the sushi chef allows you to experience the world of sushi more deeply.
Sushi entertainment in a private room is also a very popular program for foreign guests who find it difficult to visit high-end sushi restaurants with their small children.
Why Sushi Entertainment is a great choice for your New Year's party.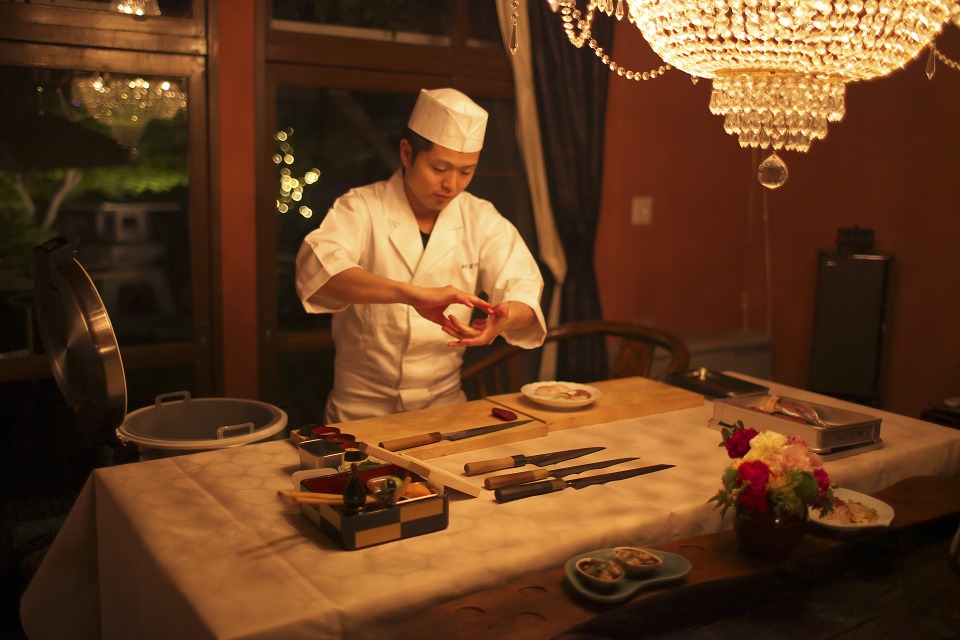 How about sushi entertainment for a spectacular New Year's party?
For a large party, having Edomae Sushi with entertainment by a sushi chef will make the venue all the more festive.
Originally, New Year's parties usually include a standing buffet.
Sushi is essentially a form of food suitable for celebratory occasions.
The commonly used word "sushi" is said to be derived from the character for sushi, "Kotobuki wo Tsukadoru," which means "to hold in high esteem.
Therefore, it is considered to be a good omen and something to be eaten at festive occasions.
Especially if it is a New Year's party with embassies in Japan or foreign companies, you can create a more Japanese New Year's party from a food perspective.
So, the Sushi Experience by Sushi Entertainment will be a unique and innovative New Year's celebration.
Recommended Related Articles
Party Planning for Foreigners | 3 Examples of Events in Japan:.
What is a gala party? Dress code and behavior explained:.
summary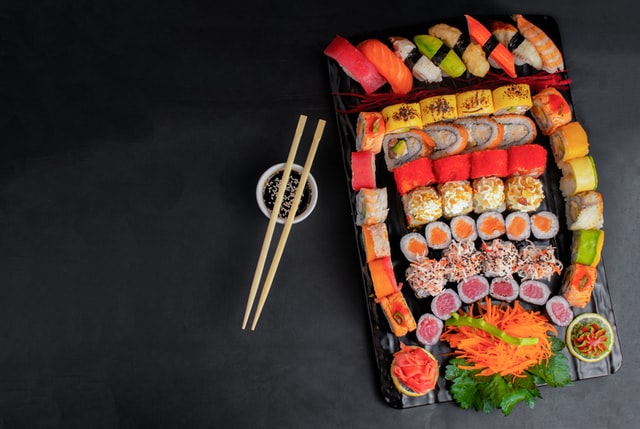 The sushi that has permeated French daily life is not the same as that of Japan.
However, it is quite rare for a food culture born in a foreign country to be passed on to another country and become a part of that country's daily food culture, isn't it?
We can bring out the potential of such sushi and taste it as a more enjoyable experience as well.
Sushi entertainment in Japan.
We would love for foreigners visiting Japan to taste it.