Ultimate Esthetic Experience at Veteran Salon in Kansai for extreme relaxation and beauty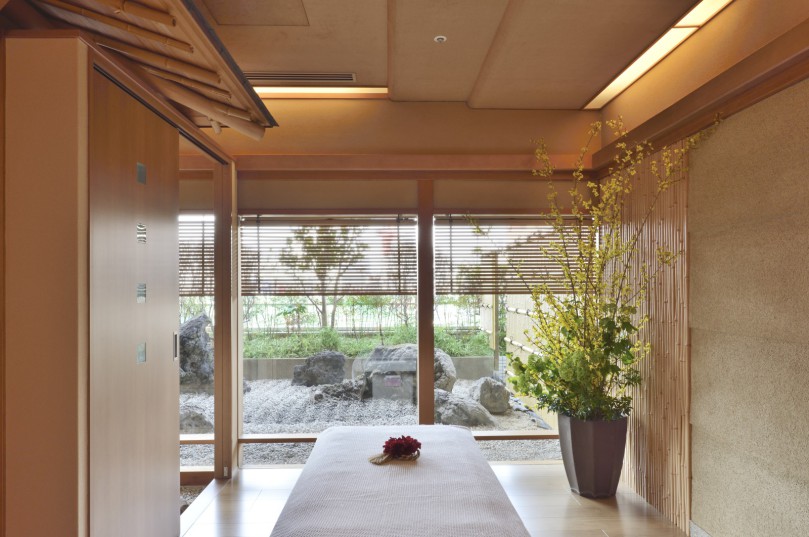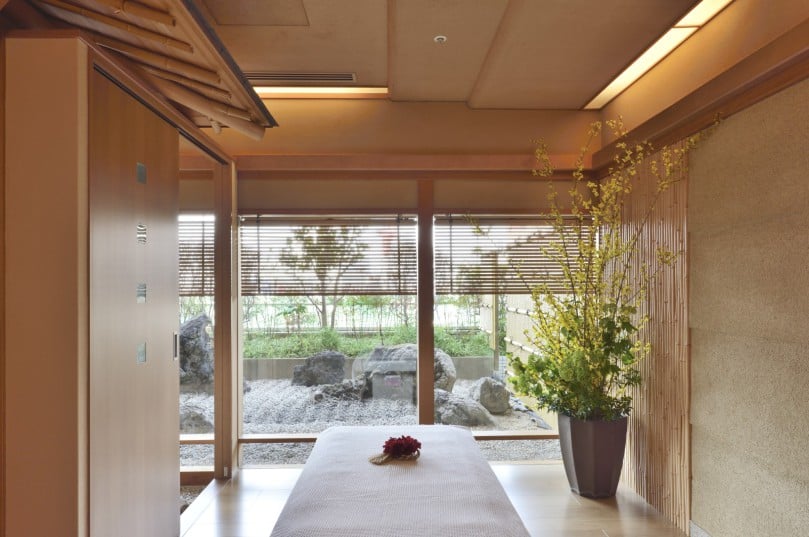 When it comes to high-end esthetic salons for VIPs, there's an image of a luxurious space exuding sophistication where only the chosen few can experience top-notch services. But what sets them apart from regular esthetic salons? And what exactly is the "supreme esthetic experience" offered by MoTenas Japan?
We visited e'H2O SPA, operated by the well-established esthetic group "H2O" in Kansai, located in the Swiss Hotel in Namba, Osaka, to experience the ultimate esthetic treatment.
Luxury esthetic experience in a tea room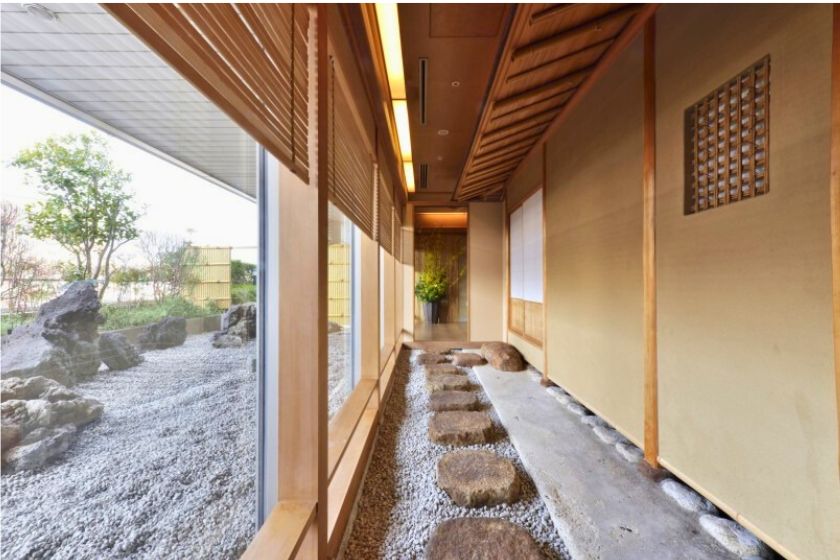 Old-established Esthetic Salon in Kansai
The place I visited this time was the well-established esthetic salon "e'H2O SPA" located inside the Swiss Hotel in Namba, Osaka. e'H2O has been loved by many people for over 30 years and is popular among various famous people and foreigners for its high-quality techniques and services. It is a high-end esthetic salon that boasts top-class quality and technical skills in the industry, and has many stores in the Kansai area.
In addition, the cosmetics used in the salon are of the highest quality and are developed and researched under their own brand. The quality of their products is so high that it is very popular, even among many fans overseas.
We develop treatments and products that purify and balance the mind and body, based on the concept of Japanese hospitality, with the desire to invigorate everyone's mind and body with Japanese (wa) hospitality and techniques.
A Special Moment Spent in an Authentic Tea Room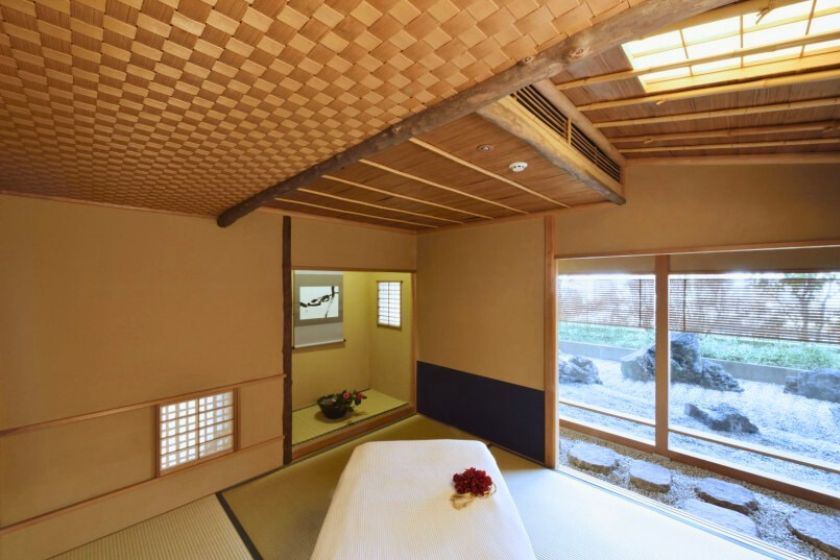 When you step into the e'H2O SPA on the 11th floor of the Swiss Hotel, a five-star hotel in Namba, Osaka, you will be transported to a uniquely Japanese healing space, as if you have entered a different world.
The six tea rooms, each with its own distinctive character, are authentic examples of traditional Japanese architecture. They feature tokonoma (alcoves), hanging scrolls, and calligraphy, and beyond the windows lies a Japanese garden, creating an atmosphere reminiscent of a top-class inn in Kyoto.
The ceiling of the tea room is made low, just like in the real thing, and outside the tea room, there is a faithful reproduction of the "ro" where the tea is prepared, and a "machiai" where guests wait. This attention to detail is one of the unique attractions that delights not only foreigners but also Japanese people.
Luxurious esthetic treatment by three top-notch therapists
We want to provide the ultimate service that satisfies all five senses and leaves our customers feeling fully content both physically and mentally. founders commitment is to provide top-notch quality expertise and first-class hospitality that truly pampers the customers. The therapists at e'H2O SPA are all beauty professionals with exceptional technical skills and service-mindedness. They always put the customers first, and they approach each customer with the attitude that whether or not they will see them again depends on their own skills. This time, Motenas Japan offers a treatment by three top-notch therapists who provide an extraordinary, immensely effective, and blissful treatment that cannot be experienced under normal circumstances, promising an exquisite esthetic experience.
Experience the highest-class plan for VVIPs!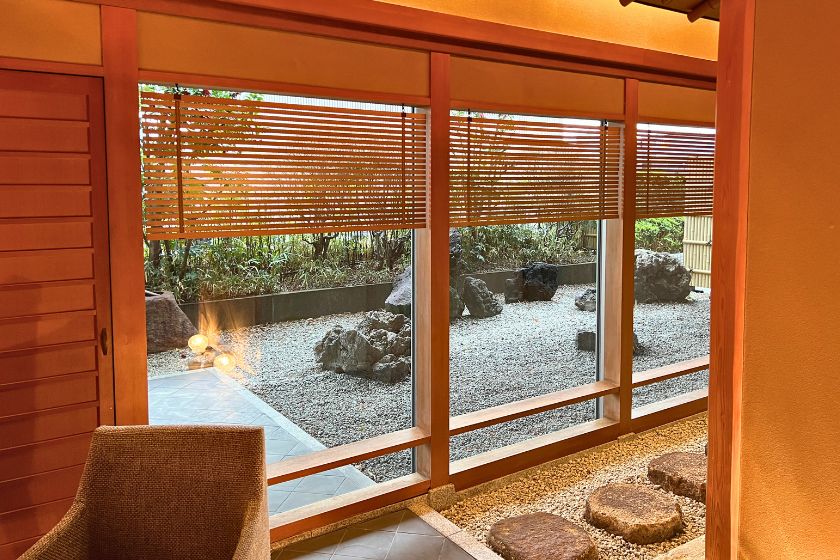 Greeted with the luxurious scent of natural fragrances
As soon as you step into the salon, a Japanese-style space spreads out before your eyes, and you'll feel as if you've time-traveled back to the Edo period with a full-fledged Japanese tea room in front of you. You can sit on the sofa next to the tea room and relax while enjoying a welcome drink, gazing at the Japanese garden in front of you.
All of the drinks offered are carefully crafted with a focus on being gentle to the body. I chose the Elderflower herbal beverage, and with just one sip, I feel enveloped in its natural sweetness and the delightful fragrance of flowers, giving me a pleasant feeling of relaxation as if the tension in my shoulders has dissipated. We offer top-quality tea made with carefully selected and blended premium tea leaves, chosen for their fragrance and taste, that are customized and ordered from the long-established Fukujuen tea shop with a commitment to the finest green tea. It adds a sense of uniqueness to have a selection of specialty drinks, rather than just ordinary ones like coffee or tea.
Offering original plans by beauty professionals
While enjoying a welcome drink, a knowledgeable and experienced beauty counselor will listen to your skin concerns, physical discomfort, and other beauty-related issues, and suggest a tailored, customized plan that meets your needs and desires. For this occasion, I have decided to leave it to the professionals and experience the VIP hospitality course.
Relaxation time at the luxurious spa of Swissotel Nankai Osaka
First, to enhance the effectiveness of the massage, we will warm up your body at the spa before receiving the treatment. The assigned therapist will guide you to the adjacent spa at the Swiss hotel and explain the usage of the locker room. After removing your makeup, you can enjoy the relaxation time in the spacious Jacuzzi bath. It feels special to be able to use the spa exclusively for hotel guests and gym members.
When it is time for the treatment, the assigned therapist will come to pick you up. You can feel relieved and experience the meticulous service spirit without any worries of getting lost in an unfamiliar place.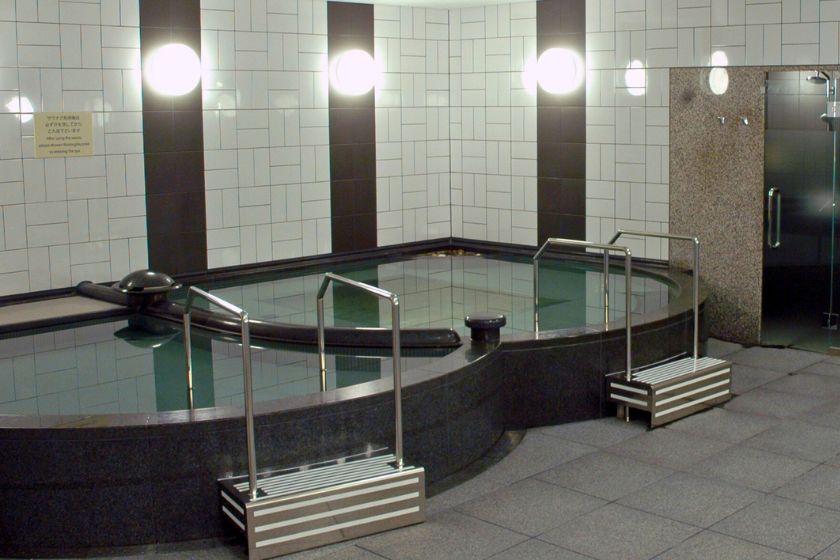 Full-body massage with custom-made luxurious herbal oil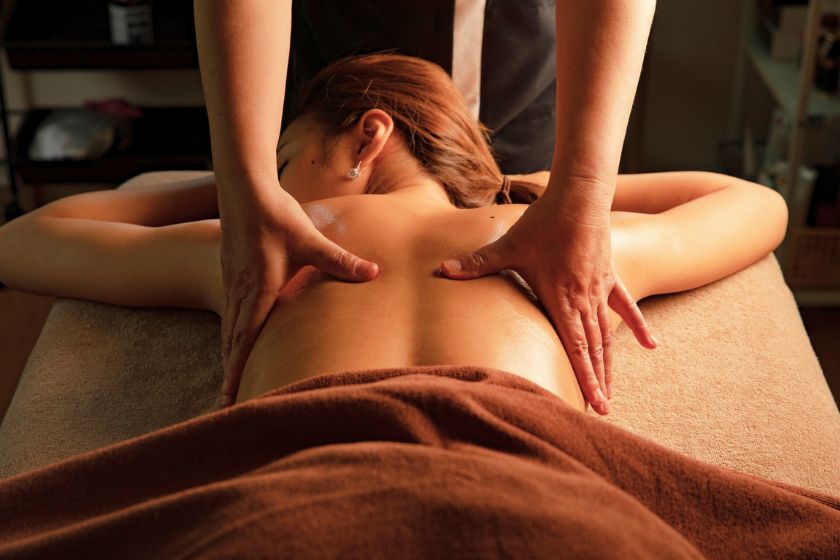 "The treatment room where I received the treatment was a soothing space where I could enjoy a Japanese garden view from the window. It made me feel like I was in a temple in Kyoto, forgetting that I was in a high-rise tower hotel.
I lay on a comfortably heated bed and received a full-body lymphatic massage, followed by muscle-stretching massage to ease tension. Surrendering myself to the therapist's skilled hand movements, I enjoyed a slow and thorough massage with the luxurious and natural scent of high-quality plant oil for effective skin care.
The therapist was a pro, who noticed my physical discomforts without me saying a word, such as "your legs tend to swell" or "you seem to be slightly constipated." The massage pressure was just right, not too strong or too weak, and it released the tension in my body, leaving me feeling relaxed and supple. The view of the tea room ceiling, wooden beams, and the outdoor scenery outside the window that I occasionally glimpsed at, further calmed my mind, making it a truly healing Japanese-style space."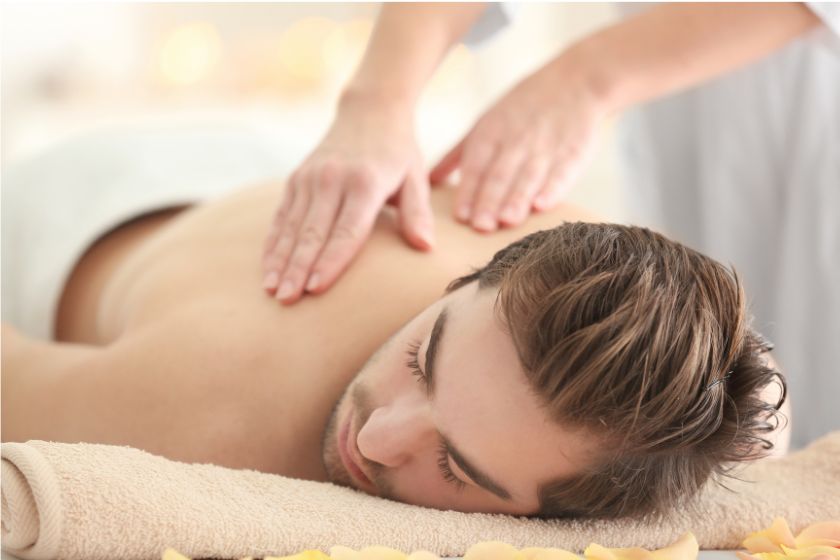 Advanced facial course with quality serum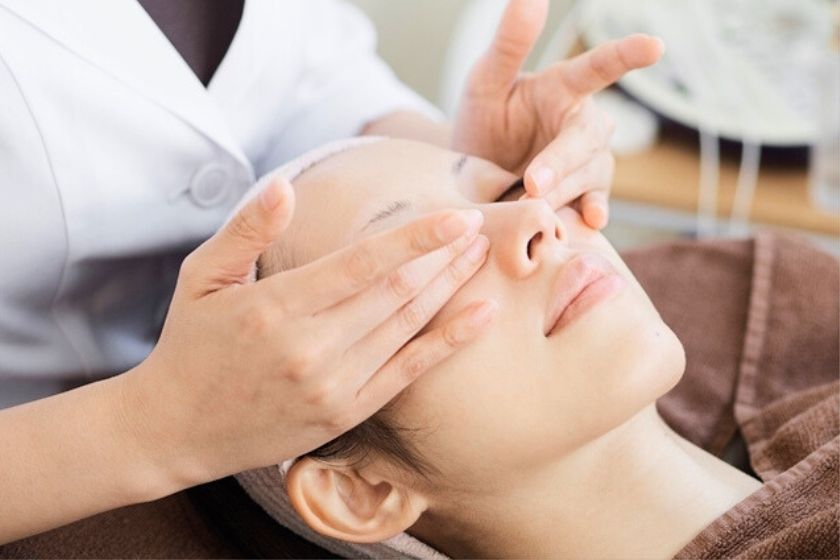 Next up is a luxurious facial massage using H2O's original cosmetics, generously applying one bottle of the product. First, the Natu-Relaxing Cleansing, derived from plants, is used to thoroughly remove makeup and dirt from the pores. The soft foam and gentle natural scent provide a refreshing feeling that leaves the skin feeling clean and moisturized even after wiping it off carefully.
This is a luxurious facial massage using a highly concentrated beauty serum called HAS, which is specialized for anti-aging care. Using an entire bottle, the serum is carefully applied to provide nourishment to every corner of the skin. The therapist's hands move in a precise and rhythmic, yet graceful manner that feels extremely comfortable, as if touching a baby's skin. It's truly a heavenly experience.
The combination of strong pressure point massage to stimulate the lymphatic system on the face is very pleasant, and it is said that a small face effect can also be expected. This is a course that is truly a blissful experience, as the combination of techniques that increase blood flow and recover muscles results in a tightened and glowing face with improved elasticity all at once.
Experience Blissful Relaxation with our Special Head Massage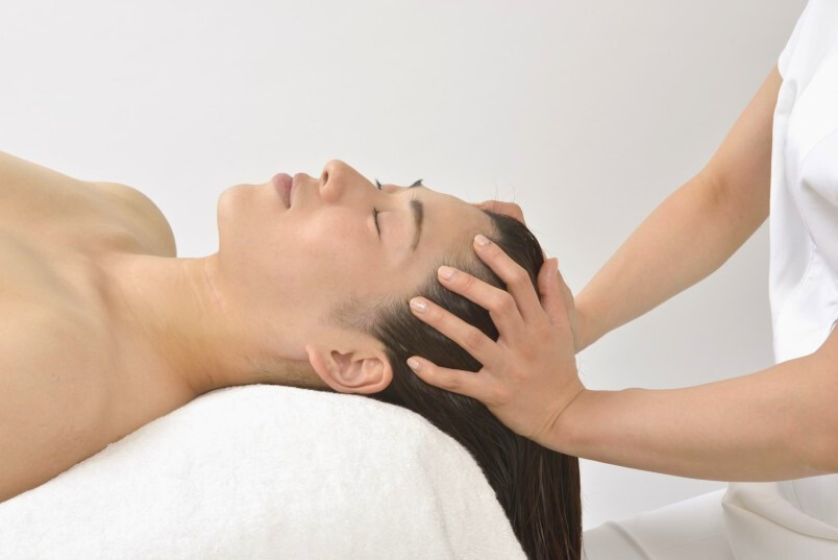 Next up is a head massage enveloped in the fragrance of cherry blossoms. Starting with a scalp cleanse using cleansing milk, this massage focuses on slowly loosening the scalp pressure points and head muscles, which are said to have 50 pressure points. It relieves tension in the muscles and nerves in the head, neck, and shoulders, promotes blood circulation, and leads you to a state of deep relaxation. With the therapist's excellent hand movements and taking the time to give a thorough massage, I felt so comfortable that I could fall into a deep sleep, and my body felt light as a feather. This is truly the epitome of paradise.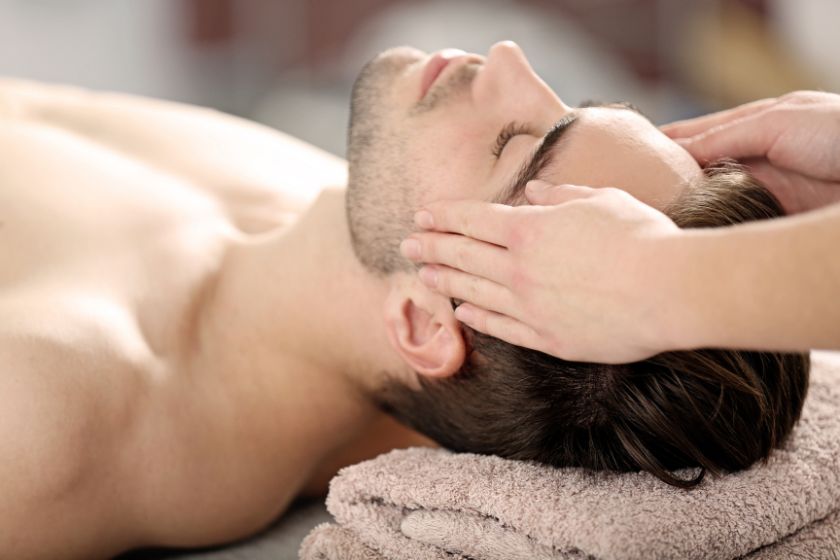 Elegant Relaxation Time at Hotel Spa
After the treatment, I went back to the Spa at Swissotel Nankai Osaka to wash off the hair treatment and body oil. I enjoyed the Spa time while being careful not to wash off the glossy face that was full of serum. I could freely use the makeup space inside the Spa area or e'H2O SPA salon to dry my hair and do my makeup to prepare myself.
Enjoy Matcha Served in a Beautiful Tea Bowl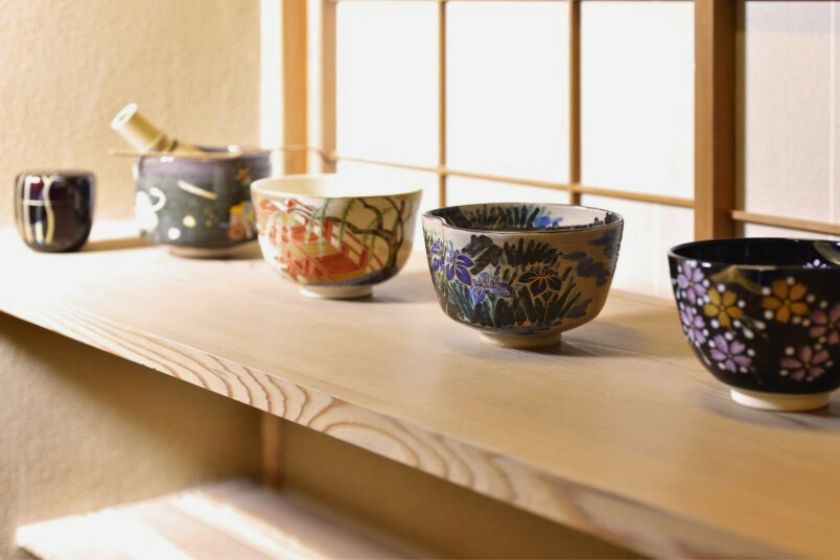 After experiencing the ultimate treatment and feeling refreshed, I was served a delicious bowl of matcha tea, which was prepared right there. The taste of the authentic matcha tea, savored in a beautiful patterned tea bowl, was exceptional. It was the perfect time for relaxation, and the taste of the tea seemed to seep into my body, allowing me to truly unwind from the depths of my heart.
Our in-house brand cosmetics are safe and additive-free
Prioritize good water and natural ingredients
During years of operating an esthetic salon, they had used various high-end cosmetics, but they had never been truly satisfied with their effectiveness and safety.
The goal was to create safe and effective cosmetics that suit Japanese skin, and they focused on improving the quality of water, which makes up 90% of cosmetics, to achieve this. They created the highest quality cosmetics that are safe and secure without the use of mineral oils or preservatives, and are suitable for the best luxury esthetic salons.
In addition, many people who visit the esthetic salon have skin troubles, and it is difficult to achieve the desired results without helping them with their daily care as well as salon treatments. This is also one of the reasons why they are particular about their in-house brand cosmetics.
Highly effective H2O cosmetics
We have developed cosmetics that utilize the experience, knowledge, and vast data of facial treatments that have been cultivated for over 30 years since the establishment of our salon. We carefully select materials and believe that the quality of "water" is very important even in high-quality cosmetics since the human body is made up of 60% to 70% water. Our cosmetics are highly effective, and they are popular not only among our salon customers but also in overseas online shops.
I am also using the cosmetics after the treatment, and I am very happy to feel that my skin is more hydrated and has regained its elasticity like never before. It is a cosmetic that I would like to continue using from now on.
HAS Medical Cosmetics
This is the No.1 aging care product with a high repeat purchase rate.
It contains a rich concentration of 150 types of growth factors, including Human Adipose-derived Stem Cell Conditioned Media (HAS), which is known to contain a variety of beauty ingredients. The extraction method is patented, and we use culture media from prostemic, a leading manufacturer of stem cells. By encapsulating this excellent stem cell conditioning media in nanosized capsules, it can be delivered to the deep layers of the skin in a fresh state. This product provides remarkable effects on moisturizing and anti-aging care for a long time. It also contains high-quality beauty ingredients, such as Resveratrol, β-glucan, triple collagen, and triple hyaluronic acid, which are considered high-end aging care ingredients. This beauty serum/cream is exclusively developed for professionals, especially for high-pressure oxygen nutrition injection course in Esthetic Salon H2O.
Effects: Reduces blemishes caused by sunburn, provides anti-aging care, improves skin firmness, and promotes clear skin.
Naturamorethik Series
We use "e-Energy Water," which has excellent oxidation-reduction power to suppress rust, and is developed with a focus on water. Our organic cosmetics are additive-free (no mineral oil, preservatives, synthetic fragrances, or synthetic colors), making them gentle on the skin.
[Water-based moisturizing cream Hada-Jun]
All-in-one gel that functions as a toner, lotion, beauty serum, cream, mask, eye cream, and lip balm. 
Tighten and moisturize your skin with rich beauty ingredients. It's an excellent moisturizing skincare product that can also be used as a gel pack.
[Moisturizing cleansing foam]
A foam-type cleanser that completes both makeup removal and facial cleansing in one wash. Made with 100% natural ingredients that are gentle on the skin, it effectively removes dirt while keeping the skin moisturized. Can also be used as a 30-second pack (even over makeup).
[Moisturizing essence EX]
A luxurious beauty ingredient jointly developed by Kyoto University and Osaka City University, this moisturizing toner has a texture similar to a penetrating essence.
It contains Narusgen, an amino acid derivative that helps boost the skin's natural recovery power from within, increasing the water content of the stratum corneum to enhance barrier function and activate cells, resulting in moisturized, elastic, firm, and translucent skin.
Lifting gel CogaoV
A mysterious gel cream that instantly lifts the skin, formulated with seven minerals (power stones) that act on the meridians of traditional Chinese medicine. The natural vibrations (vibration and frequency) of the minerals stimulate the acupuncture points, promoting the flow of meridians and restoring muscles to their original position. As a result, blood and lymph flow improves, and facial and body contours become more defined, leading to a clear, radiant complexion without dullness.
Luxurious service and hospitality: "Omotenashi Esthetic"
From arrival to departure is one course
The service provided by e'H2O SPA is not just about the therapist's massage techniques, but also about the entire experience from the moment you walk in. As the founder says, 'We consider the moment you smell the aroma upon entering the salon, the welcoming smile, checking on the customer's condition after the treatment, allowing them to take a rest with tea and a feeling of happiness before they leave as a single course, which represents the spirit of Japanese hospitality.' The founder's commitment to providing such a refined service is the ultimate secret to healing people and providing a deep sense of satisfaction, which I personally experienced and truly felt.
Treasure every encounter with our customers
We always prioritize 'customer first' in our approach. Our therapists always maintain the mindset that whether they can meet the customer again depends on their own skills, and provide their services accordingly. As the concerns and requests of customers in their 20s differ from those in their 60s, our motto is to approach each customer with the intention of being with them for their entire life, understanding their needs and providing tailored services.
First-class therapists have hands that act as stethoscopes
The founder of the spa emphasizes that it is not about using techniques learned from books, but about adjusting the pressure and strength to meet the needs of each individual customer, which is the key to satisfying them. As they have mastered a range of techniques from soft effleurage to deep tissue massage, they can tailor their services to meet the diverse needs of customers of different ages and physical conditions. The therapists are also meticulous about caring for their fingers on a daily basis.
Therapists who inherit the founder's passion
The therapist who gave me the treatment was petite, but she was able to apply strong pressure, so I asked her if she wasn't tired. She replied, "By touching our client's body, we also receive healing." I was surprised and impressed that she saw the treatment as a form of work, and it made me realize that the founder's mindset has truly been passed down to all the staff.
Traditional Japanese hospitality service
H2O Salon values traditional Japanese hospitality with "tea ceremony" and "incense ceremony".
Tea ceremony is a Japanese traditional hospitality that H2O Salon values, which offers a serene space of "wabi-sabi" away from the disorder of daily life. In a small tea room, you can experience the art of tea ceremony and enjoy a bowl of matcha while feeling the soothing sense of unity incorporated into it.
And, Kodo is an art of appreciating fragrance. Similar to Chado, Kado, and Noh, it originated in the Muromachi period.
"Moon Koh" is a highly spiritual style of incense appreciation passed down since the Muromachi period, which involves discerning the subtle fragrances of incense woods. Beginning with an approach to the inner body through incense appreciation, the treatment starts by balancing the mind and body with the fragrances of "Kyara," the highest-quality incense, and "Byakudan," among others. It invites you to a luxurious and elegant world that pleases all five senses through the fragrant and satisfying richness of incense.
Summary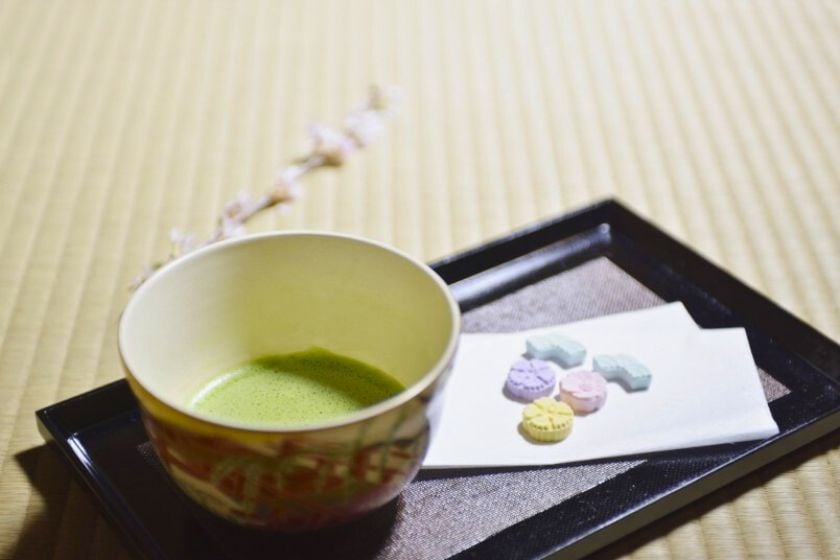 I had the privilege of experiencing a top-notch esthetic treatment for VIPs and listening to the founder's story, which made me realize that the finest esthetic salon is top-notch in every aspect, including first-class techniques and treatments in a healing atmosphere, high-quality and effective cosmetics.