State Guests vs. VIPs: Japan's Hosting Guide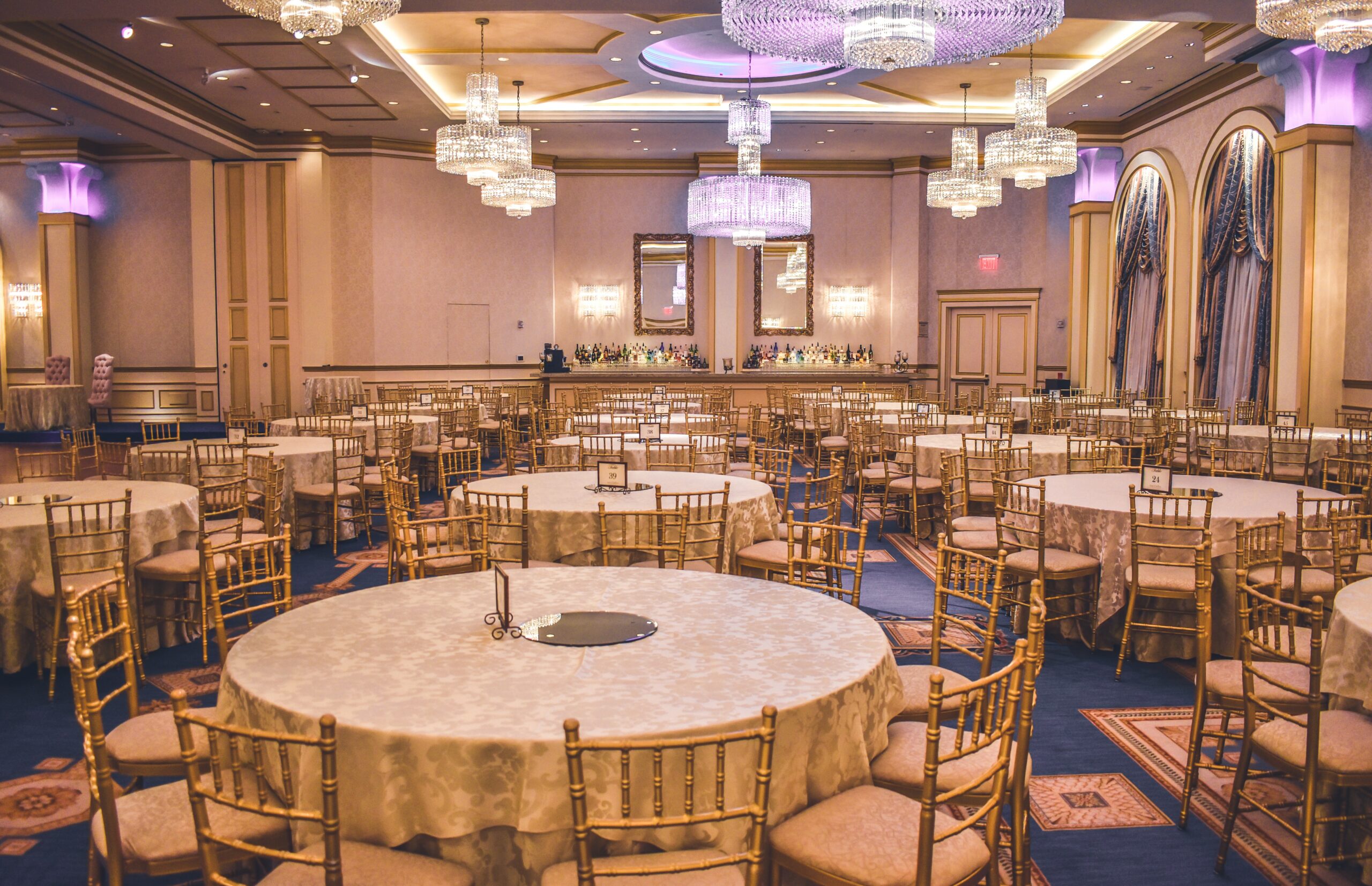 The Ministry of Foreign Affairs has an invitation program to host foreign guests.
This program is a nation-wide hospitality program, and the foreign super-important persons to be welcomed include "state guests," "official guests," and "dignitaries.
In this issue, we will provide an easy-to-understand explanation of guests of state, official guests, and dignitaries, and how to treat them.
– I would like to know more about guests of state, official guests, and dignitaries.
– What are the specific ways to enjoy Japan for the purpose of goodwill?
– How can we provide a Japanese experience to our valued guests in a manner that is not rude?
This article will help you understand the difference between "state guests, official guests, and dignitaries," and give you a deeper understanding of how to treat foreign super-important people.
We also provide three examples of Japanese cultural experiences that Motenas Japan has provided to foreign VIPs.
Please take a look at them for reference.
State guests, official guests, dignitaries
What is a state guest?
State guests are the most polite of all foreign guests officially invited by the government.
The king and president are the heads of state of each country, and official invitations are extended once every 10 years.
The purpose of inviting state guests is to promote friendship and goodwill between Japan and the guest country.
Since the President is received at the highest level of state hospitality, the Imperial Household Agency holds a welcoming ceremony in front of the Imperial Palace, and a banquet is held in front of the Imperial Palace.
When leaving Tokyo, His Majesty visits the state guests and greets them.
The invitation and reception of state guests is decided by a Cabinet meeting, and these days only one or two state guests are invited each year.
The cost of the visit to Japan is borne to a certain extent, and the budget is estimated at approximately 25 million yen, including accommodation, security, and transportation for the guest and up to 10 attendants for four days and three nights (one additional night is required when the guest goes to the Kyoto State Guest House).
Reference site: Imperial Household Agency
What are official guests?
Official guests, like state guests, are foreign guests officially invited by the government and include the Crown Prince, members of the royal family, the Prime Minister, the Vice President, or their equivalents.
While the Imperial Household Agency was in charge of state guests, the Ministry of Foreign Affairs is in charge of official guests.
The welcoming ceremony is held at the State Guest House, and a luncheon is held at the Palace instead of a dinner, but there is also a meeting with His Majesty the Emperor, and in the case of the Crown Prince, a luncheon is held at the Palace.
As with state guests, the stay for official guests is three nights and four days (one additional night is added when going to the Kyoto State Guest House).
As with state guests, the government pays for the domestic stay of the entourage and the Ambassador and his wife, but the number of official guests is limited to eight.
The welcoming ceremony will be held at the Prime Minister's official residence or the State Guest House, and will be attended by the Prime Minister and other ministers.
What are dignitaries ?
Dignitaries are persons who hold positions of significant social influence or hold key positions.
This includes persons who have held such positions, their family members, persons in effective control of organizations, and corresponding legal entities.
List of positions that qualify as foreign dignitaries
– Foreign heads of state and former foreign heads of state
– Prime Minister and other ministers of state and vice-ministers
– The Speaker of the House of Representatives, the Vice Speaker of the House of Representatives, the Speaker of the House of Councillors, and the Vice Speaker of the House of Councillors.
– Judges of the Supreme Court
– Officers of the Central Bank
– Ambassadors Extraordinary and Plenipotentiary Minister, Ambassador Extraordinary and Plenipotentiary, Government Representative
– Chief of the Joint Staff, Deputy Chief of the Ground Staff, Deputy Chief of the Maritime Staff, Deputy Chief of the Air Staff
– Officers of corporations whose budgets must be voted on or approved by the state.
Ministry of Foreign Affairs of Japan Foreign Resident Invitation Program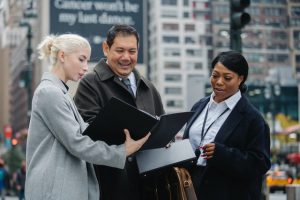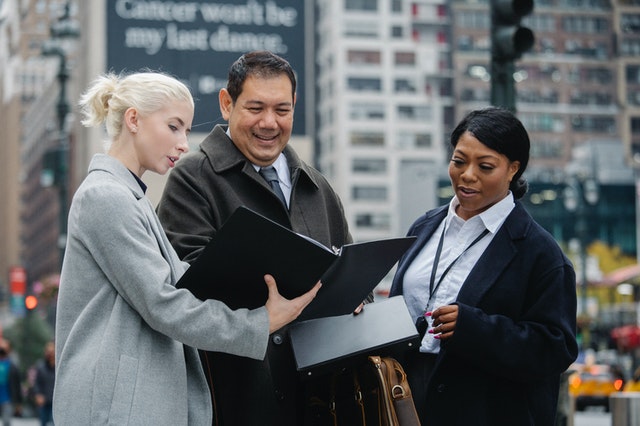 What is the Foreign Resident Invitation Program?
In addition to invitations to state guests, the Ministry of Foreign Affairs also offers an invitation program for important foreign nationals.
In invitation, the Ministry of Foreign Affairs also provides hospitality to guests in a cordial and hospitable manner.
So, what kind of people does the Ministry of Foreign Affairs invite and for what purpose does it implement its invitation program?
What is its purpose?
The purpose of the program is to deepen the understanding of important figures and institutions in other countries in various fields, such as Japan's various policies, culture, and society.
Through personal connections between foreign countries and Japanese officials, we aim to promote smooth foreign policy and, in the mid- to long-term, to foster and raise the level of pro-Japanese and knowledgeable people in Japan.
The Ministry of Foreign Affairs' hospitality to important foreign figures will be aimed at promoting negotiations between nations, strengthening security, and policy coordination.
Invitation program for state guests and official guests
The purpose of the Invitation of State Guests and Official Guests Program is to promote friendship and goodwill between Japan and its counterpart countries.
For this reason, it is truly the most luxurious and highest form of national hospitality.
Recently, the hospitality of the former President of the United States, Mr. Trump, has been as lavish as any state guest in memory, and his hospitality, though controversial, was supremely gracious.
Official Working Guests, Working Guests, Ministry of Foreign Affairs Guest of Honor Invitation Program
The purpose of this program is to help promote negotiations, enhance security, and policy coordination.
Unlike invitations of state guests, the important purpose is to conduct negotiations in a more businesslike manner, so hospitality will be provided to facilitate security and economic cooperation.
Therefore, there will be no meeting with the Emperor of Japan, no Imperial banquet, etc., but a dinner will be provided.
Ministerial Invitation Program
This is an invitation program for cabinet-level officials who are influential in shaping political decisions and public opinion in other countries.
The purpose of the program is to deepen their understanding of Japan through meetings with Japanese dignitaries and visits to relevant periods of time, and to communicate this understanding in the partner country.
Strategic Practitioner Invitation Program
Invitations are extended to persons who are in certain leadership positions or who are expected to be active in the future in various fields such as politics, economics, government, academia, and international organizations in other countries.
The program includes briefings and exchanges of opinions by officials of the Ministry of Foreign Affairs and other government agencies, discussions with experts from the private sector, experiences of Japanese culture, and visits to local regions.
Reference site: Ministry of Foreign Affairs of Japan
Hospitality of VVIPs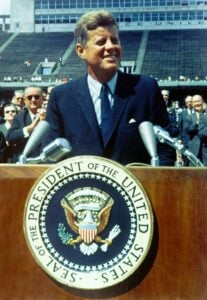 What is hospitality?
Hospitality refers to the art of attending to individual customers and providing them with a comfortable time and space.
If "customer service" is a manual that asks, "How should I respond to the customer in front of me? If "customer service" is a manual that tells you "how to respond to the customer in front of you," hospitality is the ability to "respond flexibly according to the person and the situation.
For example, let's say you go to a restaurant with your child.
The waiter smiles, says, "Welcome," asks how many people are seated, says, "Let me show you to your table," and guides you to the table that can accommodate you in order.
If you consider this to be "customer service that takes into consideration hospitality," you need to add a judgment such as "showing customers with children to tables where they can relax and enjoy their meal" in addition to "tables that can be guided under the current circumstances.
For example, "Would you like me to bring a high chair for your child?" or "Talk to the children with a smile so that they can enjoy the meal as well.
By responding in such a way that is close to the customer, we are able to provide a more comfortable dining experience.
In this way, it is hospitality to be able to instantly assess and provide detailed services that are perfectly suited to the situation and "whether or not it is possible to respond in a way that is comfortable for the other person" at a moment's notice.
Recommended related article: [Important customer] What is the best hospitality and the finest service?
Specific ways to promote goodwill in Japan
So, how do you plan to provide hospitality to a very important person for the purpose of promoting goodwill toward Japan?
The first step is to plan an event with a Japanese cultural theme.
Japanese culture has a deep philosophy and aesthetics that are uniquely Japanese.
By experiencing traditional Japanese culture, visitors can gain a deeper understanding and discovery of our country.
Many state guests are also treated with Japanese cultural experiences, such as tea ceremony and sumo wrestling.
Recommended related article: [Super Wealthy Inbound] Points of Omotenashi and 17 Examples of Events for Each Type of VIP
Schedule Management
Most persons visiting Japan for goodwill purposes have a tight schedule.
It is important to incorporate Japanese cultural experiences into lunch and dinner meetings, as this can be a meaningful time and is expected to facilitate communication afterwards.
It is also important to plan events such as gala parties and goodwill parties.
By providing Japanese cultural entertainment that can accommodate large groups of people, you can be sure that your party will be unforgettable.
You must also be able to accommodate sudden changes in plans and be tolerant of cancellations.
Consider the possibility of unexpected schedule changes at the time of planning.
Recommended related article: What is a Gala Party? How to hold a gala party in Japan? Questions, Dress Code, Planning Ideas, and Behavior!
Considerations
You will also need to be able to respond quickly to the personal requests and taboos of your partner.
For those who have religious restrictions on alcohol or food, it is important to be informed in advance and to be responsive.
Some people are vegetarians because of personal beliefs or philosophies other than religious beliefs, while others may have dietary requirements that they refrain from for health reasons.
International Protocols
The International Protocol is an international etiquette protocol that is adopted for government invitation programs.
Even if you are not dealing with government dignitaries, you are expected to follow the International Protocol when planning hospitality for important foreign guests.
It may be difficult to recognize all the details of the international protocol, but it is important to know the minimum rules, so it is recommended to research them in advance.
Recommended related article: [International Protocol for Entertaining Important Guests] 5 Principles of International Manners and 20 Points to Note with QA
Example of hospitality to VVIP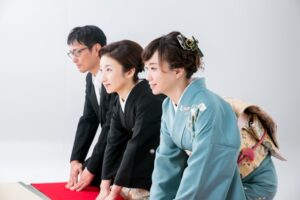 So how do you actually treat important guests in Japan, such as very important people?
When a foreign visitor comes to Japan, you may want to treat him or her as a state guest of honor, right?
Especially with such an important person, we must always be able to accommodate his or her requests for privacy and a special experience during their short stay, which can be quite restrictive.
To build a smooth relationship with our clients, it is important to have a plan that allows them to enjoy Japan even more.
In such cases, we recommend a tailor-made Japanese cultural experience plan tailored to the customer's needs to provide a hearty hospitality reception.
Many foreigners want to enjoy and experience Japan to the fullest when they visit Japan, and Japan has many wonderful cultural aspects.
If you entertain them with a special Japanese cultural experience on these subjects, you can expect smoother communication.
However, there are many rules and regulations regarding the appreciation of traditional Japanese performing arts, so it is difficult to provide foreign guests with a relaxing experience.
With our tailor-made plans, we will make your reception as realistic as possible.
Let's go beyond the conventional wisdom and make the Japanese experience more enjoyable for you.
Here are three examples of actual hospitality provided by Motenas Japan.
Hospitality Case Study 1: Surprise Performance: Ninja Experience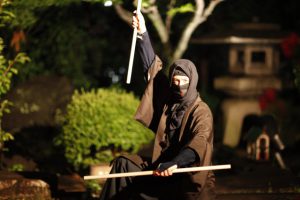 A royal family visited Japan on a private trip.
We were able to assist them on that occasion.
The Embassy of Japan contacted us with the following request: "We would like our valued guests, who love surprises and entertainment, to experience an emotional experience filled with unforgettable surprises only possible in Japan.
We received a request from the Embassy of Japan.
Since the family was visiting Japan on a private trip, we planned a surprise show with ninjas to give the whole family a memorable Japanese experience.
The moment the guests arrived by car at Motenas Japan's exclusive Salon Chelsea Inn at the Resort, a hideaway in Ebisu, a ninja suddenly jumped out of the car and began his hospitality.
The sudden appearance of the ninja had the guests saying, "I didn't expect it at this time! The guests were so excited.
The excitement was not over yet, and the guests changed into ninja outfits and felt like ninjas.
In a private space in a beautiful Japanese garden, real ninjas gave instruction in shuriken and swordsmanship.
The guests were actually instructed by a ninja and became a ninja.
And then the real ninja show up close and personal!
The family members were very satisfied with the ninja experience.
Even for royalty, family vacations are an important time to get away from their daily lives and spend time with their families.
This was an experience that allowed people of any status to enjoy Japan freely and spontaneously.
Hospitality Case Study 2: Authentic French experience with Kabuki viewing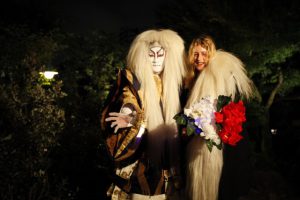 Occasionally, busy business guests have only a limited amount of time at their disposal to experience Japan.
The person in charge of Japanese hospitality asked us if we could at least provide them with a unique Japanese experience during their lunch break.
After careful discussions between the client and our company, Motenas Japan proposed a relaxing Kabuki viewing experience while enjoying authentic French cuisine and excellent wines in a beautiful private space full of Japanese atmosphere.
Kabuki is a traditional Japanese theater where eating and drinking are prohibited and the performance schedule is fixed.
This plan allows you to experience the popular Kabuki during lunch time.
You can enjoy a traditional Japanese experience in a spacious private space while enjoying an elegant and delicious meal in a relaxed atmosphere.
For the main event, we asked guests to put on makeup and look through it as kabuki actors.
The finale was a Kagami-shishi (mirror lion) performance.
The guests were impressed by the powerful performance of the Kagami-shishi and enjoyed taking commemorative photos with the Kabuki actors at the end of the event.
This is an example of successful hospitality that was made possible by the limited time of busy guests and careful coordination with the person in charge of the event.
Hospitality Case Study 3: Special Japanese experience for the head office president who was used to traveling to Japan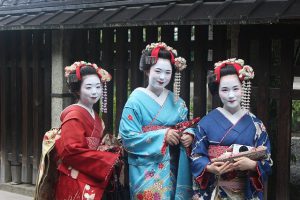 A company representative consulted with us about a special Japanese-style reception for the president of their head office, who has visited Japan many times.
We received a consultation from a person in charge of a certain company.
If the president of the company has been to Japan many times and has been entertained in Japan many times, a normal Japanese experience would not satisfy him.
The president of the company was very busy and tired during the daytime, so we prepared a private space by decorating a room in the hotel where he was staying in a Japanese style to avoid traveling to an unfamiliar foreign country as much as possible.
We also arranged for a geisha and an interpreter who is skilled in interpretation of geisha entertainment.
By having an interpreter with specialized knowledge of Japanese traditional arts interpret for you, you will be able to experience Japanese culture with less stress.
At the end of the tour, the president of the company took a commemorative photo with the geisha with a big smile on his face, and enjoyed the experience to the fullest without worrying about being seen in a private space and overcoming the language barrier.
summary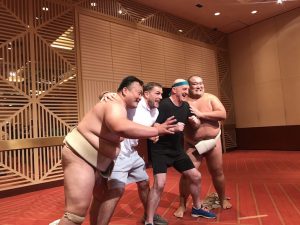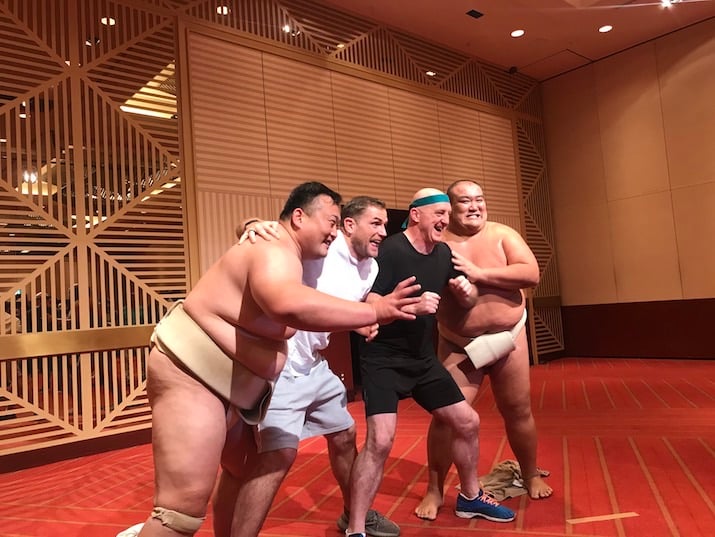 Hospitality means being able to treat each person with care and hospitality, and to treat them in a way that is appropriate for them.
However, rather than "polite hospitality tailored to the other person," the feeling of "you were there for me" and "I feel comfortable" is more like "I'm glad I had this encounter! makes you feel like you are in good hands.
It is not only just an ad hoc response, but also hospitality that is attentive to the customer.
The time and experience that will remain in the customer's heart and warm their heart every time they remember it will lead to the next encounter.
When inviting an important guest from a different culture or status, the most important thing is to treat the guest with the utmost care, don't you think?
If they are important to you, you want to make the limited time you have with them irreplaceable.
What we can do is to be close to our guests, understand their situation, and provide them with a comfortable experience and space.
This is the spirit of hospitality that has been handed down to us since ancient times in Japan.
Let us cherish each and every encounter.
Reference article: [Important guest] The best service and the best hospitality that even foreigners appreciate.