Kabuki-Experience・Workshop
Enjoy Kabuki, a traditional art form passed down from the 'Edo' period,
in an exclusive and private setting.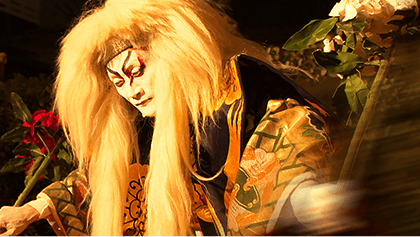 KABUKI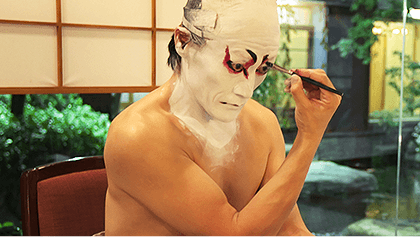 Kabuki, classed as part of the intangible Cultural World Heritage, was conceived around 400 years ago (in Japan's Edo period), the same time that Shakespearean theatre was starting in England and Opera was being established in Italy. Combining "Uta" – music, "Mai" – dance, and "Gigi" – performance, in quickly gained popularity with the public as a new way of presenting drama. As the theatre had an audience of young and old, men and women, it incorporated the in-vogue manners and customs of the time, so that anyone could easily understand it.
SERVICE STRENGTH
01
Real Kabuki actors introduce and explain the history of Kabuki and its performances
02
See close-up and in-person, the transformation of an actors into their Kabuki stage personas
03
Experience a Kabuki performance Live and up close
SERVICE FEATURES
Enjoy Live Kabuki in a private and exclusive setting.
Before the performance starts, you will receive an introduction to Kabuki in a workshop setting.
Guests are treated to a specially prepared presentation on the history of Kabuki and its performances,
followed by a workshop experience where they will get to see the preparations thast goes into a performance,
including make-up and dress-up of the actors in their stage costumes whilst they interact with guests,
answering any questions they may have.
Afterwards guests will get to watch the Live performance
and have their photos taken with the performers.
This has proved to be highly popular with overseas guests.
Article: How To Treat International VIPs to
Authentic Kabuki in a Private Setting!

PLAN
In the kabuki plan, we have provide plenty of time for a workshop on how kabuki actors are made; actors themselves will show and explain the process of their makeup and costumes.After the preparation, the kabuki actors will perform a kabuki dance of your choice from below.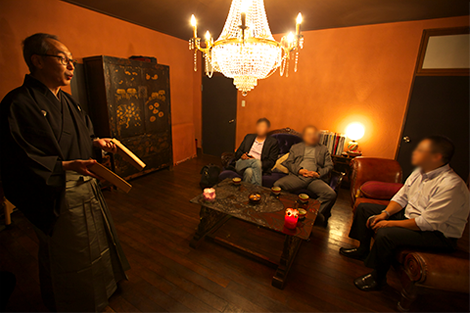 Explain the history of Kabuki in advance and ask customers to know about Kabuki while repeating questions and answers.
Also, I will explain about the dance you are dancing on the day and tell you to deepen your understanding of the contents of the performance even a little.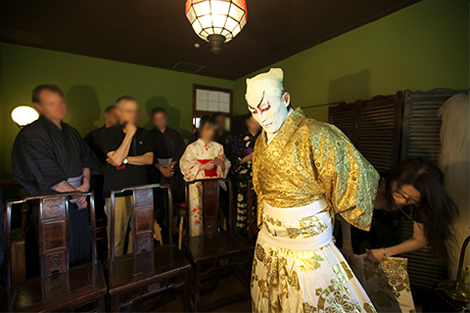 You can actually see make-up and Kumaki, and you can see how the Kabuki actor changes.
Also, see the place where kimono-specific kimono is dressed, and we will show you how the Kabuki actor is completely transformed.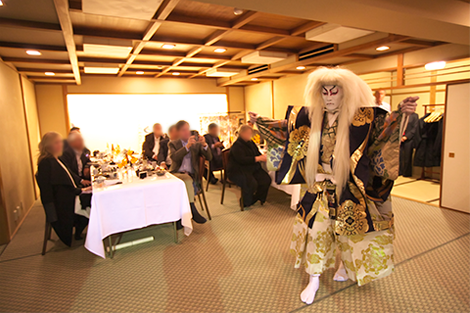 In the demonstration, you can feel a lot of power because you can see the performance at a very close distance to the customer.
You can also enjoy dancing while having a meal.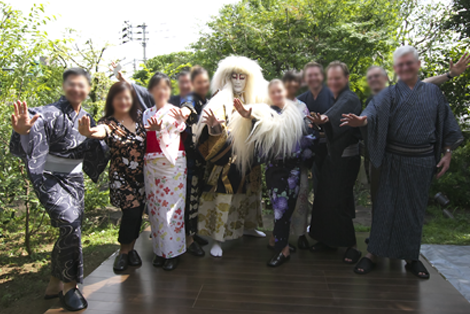 Finally, it is possible to take a commemorative photo individually with the Kabuki actor.
You can take a free pose and make it a precious memory.
PLANI
Kagamijishi
Watch the Kagamijishi, one of the most popular performances in kabuki.
A luxurious plan which you can watch from the costuming in magnificent stage outfits to the kabuki dance that captures the best essence of dramas.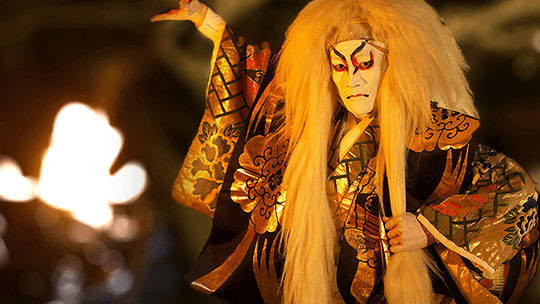 PLANII
Sukeroku
This drama captures a popular, classic kabuki character named Sukeroku approaching (entering the scene) in front of the latticework of Miuraya in a dance form.
Opposed to the classic Sukeroku that is usually performed in a Kato-bushi (a style of music that consists of a story), the dance style Sukeroku is performed in Nagauta (a style of music that depicts the scene).
The first performance was showcased at the Nakamura-za by the fourth generation Utaemon Nakamura as one of the eight transformations.It vividly depicts the glorious and free nature of Sukeroku through rough and soft textures.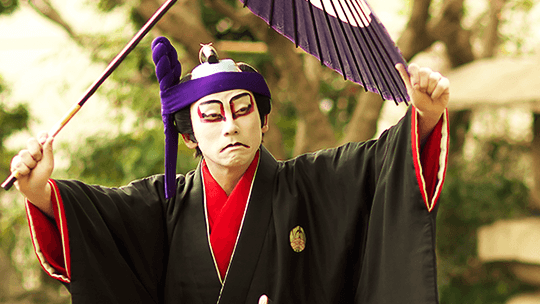 PLANIII
Tenaraiko
This performance depicts a precocious town girl loitering around on the way from the Terakoya (temple elementary school), running after a butterfly under the tranquil spring sun.A girl who still has her kimono hemmed, dancing like a good adult brings out more of her innocence.Your heart will be captured by the lovely, delicate dance of a transition phase between a child and an adult.
The first performance was at the Kawarasaki-za in 1792 as one of the seven transformations called Kakitsubata Nanae no Soeginu, which later became known as the Tenaraiko.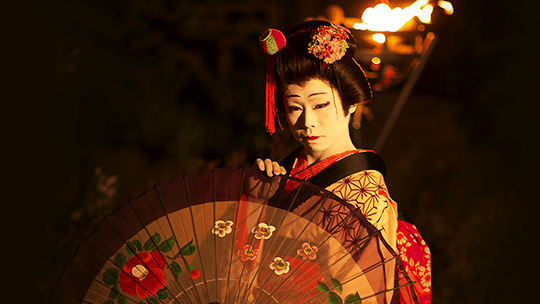 WORKSHOP
Watch how kabuki actors are made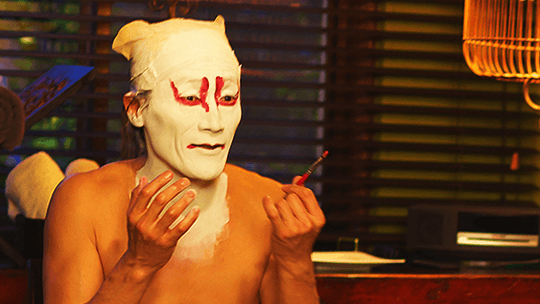 Watch how the performers transform into kabuki actors, as a part of the backstage access which can never be seen in theaters.
With an easy-to-understand explanation, you'll be introduced to the traditional makeup and costuming.
In kabuki, there are young adult male roles and female roles played by men. The highlight of the kabuki makeup is the unique makeup called kumadori for male roles represented in rough style acting and actors' transformation into beautiful women.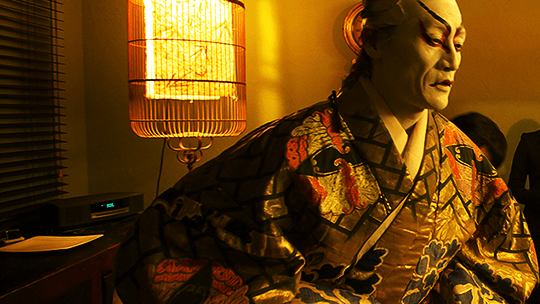 Various characters such as samurai, female prostitutes, and townspeople appear in kabuki plays.
Each character has its own unique costume, and costuming requires speed and special techniques.With this plan, you can watch how each character gets costumed.
For young adult male roles, there are various types of wigs depending on the age, social class, and occupation of the role.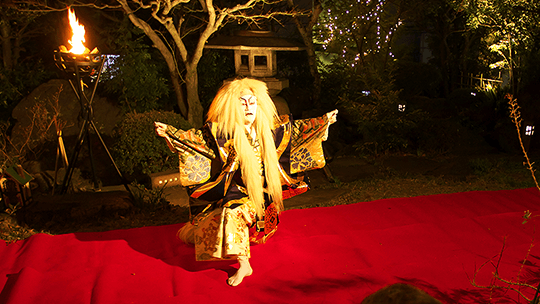 Also, stylized movements carried out in fighting scenes is one of the performance style unique to kabuki.They appear in sword fighting, pole weapons, and hand-to-hand movements, and there are about 200 styles in total.Once Kabuki actors get ready in the workshop, they will perform a kabuki dance.